Read time:

1:30min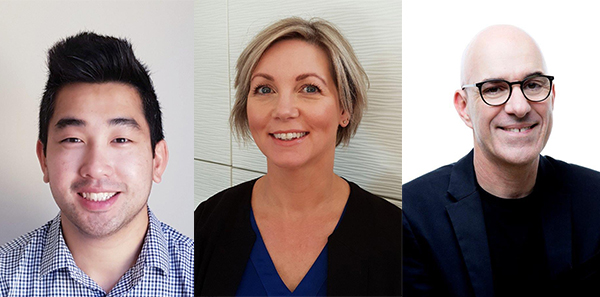 L-R, New Optometry WA board members, Andrew Nguyen, Christine Baker and John Palassis
______________________________
By Helen Carter
Journalist
In an historic move, Optometry Western Australia has appointed a member of the public who is not an optometrist to its board.
In 1908 Optometry Queensland/Northern Territory also appointed a non-optometrist to its first board. English geologist, academic and optometry advocate Professor Sydney Skertchly served as president in 1915 and received life membership for his tireless efforts to secure optometric legislation, elevate the standard of education for optometrists and promote the profession to the public.
Christine Baker brings a wealth of experience from her background in business leadership, advocacy and children's services. She is also practice manager at two optometry practices she co-owns with her optometrist husband Darrell Baker.
Christine was elected unanimously at Optometry Western Australia's annual general meeting on 24 October along with two other new board members, optometrist of more than 30 years' experience John Palassis, and early career optometrist Andrew Nguyen. They join Dr Rob Howie, who was re-elected president, treasurer Geoff Smith, and directors Roxanne Medhora, Simon Hogan, Hui-Lin Chan and Gary Crerie.
Deputy president Darrell Baker and director David Hsu stepped down.
Changes to benefit members
Optometry Western Australia's constitution allows for the appointment of two non-optometrists to its board of directors. President Dr Rob Howie said: 'Christine will bring a consumer perspective to the board and from a diversity viewpoint will also be the third woman on the board. She has a Master's Degree in Business Leadership and experience in other not-for-profit organisations, and will help us with networking.'
Christine is also a strong advocate of good board governance having completed a not-for-profit governance course. She has sat on industry boards, worked with state government, served on strategic committees including an advisory committee for the Western Australian Council of Social Services and served as WA chapter vice president of Early Childhood Australia, a member-run organisation also with federated bodies.
'I understand governance issues and the challenges member-based boards can have including a lack of diversity in skill sets. It is now a requirement from a governance perspective that boards have a broader skill base,' she said.
'It's very progressive for the board to recognise different skill sets and experiences and that good  governance requires refreshing the board and seeing things with new eyes.'
Optometry Western Australia executive officer Evan MacRae said Christine brought experience and knowledge in strategic planning, risk management and advocacy, and has special interests in Indigenous and children's health.
John Palassis and Andrew Nguyen
Christine, John Palassis and Andrew Nguyen said that they were excited to be joining the Optometry Western Australia board.
John is a joint owner of Vision West in Karrinyup. He is a Bachelor of Optometry graduate of the University of New South Wales (1987), has a Graduate Certificate in Ocular Therapeutics from UNSW and Fellowships from the Australasian College of Behavioural Optometrists and the College of Optometrists in Vision Development.
'I joined the Optometry Western Australia board with a view to giving back to the profession that has given me so much over my career, and in particular to helping ensure a strong and relevant professional association to benefit future generations of optometrists,' John said.
Andrew, who is involved with the WA Early Career Optometrists group, completed a Bachelor of Biotechnology with Honours before completing his Doctor of Optometry at The University of Melbourne in 2015.
He has been a practising optometrist since 2016, working full-time for OPSM for 18 months before locuming nationwide over the past year.
'By joining the board, I hope to contribute to the ongoing support provided to fellow optometrists, so that they are able to deliver the best care possible for their own patients,' Andrew said. 'I am grateful for the opportunity that has been given and will do my utmost to meet the needs of optometrists in Western Australia.'
Optometry Australia CEO Lyn Brodie said that the Optometry Western Australia board reflected the type of composition being introduced across the federation.
'With a focus on effectiveness and quality governance, more of our boards are supporting diversity particularly with a mix of age groups and it's wonderful to see so many early career optometrists taking a leadership role on them,' she said.
'Good governance helps ensure value and relevance for members and helps us as the organisation entrusted to lead, engage and promote optometry on their behalf to be better at our jobs as good governance provides the foundation for transparency, improved communication, sustainability and growth.'
______________________________
Filed in category:
Appointments
Tagged as:
Leadership