Read time:

1:30min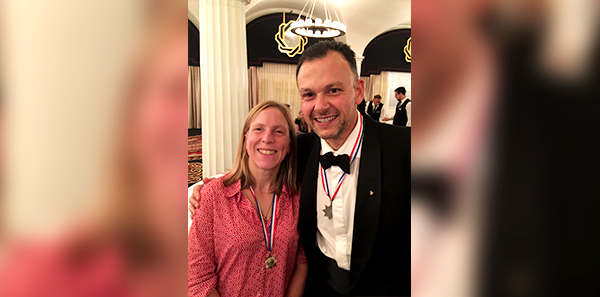 Newly elected ISCLS president Damon Ezekiel and British optometrist, Caroline Hodd, were awarded the prestigious Herschel Medal. Image: ISCLS
______________________________
By Rhiannon Riches

Perth optometrist and Optometry WA member Damon Ezekiel has been elected president of the International Society of Contact Lens Specialists (ISCLS).
This is the first time the leadership of the 65-year-old organisation – comprising pioneers and global leaders in the practice, development and advancement of contact lenses – has been awarded to an Australian.
Damon, owner of Ezekiel Eyes in Nedlands, Perth, took over as President at the ISCLS's 46th Congress in Washington, DC recently.
In a statement from the ISCLS, Damon said he was proud and humbled to be elected president.
'The ISCLS reflects the best of the best in contact lens practice around the world; these are the men and women who wrote many of the textbooks students now use. They are practitioners who have revolutionised the treatment of eye conditions, and their work has improved the quality of life of thousands of patients over many decades,' he said.
During the Congress, Damon and British optometrist, Caroline Hodd, were both awarded the prestigious Herschel Medal.
According to the ISCLS, the medal is given 'in recognition of outstanding original contributions to contact lens design techniques and fitting and application in clinical practice, in the education of students and in the advancement of the status of contact lens practice.'
The medal is named after English astronomer Sir John Herschel, who first proposed the idea of making a mould of a person's eyes, to enable the production of corrective lenses that could conform to the front surface of the eye.
Damon's father, Don Ezekiel, Member of the Order of Australia, contact lens inventor and now retired Perth optometrist was awarded the Herschel Medal in 2005. Don invented and produced the world's first gas permeable scleral contact lens.
In addition to owning and managing Ezekiel Eyes, Damon is a contact lens consultant to research organisations and lectures and conducts workshops in contact lens practice, including the fitting of all types of rigid gas permeable contact lenses, including Orthokeratology, scleral lenses and soft bifocal, multi-focal and cosmetic contact lenses.
He also undertakes voluntary work in Vietnam and Cambodia on behalf of eye charity Sight For All.
______________________________
Filed in category:
Appointments
Tagged as:
Contact lenses
,
International