Read time:

1:30min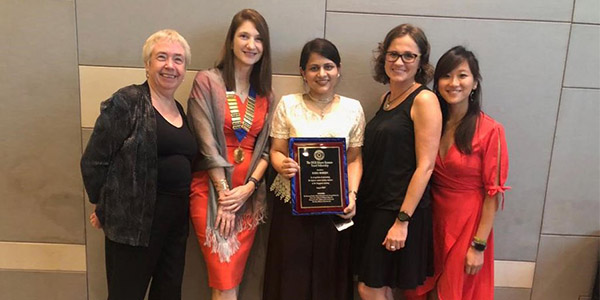 L-R, Professor Helen Swarbrick, UNSW Scientia Professor Fiona Stapleton, Rabia Mobeen, Dr Blanka Golebiowski and Dr Cecilia Chao at the symposium. Fiona, Blanka and Cecilia are Rabia's supervisors.
By Helen Carter
Journalist
Sydney optometrist Professor Fiona Stapleton is the new President of the International Society for Contact Lens Research, taking office at its 20th symposium in Singapore in August, 2019.
And one of her PhD students from UNSW Sydney, Rabia Mobeen received a student scholarship from the society to attend the biennial conference as well as the society's ISCLR Hikaru Hamano Travel Fellowship.
Rabia is the first student from Australia to receive the fellowship which was established in 2013 to support and acknowledge the leading student abstract presented at the meeting, defined as the student abstract that receives the highest vote from ISCLR council members during the selection process.
The conference was attended by a large contingent of UNSW staff and PhD students.
Professor Stapleton, Scientia Professor and former head of the UNSW School of Optometry and Vision Science, and Associate Dean, Enterprise, Faculty of Science, has received many prestigious awards and honours for her contact lens research.
A clinical scientist with expertise in epidemiology and clinical research in the fields of corneal infection, dry eye and contact lens related disease, she was awarded her PhD from City University and Moorfields Eye Hospital in London for her research on the pathogenesis and epidemiology of contact lens-related disease and completed a post-doctoral fellowship at University College London.
'The International Society for Contact Lens Research is a group of global experts from all aspects of contact lens research,' Professor Stapleton said. 'The society is unique as our membership comprises university, industry-based and independent researchers working across a wide range of basic and clinical areas, plus leading contact lens clinicians.
'We meet formally at our biennial scientific symposia, and our meetings bring together our global membership, industry partners, expert keynote speakers from related and emerging fields plus the best and brightest PhD students in our field to discuss recent developments, address our key challenges and identify future research needs to advance the field and the industry.'
Planning is underway for the 21st symposium in Europe in 2021.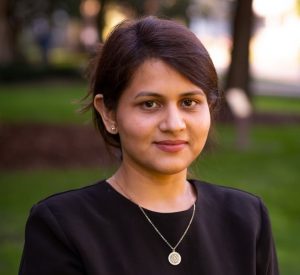 Rabia Mobeen
Effect of age and contact lens wear on cornea
Rabia is researching the effect of age and contact lens wear on the inflammatory status of the cornea. The project aims to compare the ocular surface immune response to contact lens wear across different age groups.
She is assessing changes in corneal epithelial dendritic cell density, morphology and distribution using in vivo confocal microscopy and their relationships with corneal nerves and tear inflammatory mediators.
'This study will not only provide fundamental information on the ocular immune response but will provide insights into methods of improving the safety of contact lens related myopia control treatment,' Rabia said.
Rabia received her optometry degree in Pakistan, worked at Mayo Hospital, Lahore and taught at graduate and postgraduate level in King Edward Memorial University, Pakistan.
She has received two scholarships and three awards during her PhD studies including the Joe and Janet Barr Early Career Cornea and Contact Lens Research Award from the American Academy of Optometry Foundation and a 2019 student travel grant from the academy. She has also been selected for the UNSW Women in Maths and Science Championship Program 2019 which runs for a year to July 2020.
Filed in category:
Appointments
,
CPD, conferences & events
,
Research & surveys
,
Sector news
Tagged as:
Awards - honours - grants-bursaries
,
Contact lenses
,
International
,
Leadership
,
Universities