Read time:

1:30min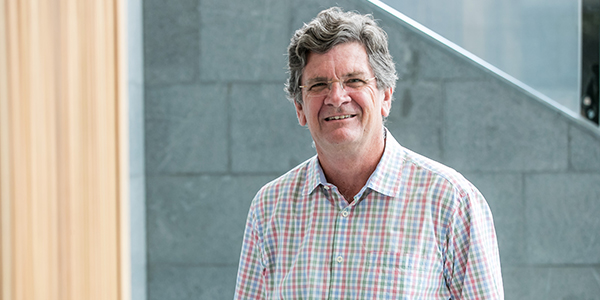 World Council of Optometry President-Elect Associate Professor Peter Hendicott. Photo, QUT

By Helen Carter
Journalist
Queensland optometrist Associate Professor Peter Hendicott is looking forward to his two-year term as president of the World Council of Optometry starting next October, 2021, saying the future for optometry is both exciting and challenging.
The former Head of the School of Optometry and Vision Science at Queensland University of Technology will be just the second Australian to lead the organisation in its 93-year history. Dr Damien Smith was WCO president from 2002 to 2004.
'It is indeed an honour, and it is humbling to feel that colleagues internationally feel that I am someone who can participate at this international level,' Professor Hendicott told Optometry Australia.
'My main aim is to work toward increased recognition, improved education and regulation, as through this optometry will make a greater difference to people.
'WCO's vision is of a world where optometry makes high quality eye health and vision care accessible to all people, achieving this through the development of optometry around the world and supporting optometrists to promote eye health and vision care as a human right through advocacy, education, policy development and humanitarian outreach.'
 Challenges of myopia, diabetes and glaucoma
Professor Hendicott said that over the next few years, optometry needed to respond to the challenges that would be presented in eye care including increasing myopia, glaucoma, diabetic retinopathy and other diabetes related ocular complications.
'The scale of this future challenge worldwide is outlined in last year's WHO World Report on Vision,' he said.
'WCO will need to help countries develop the role of optometry to its maximum contribution within their health care systems for public benefit – so improving scope of practice, education, regulation and so on.
'This is even more important where optometry is less developed or advanced than in other regions. It is about recognition of what optometry can potentially contribute, and that recognition needs to be both within, and external to, the profession of optometry, to allow the profession to grow in its contribution to health care.'
Well qualified for role
The WCO President-Elect completed his optometry training in Brisbane in 1974 before entering clinical practice and owning his own practice.
He later commenced an academic career in optometry in Hong Kong, New Zealand and Ireland where he was inaugural head of the Department of Optometry at the Dublin Institute of Technology from 2002 to 2003.
Back in Brisbane he became the fourth Head of Optometry at QUT serving for 10 years from 2008 until early 2018 when he retired and is now an Adjunct Associate Professor involved in some teaching in ocular disease.
Professor Hendicott has served as a Councillor and President of Optometrists Association Australia Queensland division (now Optometry Queensland/Northern Territory), on registration boards and associated committees and on the Optometry Council of Australia and New Zealand, being the OCANZ Chair for the past five years.
He has been a member of the Executive of the Asia-Pacific Council of Optometry since 2013, and is currently President, and has served as a member and Chair of the WCO Education Committee
Remarkable scale of optometry in future
In a video message in the July edition of the WCO e-news Professor Hendicott said health care was facing a growing and ageing population worldwide with 2.4 billion people to be added to the world from 2015 to 2050.
He said the bulk would be in Africa and Asia, and while the overall percentage of the population aged over 65 years of age would increase, there would also be an increase in the number of people under 15 where eye-care was important for its social and educational impact on children's futures.
'Population change will increase the need for vision and eye care,' he said. 'The evidenced rise in myopia prevalence across the world is but one facet.
'An increase in the ageing population increases the absolute number of people with chronic disease that accompanies ageing. Their visual health care need extends beyond provision of refractive care.
'Optometry is challenged to help meet this increasing eye care need – glaucoma, diabetes, age related maculopathy, presbyopia, rehabilitative vision care and so on. The scale of this is remarkable.'

Professor Hendicott said optometry and the WCO needed to ensure that across regions it was developing the relevant competencies to enable optometry to participate fully in the health care delivery system of certain countries and at an international level, aligning with and participating in the international health agenda.
'Thee competencies will need to be in ocular disease and the clinical and management skills to support optometry contributing to the management of this burden of disease; in public health so that optometry both recognises and contributes to the wider public and social needs of health care in terms of health care teams, and prevention, detection and management.
'We also can't overlook the potential of technology, not just in telehealth and technology's potential to increase access, but also in the way it will influence how eye care will be delivered and how this will affect the models of optometry clinical practice,' he said.
Moving outside the box
'Optometry will need to be prepared to recognise, accept and step up, and if necessary, to move outside and beyond whatever box that we as optometrists may be currently sitting in. This potentially means advocacy for and development of education and legislation change in a number of instances.
'The time frames may seem long, but to manage these 20-year scenarios, vision and eye health care will need all eye care practitioners to be able to work at their maximum scope of practice and importantly with the relevant competencies to contribute.
'Optometry, through tertiary education and with appropriate recognition and legislation, is able to play a substantial and significant role in reducing this burden of disease.'
The WCO has this year undertaken all meetings electronically due to COVID.
'In a typical year, there would be face-to-face meetings of the Executive and Board of Directors, but this year, and into next year, we are conducting everything on line given the situation,' Professor Hendicott said.
Filed in category:
Appointments
,
Members & member initiatives
,
Sector news
Tagged as:
Future
,
International
,
Leadership
,
Scope of practice
,
Sector changes
,
Universities