Read time:

1:30min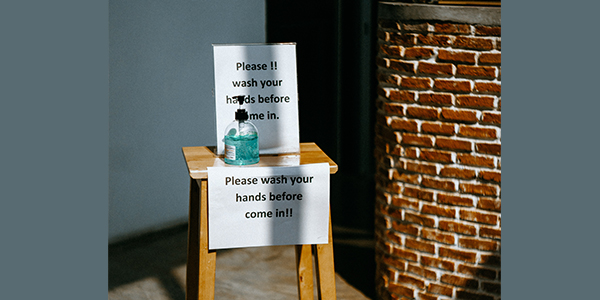 Some public sanitiser dispensers are at eye height for young children. Photo by Kseniia Ilinykh on Unsplash
By Helen Carter
Journalist
Hand sanitiser is leading to eye injuries in young children during the COVID-19 pandemic, including serious corneal lesions requiring surgery, ophthalmologists and toxicologists have warned.
French doctors today revealed a big increase in paediatric eye injuries in 2020 from alcohol-based hand sanitiser (ABHS) including hospitalisations and a corresponding increase in surgeries required to manage severe injuries.
National poisons database data revealed the sanitisers caused one per cent of chemical eye injuries in children in 2019 but this jumped to 10 per cent in 2020, leading to a national public health alert.
Indian doctors also reported cases and both series are published in Jama Ophthalmology online today. (embargo 3am Friday Jan 21).
The authors, and an expert commentary, suggested increased awareness of this potential danger was needed, children should be taught proper use, sanitisers should be kept away from young children and signs alerting people to the potential danger of contact with eyes could be posted near public hand sanitiser stations which suggest flushing eyes with water if exposed.
They said parents needed to understand the importance of an eye examination if exposure occurred as early diagnosis and treatment reduces long-term sequelae.
'The pediatric specificity of this outbreak is most likely owing to the emplacement of the gel dispenser in the proximity of children's faces,' the French researchers said. 'Dispensers, often pressure-operated via a pedal, allow delivery of unit doses of ABHS. However, these devices are usually around one metre in height, delivering ABHS at the level of small children's eyes.'
Seven-fold increase
The national retrospective case series review retrieved cases from the French Poison Control Centers national database and a paediatric ophthalmology referral hospital in Paris.
It found a seven-fold increase of ABHS-related ocular exposures in children in 2020 compared with 2019. Between April 1 and August 24, 2020, there were seven times more paediatric ABHS eye exposures in the database compared with the same period in 2019 (9.9 per cent of paediatric eye exposures in 2020 versus 1.3 per cent in 2019.)
There were 63 exposures in 2020 in public places from automatic or foot-controlled dispensers compared with none in 2019. Public exposures rose in 2020 from 16.4 per cent in May to 52.4 per cent in August and admissions to the eye hospital for ABHS eye splatter increased during the same period (16 children in 2020, mean age 3.5 years, versus one boy aged 16 months in 2019.)
Thirteen per cent of those hospitalised required surgery for severe lesions.
Eight presented with a corneal and/or conjunctival ulcer, involving more than 50 per cent of the corneal surface for six of them. Two cases required amniotic membrane transplant.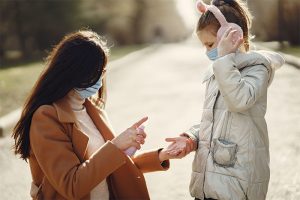 Experts recommend parents teach children how to use sanitiser safely. Photo by Gustavo Fring on Pexels
'We showed a seven-fold increase in the number of ABHS eye exposures in children with several cases of serious corneal lesions, while such exposures were anecdotal before,' researchers wrote.
'This increase was especially noted after the end of the lockdown in France and was associated with an increasing number of freely available alcohol-based hand sanitiser devices in public places.
'These agents should be used with caution and likely kept away from young children. These data support the likelihood of an increasing number of unintentional ocular exposures to ABHS in the paediatric population.'
A commentary stated the spectre of amblyopia loomed over even mild chemical injuries in very young children with recent work suggesting posterior segment inflammation could accompany ocular surface chemical injuries, further compounding the threat to visual acuity.
Don't delay care after exposure
Doctors from Grewal Eye Institute, India reported two cases of toxic keratopathy in children aged four and five after unintentional contact between alcohol-based hand rubs and the eye.
'In both children, there were no long-term sequelae, but it is not hard to imagine a situation where care is delayed, increasing the chance of long-term corneal and ocular surface complications,' they wrote.
'We recommend that children should always be assisted by an adult while using alcohol-based hand rubs. Hand-washing with soap and water should be promoted as a safer first-line preventive measure. As nations gear up to open public places and schools, it is necessary to consider the hazards of hand sanitisers and take appropriate preventive measures.'
The Indian doctors suggested the following measures could prevent unintentional injuries in children:
Promoting hand washing with soap and water over ABHRs, especially at home
Teaching and training children how to use hand sanitisers
Having separate dispensers at shops and malls for children at lower height below face level
Placing caution signs next to sanitiser dispensers
*Meanwhile a German study, also published in JAMA Ophthalmology today, studied corneal discs in 11 deceased COVID-19 patients, reavealing viral genomic and subgenomic RNA of SARS-CoV-2 was detected in the cornea of patients with COVID-19 viremia.
'Low RNA loads in corneal samples suggest a low risk of infection through a corneal transplant, even in a high-risk cohort of patients with viremia. Nevertheless, infection via a contaminated corneal graft cannot be fully excluded,' they wrote.
Filed in category:
Coronavirus
,
Research & surveys
Tagged as:
COVID-19
,
International
,
Paediatric optometry