Read time:

1:30min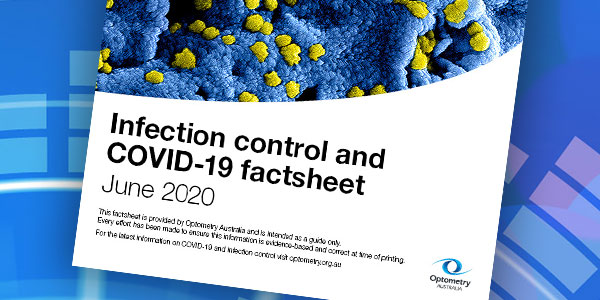 By Helen Carter
Journalist
Optometry Australia has compiled coronavirus and infection control advice for optometrists and their staff to help them return to work safely and protect patients, and navigate pandemics going forward.
The  Optometry Australia Infection control and COVID-19 factsheet June 2020 aims to provide updated, evidence-based information for optometrists, their staff and their practices on pertinent pandemic infection control procedures.
The biggest change is suggesting high level disinfection for reusable tonometer probes.
The guide is an open access document on the Optometry Australia website and members plus final year optometry students will also receive a pull-out of the guide with their hard copy of June Pharma arriving in the mail next week.
The guide was compiled by Optometry Australia's Policy and Standards Advisors, optometrists Kerryn Hart, also Clinical Editor of Pharma, and Cassandra Haines.
It is a summary of relevant information from our COVID-19 optometry resources hub as well as more specific infection control information, in a compact resource which can be kept to use at practices.
The fact sheet covers cleaning protocols and suggests enhanced cleaning and disinfection of the patient environment. It covers considerations for reception, the waiting room, consulting room and dispensing and suggests ways to operate while limiting the number of people coming into the practice.
High level disinfection for tonometer probes
'The biggest change is the tonometry information,' Ms Hart said. 'What is now suggested is using high level disinfection on reusable probes, like Tristel Duo, which has obtained TGA approval for semi-critical medical devices, or if not available bleach, as our review of the literature suggests use of an alcohol swab does not provide appropriate viricidal activity.
'If tonometry cannot be deferred, the use of a single use disposable applanation tonometry prism, or iCare tonometer with disposable probes is recommended. The next preference is reusable probes and using high level disinfection on them every time.'
Visual field instrument disinfection without damaging the inside of the bowl has been flagged as difficult, with concerns also raised about aerosolised virus remaining in this space, hence visual field testing should be avoided if possible. Some hospitals and ophthalmology practices have ceased visual field testing unless urgent and the guide suggests suspected or confirmed COVID-19 patients wear masks if testing is unavoidable (specific links to clean each type of perimeter are provided on our COVID-19 page).
Home delivery of spectacles and contact lenses, which already happens in some cases, is suggested as an option to minimise the number of people coming into the practice for collection of items.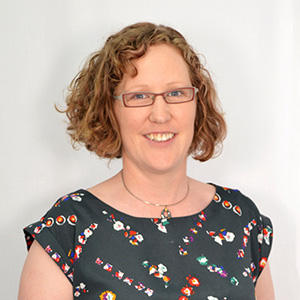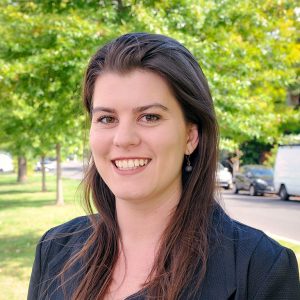 Kerryn Hart, left, and Cassandra Haines
Decontamination of surfaces between patients
The guide also recommends "systematic and enhanced decontamination of work surfaces after each patient" and surface disinfection options include Viraclean, hospital grade disinfectant and the first product in Australia to receive TGA approval for killing SARS-CoV-2 virus on surfaces.
'Currently equipment is disinfected between patients and this should continue, but we are also suggesting staff clean frequently touched surfaces such as bench tops between patients,' Ms Hart said. 'This takes longer so should be factored into the appointment time. Practice staff can be trained in cleaning procedures.
'Even trying on glasses, with each pair, staff cannot put them straight back on display. They must clean each pair first, so there are additional roles for all staff.'
Conjunctivitis/red eye
The guide says that up to one to three per cent of patients with COVID may have some form of red eye/conjunctivitis, and summarises the conjunctivitis link, stating "several reports suggest the virus can cause a mild follicular conjunctivitis otherwise indistinguishable from other viral causes, and possibly be transmitted by aerosol contact with conjunctiva."
It says in cases of viral pandemics, infection control should include triaging patients over the phone and screening them before they attend the practice, considering telehealth, re-scheduling non-urgent appointments, supplying hand sanitiser, face masks and tissues in the waiting room, frequent hand washing, using appropriate PPE and breath shields for the slit lamp, and using disposable equipment such as single-use tonometer probes where possible.
The guide covers PPE during a pandemic, greeting patients (wave, don't shake hands) and social distancing.
Re-organising practice waiting rooms to space chairs and remove magazines and toys, asking patients to sanitise hands before entry and fitting slit lamp breath shields are also recommended.
Filed in category:
Coronavirus
,
Guidelines & practice notes
,
Patient care & management
,
Practice equipment
,
Workplace
Tagged as:
Clinical practice guides
,
COVID-19
,
Eye examinations
,
Patient management
,
Practice equipment
,
Practice notes