Read time:

1:30min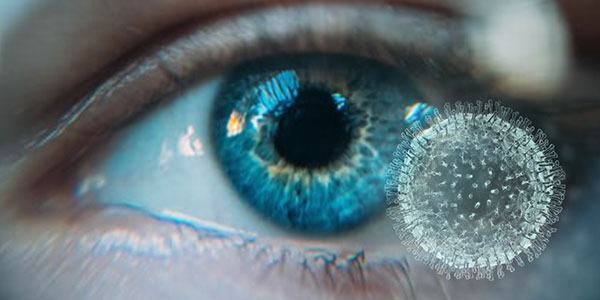 By Helen Carter
Journalist
Chinese researchers have provided evidence that SARS-CoV-2 – the virus that causes coronavirus disease 2019 (COVID-19) – can infect ocular tissues.
Their brief online case report in JAMA Ophthalmology on October 8, 2020, found that the nucleocapsid protein (NP) antigen of Severe Acute Respiratory Syndrome Coronavirus 2 (SARS-CoV-2) existed intracellularly in the ocular tissues of a patient who was undergoing glaucoma surgery two months after infection with COVID-19. The researchers concluded this implied 'SARS-CoV-2 can also infect ocular issues in addition to the respiratory system.'
Doctors from the Department of Ophthalmology and Medical Laboratory in the General Hospital of the Central Theater Command, Wuhan, said it was previously unclear whether SARS-CoV-2 could infect tissues other than the respiratory system and there was no direct evidence that SARS-CoV-2 existed in inner ocular tissues.
They investigated whether SARS-CoV-2 existed in the ocular tissues of a female COVID patient, aged 64, who had an acute glaucoma attack during her rehabilitation. Researchers took plasma samples and tissue specimens, including ones from the conjunctiva, anterior lens capsular, trabecular meshwork and iris during phacoemulsification and trabeculectomy surgery. Specimens from a male patient who had glaucoma but not COVID-19 were used as a negative control.
Can viral antigens damage ocular surface and remain infectious?
The nucleocapsid protein (NP) antigen of SARS-CoV-2 was detected in the conjunctival, trabecular, and iris tissues of the COVID patient but not the control participant, while angiotensin-converting enzyme 2 receptor proteins were detected on the conjunctiva of both patients.
'This indicated that SARS-CoV-2 may exist intracellularly in the inner ocular tissues as well as on the ocular surface,' the researchers wrote. 'Based on these results, the eye is also one of the target organs for the viral infection in addition to the lungs.'
Optometry Australia Chief Clinical Officer, optometrist Luke Arundel said the study was interesting, and noted that the authors hoped that future investigations would look to determine whether the viral antigens that remain in the eye over time cause damage to the ocular surface or function and whether they are still infectious.
Most infections spread through close contact, CDC says
Meanwhile a scientific brief released this week by America's Centers for Disease Control  and Prevention entitled SARS-CoV-2 and Potential Airborne Transmission (CDC) stated the epidemiology of SARS-CoV-2 indicated that most infections were spread through close contact via exposure to respiratory droplets carrying infectious virus, not airborne transmission.
However, it noted that airborne transmission of SARS-CoV-2 could occur under special circumstances where transmission had occurred over long distances or times. Circumstances under which airborne transmission appears to have occurred include:
Enclosed spaces within which an infectious person either exposed susceptible people at the same time or to which susceptible people were exposed shortly after the infectious person had left the space.
Prolonged exposure to respiratory particles, often generated with expiratory exertion (e.g. shouting, singing, exercising) that increased the concentration of suspended respiratory droplets in the air space.
Inadequate ventilation or air handling that allowed a build-up of suspended small respiratory droplets and particles.
For more information on transmission, see the ventilation section in our COVID resources and information hub. Read about other studies on COVID-19 and eye health in our COVID hub.
Filed in category:
Coronavirus
Tagged as:
COVID-19