OBA CPD requirements
Optometrists must complete a minimum of 80 points of Continuing Professional Development (CPD) over a rolling two-year cycle (two registration periods).
One registration period runs from 1 December to 30 November the following year.
Of the 80 points:
a minimum of 24 points must be face-to-face
60 of the 80 points must be clinical
no more than 20 of the 80 points can be from suppliers or manufacturers
40 of the 80 points in education must be related to therapeutic endorsement (if applicable).
In addition to CPD requirement, training in CPR is required every three years.
More information is available on the OBA's website: OBA CPD guidelines for endorsed and non-endorsed optometrists.
Two-year 'rolling' CPD cycle – what does this mean?
Examples:
| | 2018 | 2019 | 2020 |
| --- | --- | --- | --- |
| Optom A | 20 | 60 | 20 |
| Optom B | 0 | 80 | 0 |
| Optom C | 40 | 40 | 40 |
This rolling tally is automatically calculated for you in your Optometry Australia CPD Record.
Does the requirement apply to all optometrists?
Yes. The CPD and CPR requirements apply to all registered optometrists who hold general registration with AHPRA. The only exception is if you have applied for CPD exemption due to exceptional circumstances or are in the non-practising category. Exemptions need to be applied for and are granted at the discretion of the OBA.
All registered optometrists must also maintain a CPD portfolio inclusive of a learning plan which outlines their individual learning needs and whether/how these have been met.
What are the different types of CPD activities?
OBA Table 1*:
Activity type
Key elements
Examples
Points allocated per learning hour (60 mins)
Face to face
Interaction with peers

Discussion

Group based

'Live' or in real time
Conferences, seminars, webinars (live), workshops, case reviews, journal clubs, postgraduate education, peer learning groups
2 points

OR

3 points
(if successfully completed assessment component)
Independent learning (clinical)
Solo activities

Passive

Undertaken at any time

No 'direct' interaction with peers
Journal articles, electronic formatted lectures (e.g. podcasts, audio, video)

Preparation time for presentations and materials to professional groups (note: you cannot count the time you spent presenting, just your prep time)

Publication in peer-reviewed journals
1 point (e.g. reading Pharma magazine)

OR

2 points if there is an assessment component (e.g. reading Pharma magazine and completing online MCQs)

OR

8 points per published paper
Academic (clinical)
Open to those involved in teaching in optometry
Teaching in optometric undergraduate course or participation or teaching in postgraduate optometric education

Publication in peer-reviewed journals
5 points per subject per semester

OR

8 points per published paper
Non-clinical
Profession-related activity (note: must be relevant to practice and improve management of patients in a tangible way)
Business management

Legal

Occupational health and safety

Cultural orientation
1 point
*Table from OBA guidelines for CPD for endorsed and non-endorsed optometrists
Accredited or non-accredited CPD?
It is up to you whether you'd like to partake in accredited and/or non-accredited CPD.
Note: CPD that has been officially accredited by us is much easier for you, for a number of reasons.
Accredited CPD
Non-accredited CPD
OBA authorises us to accredit and assign points to CPD activities that take place within Australia.

We operate under strict criteria and guidelines established by OBA to ensure requisite standards for CPD activities are met.
Overseas conferences, or when a training provider does not apply for accreditation in time.

Any independent learning you do that does not go through our official accreditation. E.g. reading journal articles, case reviews with peers, preparation time for presentations (see OBA Table 1*).
Points are automatically recorded in your individual diary on our website under 'My CPD Record'.

Points are officially recorded on your CPD report and AHPRA audit certificate.
You are responsible for:

1. Recording and assigning your own points based on time spent.
Non-accredited points do not appear on your official member CPD report or AHPRA audit certificate. You will need to self-record, by either:

a) filling out the 'non-accredited activities' portion of your 'My CPD Record'

or

b) using OBA's CPD portfolio template (Part 2, page 4) here.

2. Keeping all evidence of completion of the activities (e.g. receipts, overseas conference programs, certificate of attendance) in preparation of an AHPRA audit.
How do I tell if a course is accredited by Optometry Australia?
You should always check if a course is accredited before enrolling.
Course material (e.g. flyers, websites, etc.) of an accredited course will have the OBA CPD logo displayed. The OBA CPD logo can only be used for accredited courses. The number indicates the maximum number of points for completing the activity. N, T or M following the number indicates the number of non-clinical (N), therapeutic (T) and manufacturer/supplier (M) points.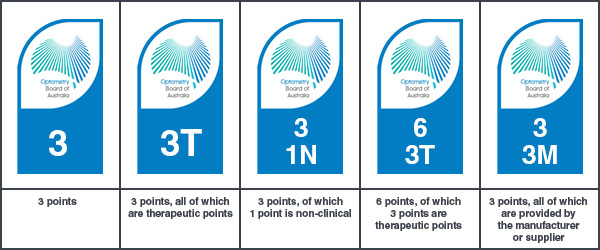 My CPD record
Members: You can freely check your CPD points anytime
Non-members:  You need to record your own completed CPD accomplishments or contact us to:
(a) request a stand-alone non-member recording service – fee = $150 per year.
(b) access a copy of your CPD record e.g. when audited by AHPRA – one-off fee = $150
More information
OBA CPD guidelines, FAQs and fact sheets
Please contact cpd@optometry.org.au  or 1800 383 273 for any CPD related questions.
You might be interested in
Optometrists can minimise risk of complications from steroids with careful prescribing, Blue Sky Congress will hear next month.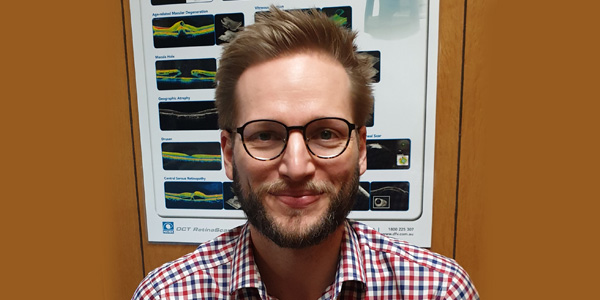 View
A $240,000 grant will help optometrist Dr Zhichao Wu answer if new OCT imaging can identify who is at high risk of AMD progression.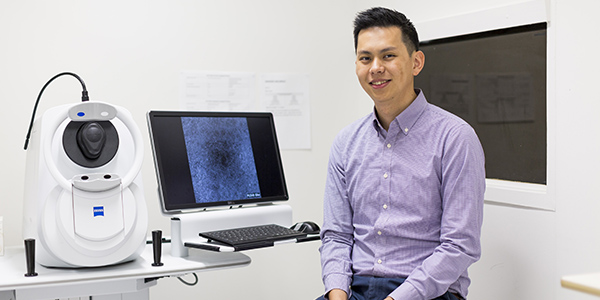 View
Optometry Australia's new Institute of Excellence is already proving a big hit with members, with nearly one-third of the profession accessing CPD via the institute in just two months.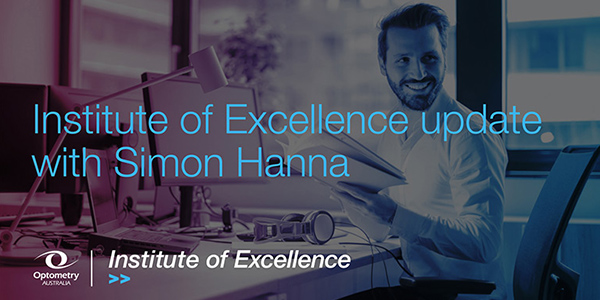 View