Read time:

1:30min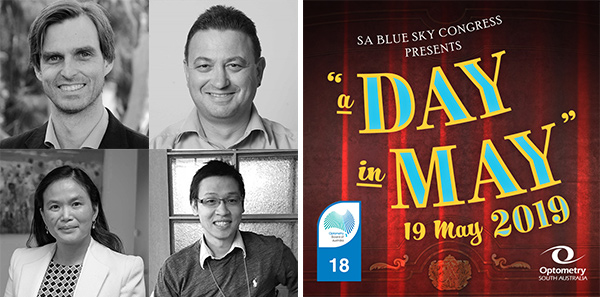 Clockwise, L-R, Dr Adam Rudkin, optometrist Dr Daniel Tilia, Dr Weng Chan and Associate Professor Celia Chen
______________________________
By Helen Carter
Journalist
Myopia will be a focus at Optometry South Australia's inaugural A Day in May conference, with optometrist Dr Daniel Tilia giving three lectures on the topic.
This new CPD event is a bite size SA Blue Sky Congress, providing all the usual bells and whistles delegates expect at a "Blue Sky" event, carefully packaged into 18 points and one day of quality CPD at the Pullman Hotel, Adelaide on Sunday May 19.
Dr Tilia, an optometrist from the Brien Holden Vision Institute, is keynote speaker and will present three lectures on myopia research and management.
The rising incidence of myopia prompted Optometry SA's CPD committee to suggest myopia be a prominent topic at the conference.
Dr Tilia's first talk – Myopia- What's the Problem?  – will assess the growing problem of increased myopia and high myopia incidence over the past 20 years, how increasing myopia progression is affecting the world, and future projections if myopia management strategies are not implemented.
It will also assess the various complications that can be caused in myopic patients.
His second talk – Myopia- What Can We Do? – will assess the evidence for various myopia-management strategies available to optometrists, including:
Outdoor time
Spectacles
Contact lenses
Soft Contact Lenses (Multifocal, bifocal and special designs)
Rigid Contact Lenses (Including Orthokeratology)
Atropine
The third interactive talk – Myopia- Practical Applications of Myopia Management – will assess the practical application of myopia management via a series of case studies. As with all SA Blue Sky Congress events, audience participation is encouraged via Smartphone software.e
Other speakers include ophthalmologist Dr Adam Rudkin whose topic is uveitis, when things go bad, and ophthalmologist Dr Weng Chan who will discuss peripheral retinal lesions.
Ophthalmologist Associate Professor Celia Chen,a long-time favourite of SA Blue Sky Congress speakers, will present lectures on OCT in neuro-ophthalmology including when to use it, and useful practice tests for functional vision loss.
A Day in May 2019 will run from 8am to 5.30pm and includes a free creche. Register.
SA Blue Sky Congress will present another bite-size event on 17 November to help you mop up your CPD point requirements before registration renewal. The usual two-day SA Blue Sky Congress will return in all its glory in November 2020 and every two years thereafter.
______________________________
Filed in category:
CPD, conferences & events
Tagged as:
Blue Sky SA
,
Myopia