Read time:

1:30min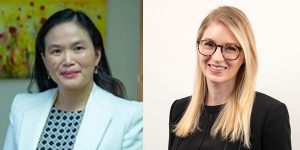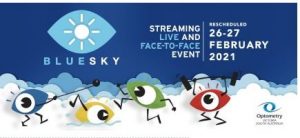 Associate Professor Celia Chen and Dr Katja Ullrich
By Helen Carter
Journalist
The use of OCT in neuro-ophthalmology including differentiating true optic nerve swelling and pseudo-optic nerve swelling will be discussed at Adelaide's Blue Sky hybrid virtual and in-person conference this month.
Consultant neuro-ophthalmologist/clinician-scientist at Flinders University, Associate Professor Celia Chen will speak on the topic – OCT in neuro-ophthalmology – what is new? – at the conference from February 26 to 27.
Professor Chen, who is Neuro-Ophthalmology Society of Australia president elect, completed her neuro-ophthalmology fellowship at the Wilmer Eye Institute, Johns Hopkins Hospital.
She will detail the four areas that optical coherence tomography is particularly helpful in, being diagnosis, disease monitoring, monitoring of drug side effects and prognosis counselling.
'The use of OCT to help differentiate true optic nerve swelling and pseudo-optic nerve swelling will be discussed in detail to help optometrists understand some of the OCT functions and scan mode that can help in diagnosing the condition,' Professor Chen told Optometry Australia.
'There are always emerging fields in OCT but there are many proven areas already. OCT is becoming an integral part of ophthalmic practice to define the structural changes.
'I will discuss the evidenced-based practices to help correlate these structural changes to optic nerve function. For instance, in a person with visual field defect, the OCT is very helpful to know if the field changes are a true defect or not.'

OCT image courtesy Associate Professor Celia Chen
Professor Chen said all optometrists who can use an OCT will be able to use the machine to help in diagnosis, disease monitoring, drug monitoring and prognosis counselling.
'However, I will draw particular attention to the different OCT measurements that are of interest and to help optometrists understand the different modes of OCT image acquisition,' she said.
'All OCTs are able to be used for these indications. Newer OCTs may have features such as additional filters and better resolution that can help visualise certain things better but one does not always need to get the latest OCT machine.'
She said there were also many synergies to help optometrists and ophthalmologists co-manage patients.
Consultant Ophthalmologist at Queen Elizabeth Hospital, Adelaide, Dr Katja Ullrich will give tips to help optometrists distinguish eyelid lesions that could be malignant and understand how an ophthalmologist manages eyelid lesions, as well as review assessment and treatment of ptosis.
Dr Ullrich completed her ophthalmology training in Adelaide then obtained further subspecialty training. She completed her fellowship in oculoplastic, orbital and lacrimal surgery at the Queen Victoria Hospital in the UK and underwent further training in aesthetic periocular surgery in Beverley Hills, USA and paediatric oculoplastics at the Children's Hospital in Philadelphia, USA.
'My talk will be a combination of topics,' she said. 'Firstly, I will talk about ptosis: we will discuss the various classifications along with proper assessment. I will highlight the differences between adult and paediatric ptosis and discuss "red flags" in patients presenting with ptosis.
'I will provide guidance for referral urgency and the underlying reasons for this.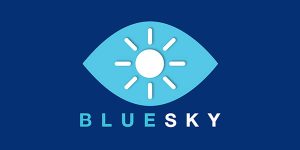 'During the second part of my presentation, I will discuss eyelid lesions, demonstrating some benign and malignant lesions along with masquerades. We will discuss details about differential diagnosis and red flags for possible malignancy.'
Dr Ullrich said it was sometimes difficult to differentiate eyelid lesions.
Optometrists' essential role in detecting periocular skin cancers
'Many patients with eyelid lesions present to their optometrist first. Having a good understanding of periocular malignancy and differentials enables appropriate referrals which may be life-saving and, at the same time, avoids undue distress to the patient,' she said.
'We will also discuss staging of periocular malignancies, the reason why this is important and I will provide insight into my approach to management. Because pattern recognition and sometimes a high index of suspicion is essential, I will demonstrate a variety of malignancies with clinical photographs. Participants can challenge themselves with interactive poll questions throughout the talk.
'Once lesions become larger, the management becomes increasingly more difficult as we are aiming at clearance of the malignancy but also excellent functional and cosmetic outcomes. The role of the optometrist is essential for early detection and appropriate referral of periocular skin cancers.'
Blue Sky is Optometry Victoria South Australia's premier CPD event for 2021 at Adelaide Convention Centre. The hybrid event will enable delegates to attend in-person if they're able, alongside virtual delegates who will be able to join via live-streaming of all lectures.
Virtual delegates will be able to attend all lectures, participate by asking questions during lectures, and engage with sponsors and exhibitors through an Event Engagement Hub throughout the conference. All lectures will be recorded for all delegates to view later should they wish.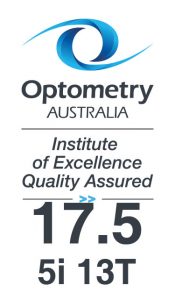 The program has been redeveloped to ensure it meets new OBA requirements and offers 17.5 hours of CPD including assessment with five interactive hours and 13 therapeutic hours.
Creche and CPR refresher training are also available for those who need it.
International guest speakers include Dr Blair Lonsberry and Dr Nate Lighthizer, and other guest speakers include 2020 Australian of the Year, Royal Adelaide Hospital ophthalmologist Dr James Muecke, AM.
In person attendance for members has been reduced by $100 to $499 for both days while virtual attendance for both days for members is $150. Details and registration
Filed in category:
CPD, conferences & events
,
Patient care & management
Tagged as:
Blue Sky SA
,
Eye examinations
,
Other eye diseases
,
Patient management