Read time:

1:30min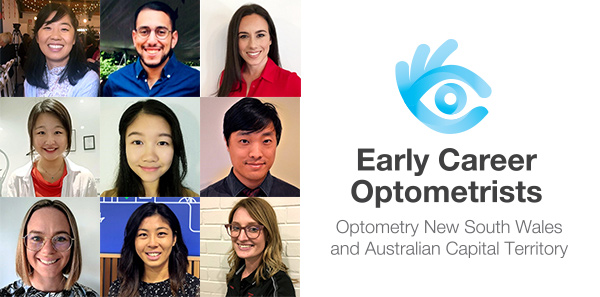 The ECONA committee, top L-R, Wendy Saw, Daniel Rafla, Alex Koutsokeras; middle Sue Kweon, Phoebe Wong, Jack Phu; bottom Lowana Littlechild, Margaret Zhong, Lauren Hutchinson.
______________________________
By Helen Carter
Journalist
Optometry NSW/ACT has announced a diverse group of talented optometrists as the inaugural committee for its new Early Career Optometrists NSW/ACT (ECONA) group.
The committee has a rotating chair and comprises optometrists who practise in rural and urban environments, representing both independent and corporate optometry. There is one fifth year optometry student, Pheobe Wong, and three optometrists from rural areas.
The committee is, in alphabetical order, Lauren Hutchinson, Alex Koutsokeras, Sue Kweon, Lowana Littlechild, Jack Phu, Daniel Rafla, Wendy Saw, Phoebe Wong and Margaret Zhong.
Strategic communications and member liaison with Optometry NSW/ACT Audrey Molloy said the ECONA committee would help Optometry NSW/ACT tap into the wants and needs of its 500-plus early career optometrist (ECO) members.
ECOs are students and registered optometrists who are up to ten years from graduation, and final-year optometry students from the University of NSW and the University of Canberra.
'The committee will advise Optometry NSW/ACT, help drive policy for ECOs, help us deliver CPD, networking and events which are relevant for ECOs and help us better serve them in regional areas, the corporate field and when advancing the scope of optometry,' Audrey told Optometry Australia.
'ECONA was formed to engage with, support and represent the growing number of early career
optometrists that make up our membership. This committee will act as a conduit between Optometry NSW/ACT and its early career members.
'This involves on the one hand advising Optometry NSW/ACT on what younger members need and want from their peak professional body, now and in the future, and on the other hand, helping to deliver these services.
'We have been overwhelmed with the positive energy around this committee!'
Corporate engagement and scope of optometry sub-committees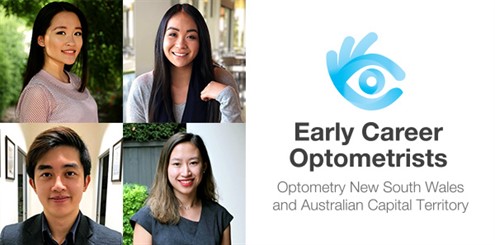 Members of the corporate engagement sub-committee, top L-R, Jingyi Chen and Estelle Zhao, and the scope of optometry sub-committee, Kerry Ho and Nancy Liu.
Two satellite committees have also formed to focus on corporate engagement and scope of optometry. They will each be chaired by two main committee members, and the corporate engagement committee will also include group members Jingyi Chen and Estelle Zhao while the scope of optometry committee will include members Kerry Ho and Nancy Liu.
An ECONA Facebook page will be set up but meanwhile Optometry NSW/ACT's Facebook page is profiling the committee members. Here is some of what they have to say:
Margaret Zhong believes ECONA is the perfect platform to represent and support young optometrists as facing experiences and challenges in their early career become fundamental in dictating passions and ideas around their profession.
Jack Phu wants to push forward an agenda of progressive and innovative practice to improve patient care while newly graduated Daniel Rafla says this amazing opportunity will allow him to contribute to future optometrists in the early years of their career.
Lauren Hutchinson's passion in optometry lies within Indigenous and rural community health and she believes optometry services should be accessible to all and delivered in a culturally safe way.
Lowana Littlechild said: 'As a young optometrist practising in a rural area, I am passionate about ensuring that the voices of optometrists like me are heard, and that everyone within the profession is well supported by the association regardless of geographic location.'
Alex Koutsokeras works in independent practice and wants to see more networking, social and industry events for all optometrists. Her future vision includes increased therapeutic and surgical scope of practice.
Sue Kweon works in independent practice in Sydney and believes ECONA should empower ECOs to build their future in the way they imagine it to be, while regional optometrist Wendy Saw is passionate about mentoring graduates and wants to be at the interface of our professional alliance with ophthalmologists.
Student Phoebe Wong hopes to improve the transition for students becoming optometrists, provide specialised professional development events, and empower optometrists to take on minor in-office surgical procedures.
______________________________
Filed in category:
ECOs & students
Tagged as:
ECOs