Read time:

1:30min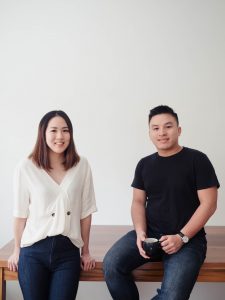 Optometry Australia recently caught up with members Lauren Chang and John Chen, founders of Mari & Clay. Their sunglasses business focuses on social conscience meeting the founders' passion for sustainability.
Indeed, sustainability informs all aspects of the business from products, packaging, materials, recycling, and right through to the supply chain. The business is further doing its bit for the planet by partnering with a reforestation program.
We asked Lauren and John about the sustainable business practices they have implemented in their new venture, discussed some practical tips on how optometrists can run a sustainable operation, and learnt about their giving back program. They also gave us their thoughts on the future of sustainability within the optometry profession.
Can you tell me a little about your optometry careers?
Lauren: John and I completed our optometry degree together in 2012 and we have been practising ever since. For the first few years of my career, I worked at the Australian College of Optometry and had the opportunity to work across different aspects of optometry including managing ocular diseases, community outreach and clinical teaching. In more recent years, I have worked as a locum optometrist for various practices in Victoria. I enjoy the flexibility of being a locum and it allows me more time to work on our business.
John: I was fortunate enough to land a job in a beautiful coastal town called Albany, Western Australia, for the first three years of my career. It was a diverse and challenging clinical practice. Since then, I have been working in corporate stores, independent practices and managing our business at the same time.
How did your thinking and ideas evolve towards starting up a sustainable business?
We launched Mari & Clay in April of 2020, right at the beginning of the first COVID-19 lockdown in Victoria. Both of us were at a point in our optometry careers where we wanted to start something of our own. We wanted to start a business with a sustainable focus because, throughout our optometry careers, we couldn't help but be concerned with the growing waste in our industry.
The reasons for purchasing glasses have changed and we both feel the industry is heading down the path of 'fast fashion', so we wanted to explore ways in which we can do business differently. We started looking for frames that are made from sustainable materials and discovered there was a lack of options available in Australia. That's what drove the idea to start Mari & Clay.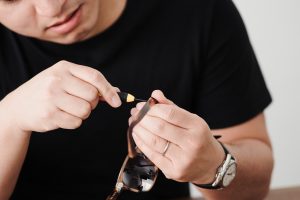 Tell me about some of the sustainable practices you have implemented in your business.
Sustainability is the core of our business decision-making process. We recognise that being an online business selling consumer goods can conflict with certain aspects of sustainability, and we concede that it's impossible to be perfectly 'sustainable', but we're always trying to think of ways to implement better practices throughout the entire product journey.
We sourced a 100% biodegradable material called bio-acetate from Italy to make all our frames. Bio-acetate is derived from responsibly harvested cottonseed and wood pulp and has similar properties to traditional acetate but without the added chemical plasticizers used during manufacturing. We also have plastic-free packaging, using recycled cardboard and home-compostable mailers for delivery. We even use eco-friendly ink – which costs more than conventional methods, but we believe small things like that make a difference!
Being sustainable is also about extending the lifetime of the product. We asked ourselves "how can we make one pair of eyewear last as long as possible?". We decided to offer repairs for Mari & Clay sunglasses and set up a recycling program where customers are encouraged to send back unwanted sunglasses purchased from us so we can properly repurpose and recycle them.
We are always looking for different ways to improve how we do things, so we are open to more ideas!
You are involved in an initiative that makes a positive contribution to the environment outside of your practice. Tell me about your partnership with One Tree Planted.
We've partnered up with the not-for-profit organisation One Tree Planted who runs worldwide reforestation projects. We are committed to planting one tree for every pair of sunglasses sold representing our small way of giving back to nature.
It took us a while to find an organisation that we felt shared our vision, and it was during the notorious 2019 bushfires in Australia where we came across and decided to partner with One Tree Planted.
They started tree-planting projects in the Northern Rivers of New South Wales last year and their goal is to plant 250,000 trees by 2025. We can't wait to see the restoration of our beautiful Australian landscape in the coming years, and we will continue to work hard to help them to reach that goal!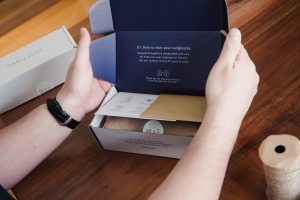 What are some practical tips you can give to owner-operator optometrists in running a sustainable business?
Start somewhere and start with something small! Maybe it is recycling more in your practice, swapping out plastic bin-liners with home-compostable ones, or encouraging your staff to use reusable coffee cups. We think small things collectively can make a difference.
Where do you think optometry as a profession could do more to become more sustainable, and where do you envision the future of sustainability should head towards in our industry?
We hope for an industry that is associated with less waste and promotes a sustainable circular economy. It's fantastic to see that some practices already have some measures in place, such as recycling used contact lenses and their packaging, or options for donating old glasses.
We would really like to see more opportunities for recycling and repurposing eyewear built into the industry. In the meantime, simply educating customers about purchasing good-quality products, and suggesting how best to care for their eyewear to ensure the product lasts a long time will go a long way!
Filed in category:
General news
Tagged as:
Future
,
Sustainability