Read time:

1:30min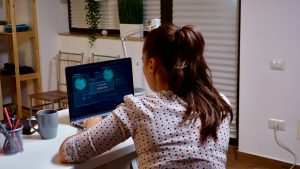 A recent surge in cybercrime and ransomware attacks has prompted the federal government to promote a suite of resources to help Australians and health institutions build their cyber security resilience.
As the healthcare sector shifts to an integrated virtual model of care during Covid lockdowns, it is important that optometrists are aware of these resources.
What exactly is ransomware?
Ransomware is a type of malicious software (malware) used by cybercriminals. It is a targeted attack that is often sneaky, and can render devices or files unusable by either blocking computer functions or encrypting data so that it is inaccessible to the owner. Cybercriminals will then typically extort their target by demanding "ransom money" in return for giving back access. These types of attacks can affect anyone from individuals to small and large businesses.
In a recent interview with ABC News, the Australian Cyber Security Centre's (ACSC) Abigail Bradshaw said ransomware attacks are increasingly targeting critical services such as healthcare, and that 67,500 cybercrime reports have been made in the last financial year alone­–an increase of 13 per cent from the previous year.
'What we've seen through the pandemic is really well organised criminal syndicates targeting the most vulnerable parts of our businesses and healthcare sector,' she said. 'They are targeting the healthcare sector because their services are the most critical at this point in time. As a consequence, the motivation has increased by the owners of those entities to pay the ransoms.'
Image: Top five reporting sectors for ransomware-related cyber security incidents (ACSC)
The ACSC has released a 2020-21 Annual Cyber Threat Report highlighting the key cyber threats affecting Australian systems and networks, revealing that:
The targeting of the health sector, particularly by cybercriminals, is one of the most significant cyber threats Australia has faced so far during the pandemic.
The health sector reported the second highest number of ransomware-related attacks in the last financial year with 500 reports recorded – an increase of nearly 15 per cent compared to the previous year.
Phishing (scam) campaigns, targeted spear phishing, remote access through vulnerable machines and the use of publicly available exploits remain the most common vectors for deploying ransomware.
For many healthcare institutions, digital technology has enabled them to continue delivering essential care through facilities such as telehealth. Due to this, they are often the most vulnerable to cyberattacks because of the necessity of their services. The pandemic has considerably increased Australian dependence on online tools and services and this has created an open space for cybercriminals to exploit.
Resources to help build your cyber security resilience and protect against ransomware threats
The ACSC has provided trusted and relevant information to help you safeguard yourself and your business against common cyber security threats. They offer many free resources to help you stay alert and prepared, and increase your cyber security resilience, through:
For more information on how to protect yourself or your practice against cyber security threats, visit the ACSC website to find out more.
Filed in category:
General news
,
Workplace
Tagged as:
Resources