Read time:

2:min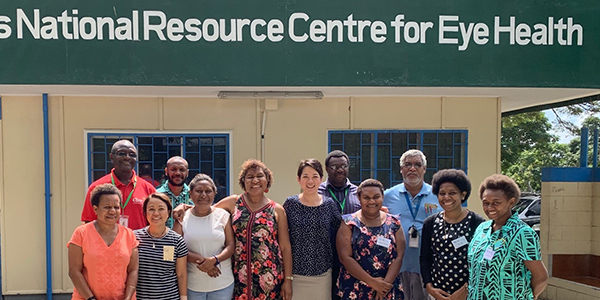 Sophie Koh, centre, with the PNG contingent
By Helen Carter
Journalist
Optometrist Sophie Koh has spent a rewarding week teaching refraction and low vision to ophthalmology registrars in Papua New Guinea in a collaboration with RANZCO and the University of PNG.
'There is so much scope for optometrists from Australia to make a difference in working and teaching in the Pacific,' said Sophie, also Optometry Australia's National Professional Services Advisor. 'PNG is only 1.5 hours flight from Cairns but has some of the poorest access to health care in the world. Almost 40 percent of the population lives in poverty.'
PNG has 14 ophthalmologists serving a population of 7.5 million who mostly live in remote rural areas. There isn't an optometry workforce. Cataract and refractive error are the major causes of blindness and there is a cultural reluctance to wear sunglasses and hats.
Sophie led a 'train the trainer' workshop for seven ophthalmology registrars.
'In PNG, ophthalmologists are scarce,' she said. 'Optometrists have expertise in retinoscopy, refraction, low vision and children's vision and are very well-placed to work collaboratively with ophthalmologists to support their education in these areas.
'University of PNG senior lecturer Dr Geoffrey Wabulembo was very keen for me to share my knowledge of binocular vision and low vision in children.'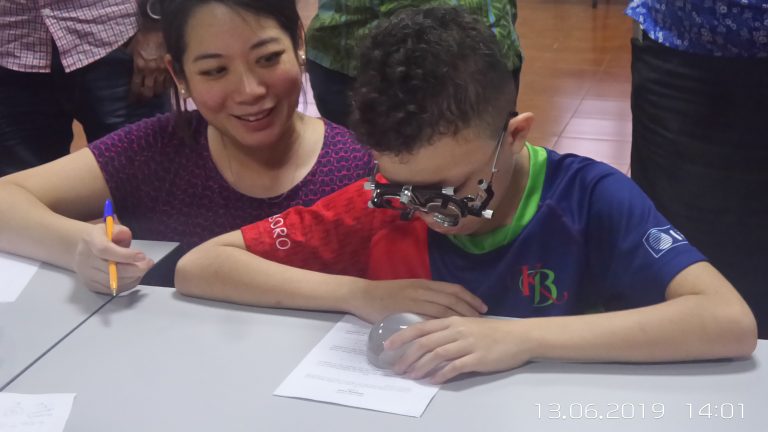 Sophie and Milan – new spectacles and a magnifier will impact his life significantly
Sophie's visit was part of ophthalmology capacity building by The Royal Australian and New Zealand College of Ophthalmologists (RANZCO) and the University of Papua New Guinea (UPNG)
RANZCO is supporting capacity building and eyecare in PNG with proposed long- term outcomes being increased availability and utilisation of quality eye health and vision care services, and a strengthened ophthalmology faculty.
Ophthalmologists from Australia and New Zealand have or will also visit this year to upskill in sub-speciality areas including medical retina, paediatric ophthalmology, oculoplastics, cornea and neuro-ophthalmology.
WHO pilot collaboration
Sophie also collaborated for a day during the week's visit in June with a World Health Organisation team from Geneva and Australia who was piloting the TAP (Training in Priority Assistive Products)  program in PNG.
'The pilot looks at strengthening eye care screening and assistive technology provision such as low vision aids,' she said. 'I had PNG trainee ophthalmologists, the WHO team and community eye nurses in the same room at a Port Moresby community health clinic, discussing and training local nurses to improve their knowledge of eye health and vision screening.
'In PNG, local knowledge of vision and eye health is minimal. Awareness and screening for life-threatening eye diseases like retinoblastoma and blinding disorders like retinopathy of prematurity needs improvement, as does the general understanding that children with turned eyes, or nystagmus, for example, need early referral.
'It was a great example of primary and tertiary care working together, along with stakeholders and teachers in th same room.'
'The WHO team provided low vision aids which led to a successful afternoon with me educating the trainee ophthalmologists in low vision and helping three low vision paediatric patients with supply of these aids.'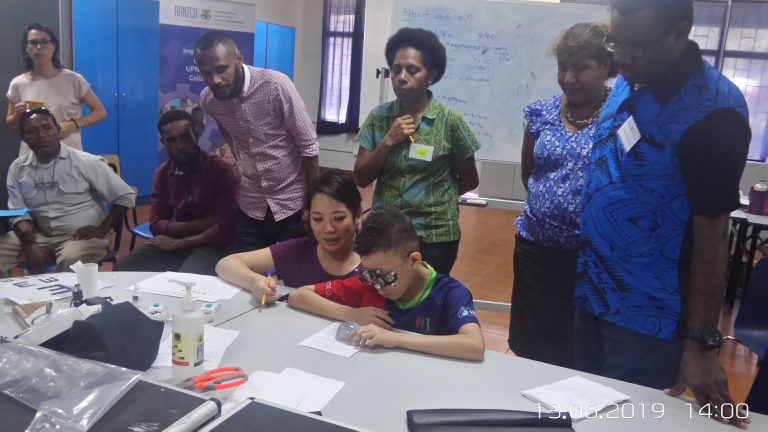 These included Milan, an 11-year-old boy with low vision of R 6/60 L 6/60, N 12 at near, who had never worn glasses, and had bilateral nystagmus resulting in low vision from birth.
'He had always sat at the front of this class and read books very close to his face,' Sophie said. 'With accurate retinoscopy and refraction, he improved to 6/24 L 6/24 with moderate astigmatic spectacle prescription.
'And with a low vision 3X dome magnifier, he achieved near vision equivalent to seeing phonebook print (N5).
'The trainee ophthalmologists and community nurses in the room were not previously aware that low vision patients could still have vision enhancement via perseverance with accurate refraction, and in addition, a simple magnifier.
'His new spectacles and magnifier, as well as his parent's improved knowledge of his condition, will impact his life greatly.'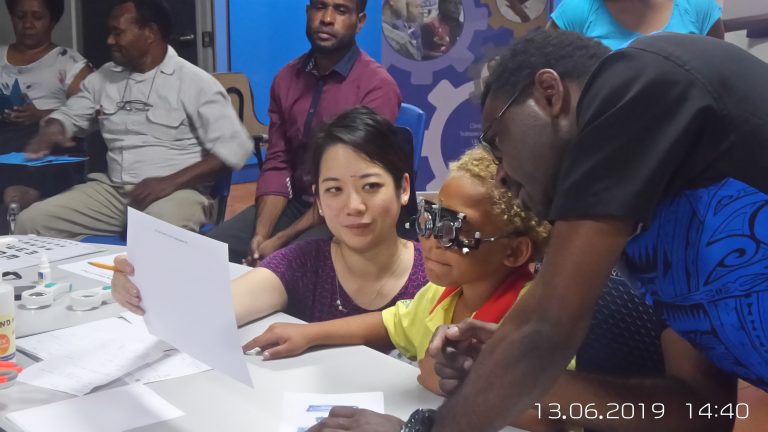 Sophie and Albert with at right, registrar Dr Lisoit.
Another patient, Albert, seven, referred due to low vision of 6/60 L 6/60, has albinism but had never worn glasses.
'He has bilateral nystagmus also, with esotropia,' she said. 'With accurate cycloplegic retinoscopy, we found high hyperopia of R +6.00 L +6.50. He also benefitted from his first pair of spectacles to control binocular vision issues, a low vision magnifier, and educating his parents who were previously unaware of his increased light sensitivity due to his albinism. He had never worn a hat or sunglasses so we stressed the importance of glare protection.'
It is the second time Sophie has worked in PNG as she was a volunteer consultant with Fred Hollows NZ upskilling eye nurses many years.
'I first developed my interest in working in low resource settings overseas, especially in the Pacific, during my final year externship trip to East Timor with Brien Holden Vision Institute,' she said. 'This led to return trips to East Timor, PNG and Solomon Islands as a qualified optometrist.'
OA member optometrists Heather Connor, John Farmer and Tim Fricke, who have expertise in delivering education in low-resource settings, assisted her with lectures, resources and advice.
Filed in category:
General news
Tagged as:
International
,
Leadership
,
Stakeholders & partners