Read time:

1:30min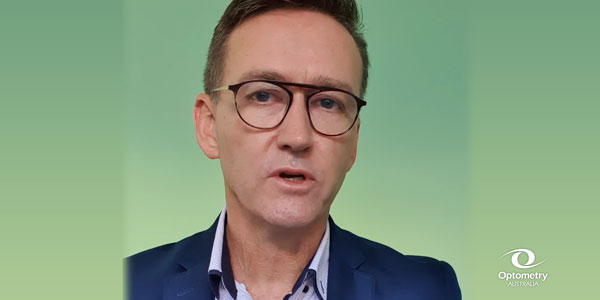 "As we close the FY19/20 financial year we are also slowly working through the greatest pandemic to ravage the world in 100 years. While it is definitely pleasing to see more and more restrictions being eased, the impact of COVID-19 will likely linger for many years as economies seek to recover and consumer confidence returns.
I have seen the early results of our member survey that we conducted in May and these results clearly highlight the effect that COVID-19 has had on our sector. While many practices remained open for urgent care only, during April at the peak of the lockdown, almost all optometrists were impacted by changes to their employment due to being stood down or working reduced hours. This resulted in the vast majority of members applying for some sort of support such as JobKeeper, JobSeeker and superannuation early relief.
These insights bring home the cold, hard reality of COVID-19. We know it is still tough for some members as the pandemic's financial implications continue to bite hard. We ask that you remain diligent in looking out for, and supporting each other.
Overall, we are a resilient profession that has an integral role in Australia's health care sector and it is pleasing to observe a lot of movement as our sector gets back to business. The upward swing in Positions Vacant advertisements on our Jobs Board is also a welcome trend.
However, we cannot allow this pandemic to pass without learning from it and in particular, leveraging disruption to better take control of our future. While some members have already taken this initiative by considering different models of employment or putting new business models in place, others are working with us and attending our current series of online workshops that explore resilience through disruption.
I am immensely proud that the vast majority of you feel that you have been well supported by Optometry Australia throughout this pandemic. I know that our team take a lot of care and satisfaction in providing you with the right advice, information and services to enable you to make informed decisions.
We have always taken pride in our level of member support and we promise that our support of members will not wane post-pandemic nor as a result of the 50% discount that we are providing on your membership fees for FY20/21. Importantly, I want to reassure that any income shortfall our federation faces as a result of this offer will not result in reduced services, as this will be funded from reserves.
We received almost universal appreciation for this initiative and we hope that you have, or will take advantage of this discounted offer to renew your membership before 30 June. Your support will ensure that we remain a strong, cohesive and united community.
We are also pleased to see you are responding strongly to our enhanced range of online CPD programs, and in particular our regular webcasts delivered via our Institute of Excellence. I look forward to welcoming you to our inaugural Optometry Virtually Connected being held entirely online from 26-28 June. I'll be available along with our CEO, Lyn Brodie, to chat at our virtual cocktail party and at the Optometry Australia stand (see the program for further details). This event will enable you to learn and connect with CPD, optometry suppliers and friends, and if you haven't already registered, I encourage you to join us at this innovative initiative.
The start of this financial year on 1 July 2019 seems a life time ago. Programs that we announced such as the LOOK Scholarships and the embedding of our consumer campaign 2020: the year of good vision for life, may have required postponement but we will deliver them.
For us, our #1 commitment is you and no pandemic, crisis or issue will ever change that focus.
Stay healthy, stay well and stay strong."
Filed in category:
General news
Tagged as:
COVID-19
,
Future
,
Leadership