Read time:

1:30min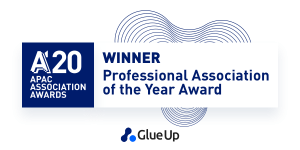 By Optometry Australia
Optometry Australia has been named 2020 APAC Professional Association of the Year.
Glue Up revealed the 4th annual APAC Association Awards winners Thursday 3 December at 5pm AEDT.
These awards recognise the outstanding achievements of associations and individuals across Asia Pacific and their impact on their communities and professions. This represents the third major international award that Optometry Australia has won in 2020 – the other two were Silver Stevie Awards for excellence in video innovation that we received in July.
Optometry Australia's President Darrell Baker declared: 'I am enormously proud to lead such an award-winning professional organisation. The professional team at Optometry Australia, led by CEO Lyn Brodie, is well deserving of this recognition and I encourage you to share with me our hearty congratulations.'
The Professional Association of the Year award celebrates professional associations that have achieved outstanding results.
'2020 has been a year of monumental change. COVID-19 has acted as a catalyst for remote working, digitization and technological advancements. Despite the challenges, many associations have stepped up and risen to challenges' said, Eric Schmidt, CEO and Co-Founder of Glue Up.
The Professional Association of the Year award acknowledges the range of initiatives that Optometry Australia achieved during 2020, particularly in relation to supporting its members through the COVID-19 pandemic whilst maintaining its commitment to delivering innovation in its core project work to advance the profession and optometry.
'We commend Optometry Australia for its commitment to its members and profession during 2020′, said Toni Brearley, from the Australian Society of Association Executives.
The Judging Committee, consisting of worldwide senior-level association experts including those from Australia, Africa and the Philippines, examined nominee's activities, member acquisition and engagement as well as challenges overcome during the year to advance the profession.
You can read the the full winners coverage on Glue Up website here.
Filed in category:
General news
,
History
,
Marketing
Tagged as:
Awards - honours - grants-bursaries
,
COVID-19
,
International
,
Leadership
,
Marketing