Read time:

1:30min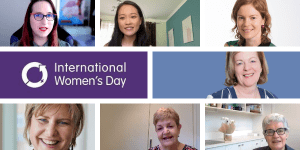 To respond to the challenge set by International Women's Day 2022 to #BreakTheBias, Optometry Australia launches a video as part of a campaign to seek understanding of the challenges facing women in optometry.
Today, almost 60 per cent of the optometry sector is made up of women. As your peak professional body, Optometry Australia seeks to gain a deep and authentic understanding of the challenges for females within optometry, and the key issues affecting women in the workplace.
In accordance with the global theme for International Women's Day this year, #BreakTheBias, Optometry Australia is seeking to better understand areas where gender bias exists within optometry.
CEO Lyn Brodie said, 'We want to raise awareness of the lived experience of people who identify as female within our profession, launch new initiatives and take action in response to their stories, celebrate women's achievements and more.
'We asked six members to tell us about their experiences of bias within optometry, and we are pleased to be able to share some of their responses with you today in this video.'
In launching the video, Optometry Australia wants to extend the conversation to its whole membership, inviting all members – irrespective of gender – to complete a short survey.
Lyn Brodie said, 'Now it's time to hear your voice, so that we can better understand the challenges faced within optometry due to unfair treatment on the basis of gender.
'Optometry Australia is really excited by this initiative. We want to hear your voice and, most importantly, we want to work with you to drive change.'
International Women's Day
Globally, International Women's Day is celebrated and supported by industry, governments, educational institutions, community groups, professional associations, women's networks, charities and non-profit bodies, the media and more.
Collectively every person and all groups can make a difference within their sphere of influence by taking concrete action to help build a more gender equal world. From small powerful grassroots gatherings to large-scale conferences and events, International Women's Day is celebrated everywhere. It's a big day for inspiration and change, and Optometry Australia takes up this challenge.
Collectively we can all #BreakTheBias.
Filed in category:
General news
Tagged as:
#BreakTheBias
,
International Women's Day
,
International Women's Day 2022