Read time:

1:30min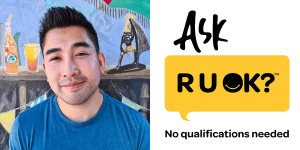 By Dr Andrew Nguyen (Optom)
Treasurer, Optometry WA & OWA Early Career Optometrists (ECO) committee member
In 2019, I wrote an article on burnout in optometry after attending an Early Career Optometrist Think Tank in Hobart, Tasmania. That article is here and while it remains extremely relevant, I wanted to provide an update three years later reflecting on methods I have used to combat burnout. If I am even able to help one person reading this, I think that would be enough to justify this revised reflection.
There is no denying the world has changed since my last article, and while it is slowly returning to a state of equilibrium, burnout continues to remain at the forefront. A quick search on PubMed shows that the number of publications related to burnout has increased exponentially since the 1980s. There were only 27 publications on burnout in the 1980s, which increased to 145 in the 1990s, 311 in the 2000s, 578 in 2010 and between 2010 and 2019, this increased to a staggering 2,145 publications.1 On top of this, a study regarding optometrists released in April 2021 highlighted that one in four optometrists had consulted a health professional about a mental health issue.2, 3
The term 'burnout' was first referenced in 1975.4 The three pillars of burnout are:5
Feelings of energy depletion or emotional exhaustion – This can present itself in symptoms such as headaches, irritability, frustration or an inability to get out of bed in the morning.
Feelings of negativism or depersonalisation – This relates to reduced empathy towards both patients and the people around you and feeling detached from your job.
Reduced professional efficacy – This occurs when you stop being a high level professional and simply go through the motions of your job and function with reduced critical thinking.
For a more in-depth explanation of these three pillars, please read the previous article here.
Helping others will help you to reduce emotional exhaustion
Through my role as an ECO committee member and Treasurer of the OWA board, I have had the opportunity to speak with many optometrists in various stages of their career. Having graduated in 2015, and with a few years of experience under my belt, I have been able to connect with many optometry graduates, act as their sounding board and listen to both their professional and personal concerns. Inevitably, burnout is a topic that is commonly brought up. Speaking to the graduates, I realised how much of what they were going through mirrored my own journey. Common themes that came up in our discussions and literature:1
Lack of job satisfaction – This can occur when optometry becomes a monotonous job. Optometrists can begin to feel like they are at the end of a conveyor belt in an optometry supermarket, endlessly refracting and selling glasses. This is poor use of skills and definitely not what I believe we were trained to do.
Being undervalued – We spend so much of our day caring for our patients that it is always difficult when our employers or colleagues do not appreciate our effort. It is easy to feel undervalued when we are continuously pushed to do more and rarely appreciated for our services or rewarded for our hard work.
Feeling unheard – It is difficult when attempts of constructive feedback or cries for help are consistently ignored by either your team or management. It is easy to become depersonalised towards patients when our personal needs are not being met.
Being overworked – As a student you see between 2-4 patients a day. This number increases quickly to 8-10 when you first graduate. Before long, clinics can be anywhere between 15-25 patients a day. I think that training as an optometrist and functioning as a practitioner are two completely different aspects of optometry. We get taught how to be a great optometrist but after graduating, we may not always have the right support network to help us cope with the workflow of a busy clinic.
Lack of emotional support – A good social network of friends or family is extremely important. Living in Western Australia, all of the new optometry graduates here have relocated from interstate or overseas. Poor job satisfaction and a lack of emotional and physical support in a new community are key drivers in the decision for optometrists to return home to their original city.
Being underpaid – Optometry is a highly skilled and technical occupation and it is not unfair to expect working for a fair compensation. This means that we should be able to negotiate pay raises in lieu of inflation. On the contrary, we should be able to charge patients appropriately for our care and time.
What was interesting was that as I started to speak to more experienced optometrists, I could see that burnout was also affecting them. I came to the realisation that burnout is not only limited to early career optometrists6; I have spoken to optometrists with over 20 years of experience that have experienced or are experiencing burnout. While they feel a lot of the same pressures as younger graduates, they sometimes also felt trapped because they have a family to support and no opportunity to leave because they have a mortgage or other debt.
I was able to help them by using my own experiences to offer career and personal advice. I was also able to link other optometrists to mental health resources from Optometry Australia. In situations where optometrists were looking for help reviewing their contracts, I connected them with our CEO at Optometry Western Australia or the team at Optometry Australia. Through this process, I realised that this comradery allowed us to be heard and justified our experiences and emotions. Most importantly, it showed us that we are not alone. I was able to push through the feeling of burnout and continue moving forward. So, if you are experiencing burnout or you see someone experiencing burnout, reach out and offer to help them because in doing so, you may be in fact helping yourself.
Prevent depersonalisation by deciding what type of optometrist you are
I believe that escaping burnout comes down to realising your own personal values and matching them to the life want to lead.1 Part of reducing depersonalisation is deciding what type of optometrist you are going to be; are you more of a work-to-live or live-to-work type of professional?
There is no shame if optometry is just a job and not your passion. Knowing this allows you to create appropriate boundaries separating your work and personal life. You can utilise your energy to nurture other hobbies or spend time with family or friends. This approach does not discredit your validity as a clinician, but it gives yourself permission to mentally leave everything at work and focus on the things that you truly value outside of work.
On the contrary, if you thoroughly enjoy optometry, then I think you need to continue to push yourself to do the best that you can and never stop learning. I have cultivated special interests in helping children with binocular vision issues, having suffered from them myself and not being diagnosed until I started studying optometry. I find it rewarding to work through challenging cases and solving difficult problems. Granted, I still have a long way to go in terms of my learning and career when I compare myself to the amazing clinicians out there that I have great respect for and wish to learn from one day. It is perhaps strange, but I can begin to exhibit depersonalisation when I feel I am not providing the best care for my patients.
Finding your meaning in work and life as a defence for reduced professional efficacy
If you could do anything, what would you do? This is the question I asked myself one rainy morning during the first wave of COVID lockdowns in mid-2020. While this period was a challenging time for Australia and the world, one of the silver linings was that it provided me with the time to both look introspectively at my life and also work towards shaping a better and brighter future moving forward. I was (and in some ways still am) a big supporter of the F.I.R.E. (financial independence, retire early) movement and had been working towards that goal since 2016.7 The lockdown provided me with the opportunity to sit down and ask myself what I would do in life if I was financially stable and did not have to work another day. And while many thoughts crossed my mind, I realised that I thoroughly enjoyed being able to help people improve their quality of life by helping people see better through my role as an optometrist. I think that was a light bulb moment – I had been so focused on facilitating my F.I.R.E. goals that I did not stop and breathe and actually give myself a chance to enjoy the work that I was doing.
I switched tact and looked for more meaning in my work. I joined a prominent optometry practice which had a special interest in paediatrics and was also fortunate enough to land a role working alongside a dedicated team of nurses and ophthalmologists at Sir Charles Gairdner Hospital in the Ophthalmology department. The work at each respective location comes with it own set of challenges and rewards. The paediatric practice attracted more complicated cases which by nature was extremely rewarding, however, this also took more time and energy both mentally and physically. One of the most challenging days I remember was seeing five neurodivergent children in a row. The hardest part was not only testing the children but also communicating the situation to the parents and bringing them on board with the solution. On the contrary, depending on the day at the hospital, myself and another optometrist can be screening up to 70 patients for the ophthalmology team.
Although these days are challenging, I never lost sight of the fact that we were helping every patient. Every biometry you perform for a cataract patient is another patient that is one step closer to achieving better sight. Someone can walk into the clinic with suspected papilloedema or a retinal detachment and you know that you were in some ways able to help them through the scans you have taken or just by taking the time to explain a simple concept to them.
Working in the hospital has provided me with further opportunities of working in a private ophthalmology clinic and has led to my role as a clinical supervisor for the optometry students at the University of Western Australia. On top of these roles, I continue to locum when I have the time, which provides a good work life balance.
Extinguish burnout before it starts
In the same way that life consists of both sunny and rainy days, we as people have good days and bad days. Bad days can lead to stress, and small amounts of stress is normal and often necessary to let ourselves know that we are pushing our boundaries. However, left unchecked, extended periods of stress may lead to burnout. Therefore, it is important to build mechanisms to reduce both the likelihood of burnout occurring and to also ensure that even if we have a period of stress, we are able to bounce back quickly and extinguish burnout before it occurs. Here are some of the personal things that I do:
Having a routine – Having a schedule and sticking to it allows me to keep track, plan and use my time more efficiently.8 When you schedule your days in advance and count how many hours you actually have minus sleeping, working and commuting, you realise how little time you have. This helps me work harder to achieve my goals.
Staying physically active – My personal favourites are yoga and the gym. I enjoy stretching most mornings with some Lo Fi music in the background as a calming way to start the day. If I am not stretching in the morning, then you can find me in the gym. In the evenings, I spend time releasing joints and pressure points using a foam roller and a massage ball as I find it helps decompress my body after a long day of consulting and is one of the few things that helps reduce my chronic headaches. It is important to never dismiss discomfort or try to 'soldier on', and Optometry Australia provides a guide to help optometrists work more comfortably in the consulting room.
Meditation and mindfulness practice – I do not meditate in the traditional sense but when I find myself with a moment to spare, I sit on the couch while watching steam evaporate from my freshly brewed cup of hot tea and think about all of the things I am grateful for as well as things I can improve upon in my life and about myself. Meditation and mindfulness have been shown to reduce stress and anxiety and promote emotional health and improve self-awareness.9
Sleep well – In recent times, I have been able to regulate the number of hours I sleep by going to bed and waking up at a similar time each day. I have found that both sleeping at a regular time and for the recommended amount of time (7-9 hours)10 has greatly improved my mental resilience and ability to perform tasks which involve critical thinking for longer. I highly recommend reading Why We Sleep by Matthew Walker if you are curious to know more about the importance of a good night's sleep.11
Tips for surviving the workday
Remember to eat and keep hydrated – It is not a common occurrence, but sometimes work takes precedence and there is simply no time to sit down and enjoy a proper meal. It is vitally important in these situations to keep calorie dense snacks close by and to drink plenty of water as hunger and thirst can impair your decision making, make you more impatient and lead to more stress.12
Reset your mind between every patient – Whether it is taking an extra few seconds to clean your equipment or having a sip of water, these mini-breaks are important to recover and reset after seeing a patient. These mini-breaks become vital after having dealt with a challenging patient.
Where possible, get some daylight – As optometrists, we spend much of our day in a dark room, so being able to catch a glimpse of the sky or venturing outside during our lunch breaks is not only a good source of vitamin D but also important for breaking up your working day.
Making sure your team is okay – A healthy workplace consists of a healthy team. A healthy team supports you and helps you perform your job better. It does not cost anything to be kind and truly check up on either a team member or a patient.
Each pair of eyes tells a story – We sometimes may forget that there is a person attached to the eyes. Remember that we are in the business of providing sight and it is better in most cases to run a few minutes late rather than provide poor care.
If you ever need help, Optometry Australia has a suite of resources to assist you in building your mental resilience and look after yourself during challenging times. All Optometry Australia members also have access to their Member Assistance Program which offers up to three free coaching and counselling sessions over a 12-month period.
Andrew is a member of Optometry Western Australia, and this article represents his personal views on optometry and workplace burnout.
R U OK? Day (8 September 2022) is a national day dedicated to reminding everyone to ask "Are you OK?", and to remember to support people who may be struggling with life's ups and downs.

References
1. https://www.ncbi.nlm.nih.gov/pmc/articles/PMC7604257/ De Hert S. Burnout in healthcare workers: prevalence, impact and preventative strategies. Local Reg Anesth. 2020; 13: 171–183
2. Optometry Australia. Survey reveals high rates of psychological distress and burnout as one-third struggle with mental health https://www.optometry.org.au/workplace/survey-reveals-high-rates-of-psychological-distress-and-burnout-as-one-third-struggle-with-mental-health/
3. Bentley S, Black A, Khawaja N, Fylan F, Griffiths A, Wood J. The mental health and wellbeing survey of Australian optometrists. Ophthalmic and Physiological Optics. 2021; 41(4): 798-807
4. Freudenberger HJ. The staff burn-out syndrome in alternative institutions. Psychotherapy: Theory, Research & Practice. 1975; 12(1): 73-82
5. World Health Organisation. May 2019. https://icd.who.int/browse11/l-m/en#/http://id.who.int/icd/entity/129180281
6. Jiang H, Huang N, Jiang X, Yu J, Zhou Y, Pu H. Factors related to job burnout among older nurses in Guizhou province, China. PeerJ. 2021; 21;9:e12333
7. Forbes. How To Retire Early With FIRE. https://www.forbes.com/advisor/retirement/the-forbes-guide-to-fire/
8. Hou WK, Lai FT, Ben-Ezra M, Goodwin R. Regularizing daily routines for mental health during and after the COVID-19 pandemic. J Glob Health. 2020 Dec;10(2):020315
9. Lutz J, Brühl A.B, Scheerer H, Jäncke L, Herwig U. Neural correlates of mindful self-awareness in mindfulness meditators and meditation-naïve subjects revisited. Biological Psychology. 2016; 119:21-30
10. Sleep Foundation. How Much Sleep Do We Really Need? https://www.sleepfoundation.org/how-sleep-works/how-much-sleep-do-we-really-need
11. Walker M. Why we sleep. Harlow, England: Penguin Books. 2018
12. The BMJ. Looking after ourselves at work: The importance of being hydrated and fed https://blogs.bmj.com/bmj/2019/01/31/looking-after-ourselves-work-importance-hydrated-fed/
Filed in category:
General news
,
Workplace
Tagged as:
Mental health