Read time:

5:0min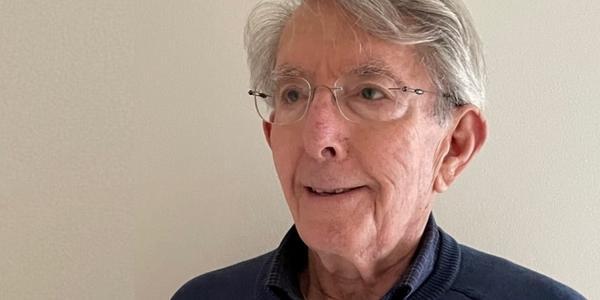 When Robert Kaye called up Optometry Australia a few weeks ago, a discussion about CPD led into an interesting discovery.
When Robert mentioned he was 85 and asked if any practicing optometrists are older, it piqued our interest, and after some investigation it became clear that he is in fact the oldest registered optometrist in Australia.
We wanted to know more about the man who, instead of retiring, not only continues to see patients but also works with volunteers to set up exhibits in the Cyril Kett Optometry Museum, of which he is a member and donor.
OA: Why did you decide on optometry as a career?
Robert:  After leaving school in South Africa, I was keen to pursue a career in the sciences and enrolled in a Bachelor of Science at the University of Witwatersrand, later changing to optometry at Witwatersrand Technical College. I felt this career path offered a good fit for my future family, travel, lifestyle, and work aspirations.
In the short term, I was able to work part-time in a family practice, while studying to complete the course. Graduating in 1959 with a Fellowship of the South African Optometry Association, I was recognised to practice by the South African Medical & Dental Council.
OA: What were some of the memorable events that you encountered between graduating and selling your practice?
Robert: Early in my career I travelled to the United Kingdom, gaining practical experience at London Refraction Hospital, and studied the latest techniques in contact lenses and prosthetics at world-famous Moorfield's Eye Hospital with Professor Montague Ruben.
This was followed with a Fellowship of Association of Contact Lens Practitioners, which later became the British Contact Lens Association (BCLA). In the same year I spent time in Germany engaging first-hand with contact lens manufacturing. Those were the days prior to RGP's and soft hydrogel lenses, where PMMA was the main material available.
"Some trivia: I was privately working with an Australian molecular chemist, mixing Davis product with Formaldehyde to produce a soft hydro-gel material, which was moulded between hard plastic surfaces to create what could have been a first for Australia. While we were trying to raise funds to patent the formula, scientist Wichterli was granted his patent, and the rest is history.'' – Robert Kaye
In 1961 I was invited to take a post as lecturer in Ocular Physiology and Ocular Pathology at the School of Optometry in Johannesburg, followed by election to the Board of Examiners. My own independent practice opened in 1963 in Johannesburg with support staff of three, when I acquired the well-known contact lens author Frank Dickenson's practice.
In 1971 I became the holder of a Private Pilot Licence (PPL) and bought my own plane ZS-ECE, later to be invited to join the volunteer medical team known as "Harry's Angels". This group took specialist medical services to Swazi indigenous people, who would otherwise not have had these services available.
Early in 1972, as a fellow Rotarian, the Australian Trade Commissioner in South Africa suggested to me that "there was a need for someone with my qualifications to work in Australia". This led to my contact with Jack Stewart, one-time WW2 pilot officer and well-known optometrist and ex-Mayor of Denilliquin, NSW. So began our successful emigration to Sydney, NSW.
I later purchased a cottage in Chatswood (Gammeraygal country) to continue with my own independent practice, eventually selling the property and practice in 2003.
OA: What are the advantages of continuing to practice instead of enjoying retirement?
Robert: I believe retirement has its own personal meaning, which is different for each individual. My plan for retirement was to continue working part-time. By skillful negotiation this was achieved with the new owner. Freed of all the regular administrative matters, this allowed me to enjoy the lifestyle changes that come with advancing age, while still engaging with the patients and profession.
OA: What are some of the major changes you have seen during your career?
Robert: Prior to the 1980s, professional relationships between ophthalmologists and optometrists were almost non-existent. This has changed dramatically. Now we work collaboratively as a team, in the best interest of the patient outcome.
In terms of regulation, major changes include Medicare recognising the rebate payment for optometry fees which allowed optometrists the option of bulk billing, the lifting of advertising restrictions for optometrists in 1986, and when optometrists were granted permission to use drugs for diagnosis and refraction.
There is also the introduction of advanced instrumentation technology. Now we have sophisticated, high-resolution cameras, OCT, and automated visual field testing, whereas prior to the 1960s and 1970s we relied on hand-held monocular ophthalmoscopes for retinal examination and visual testing was done using a black material Bjerrum Screen with a hand wand.
OA: When and why did you join Optometry Australia as a member?
Robert: As soon as I was granted optometrist registration by the NSW Board of Optometry, I applied for membership of the Australian Optometrists Association (AOA), later to become Optometry Australia.
The main reason was to gain the known benefits of meeting like-minded professional colleagues, and to keep up to date with the latest regulations, news, and events in the profession. AOA also aided with professional indemnity insurance, in case of litigation. At that time the AOA also had a preferred health insurance provider for members and the association was the biggest representative body of optometrists.
OA: What obstacles have you encountered over the years?
Robert: Because I had gained my qualifications overseas, I needed to comply with regulations in Australia by convincing the regulators that I was suitably qualified.
I didn't regard this as an 'obstacles' but rather as an "issue of compliance with regulation and standards". I had to apply for exemptions at each board level, by producing adequate technical and practical competence, in order to be registered and permitted to practise.
OA: What is the most enjoyable part of optometry for you?
Robert: As an optometrist, I derive satisfaction by helping patients achieve their best visual outcomes, while working as a team member in a co-management environment. I enjoy the challenge of adapting to new technology and working with ophthalmology in this exciting phase, as well as knowing that patients place significant trust in me. Continuous higher learning has always been important to me, so I was particularly pleased to receive a Fellowship of the College of Optometry (FCO) and a Fellowship of the Cornea and Contact Lens Society Australia (FCCLSA).
OA: How do you feel about being the oldest registered practicing optometrist in Australia?
Robert: This important milestone is not something I set out to achieve, but it comes as a pleasant surprise. I believe age is merely an adjustment to time and an attitude to the future. I'll carry on as long as I can maintain the mental and physical capacity to continue practising in the profession.
OA: Do you have plans for eventual full-time retirement?
Robert: At this mature age it is probably not a good idea to plan too far ahead. I have set some practical markers, like mental and physical agility, which should trigger, "it's time to hand in the badge". There is a notice on my board to remind me of this every day.
"I believe age is merely an adjustment to time and an attitude to the future.'' – Robert Kaye
Filed in category:
General news
,
Members & member initiatives
,
Workplace
Tagged as:
kaye
,
robert
,
senior optometrist