Read time:

1:30min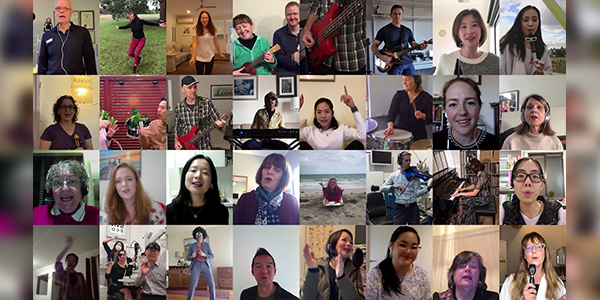 By Optometry Australia
"Without music, life would be a mistake", Friedrich Nietzsche
'We are here' is a musical collaboration that was created to unite Optometry Australia members in a fun and engaging way during the COVID-19 pandemic.
Led by optometrist and Optometry Australia staff member Sophie Koh, the lyrics of the song were a composition of members' thoughts and feelings about this weird time in the world. And so, 'We are here' was born.
And we're still here, wanting to highlight some of the talented members who took part.
Each week we will feature some members' words, photos and videos and share their thoughts about music and the project.
"If music be the food of love, play on.", William Shakespeare
Susan Bilton from NSW (18 September 2020)
"I was traditionally shy and over-anxious in public as a young person. I found public speaking painful, too. Anyhow, I did some work on myself in my late 20s which helped me feel more confident, which meant I found public speaking to be less horrific.  Then I had my daughter, who grew to have a lovely singing voice. She had lessons at a voice studio that also had some choirs, and she joined the main choir from that studio, which was very successful, winning Sydney Eisteddfod and national choir competitions, etc.
I was shuttling Yasi here and there and secretly feeling a bit hemmed in and jealous of her opportunities, while being too tired to feel up to doing anything creative myself, while working full-time and being a mum. When Yasi left home to go to Uni, I joined a casual women's community choir from the studio she used to sing at, that was formed with other mums who were also secretly jealous of their kids' opportunities. This choir is informal and fun, and we have become a pretty solid support unit, with some of us extending ourselves more, by having singing lessons or auditioning for solos, etc. We also had a great time being in the backing choir to a local performance of the rock opera "Chess". I enjoy going to choir and having a chance to sing loud, which tends to ease some of the tension from a pretty responsible work life.
A couple of years ago I was kind of handpicked to play the role of Winifred, the head witch in Hocus Pocus (Bette Midler played her). We got dressed in witches outfits and did a rendition of "I put a spell on you" from the movie. Apparently I was a suitably hag like prospect.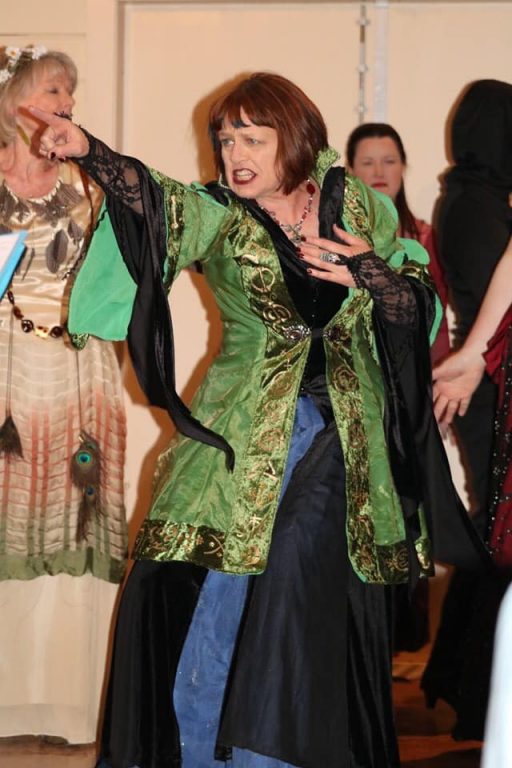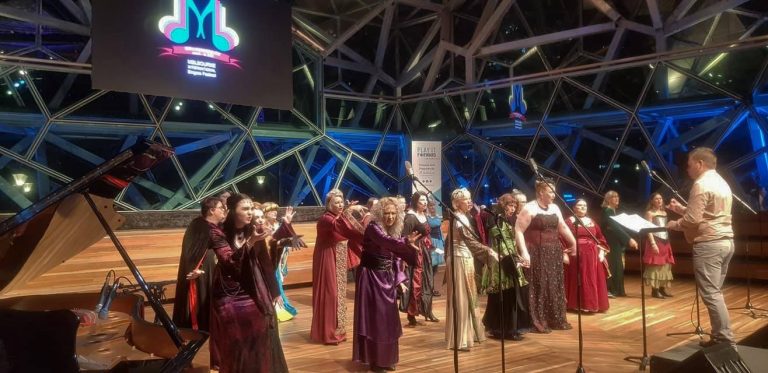 I actually prefer singing loud in the back row of the choir, but this experience has opened me up to feeling freer inside, and to doing my best to perform for an audience. This is a big contradiction to being a health professional, and I am happier for it.
Anyhow, after 5 years of this, singing just comes naturally now, and I actually thought this project would be a compilation of small faces (like being in the back row of the choir) so I was comfortable to send in a video.
I don't like being time poor and I didn't put enough time into the project but I am continuing to learn to drop being perfectionist, and it is better to do what you can rather than nothing at all. I really enjoyed seeing the compilation, and the song itself had a really good feeling.
I am a little lost about what is a message I can give for us moving forward. I oscillate between continue on working with care, live life to the fullest while you can-do those things you've always wanted to if you can, isolate and keep yourself safe until things go back to normal, and reach out and connect as much as possible in any way you can. In other words, this pandemic is freaking me out, but if it all ends now, I want to live with love for myself and for as many others as I can…"
Sujan Hong from NSW (11 September 2020)
"Music is not something I could do professionally (I don't think I can practice 10+ hours a day to become a professional) but more something I couldn't live without! Having spent most of my "after school" hours during high school involved with every music group at school, I would feel weird and empty not having some sort of musical activity in my life. Being able to express my feelings via music is something that I would be eternally grateful for from my parents.
I have missed collaborating and playing with others. Since coming to Australia, I haven't been involved with any orchestras, bands or choirs and the prospect of being able to play the piano AND sing sounded like too good of an opportunity to miss. The Optometry Australia song was super catchy and I really enjoyed being part of it. When the circumstances change and when we can have a face-to-face conference event in the future, I am hoping we could continue this project to a real live performance!
                                  Sujan playing 'We are here' song
As professional affairs at Alcon, I get to share educational content to optometrists and budding optometrists (i.e. students) as well as other health care professionals. I find my job extremely fulfilling even though I don't get to see patients directly and hope I can be of a useful resource to optometrists on all things Alcon whether it be contact lenses or dry eye management. When I am not working, I may sometimes be putting up K-POP covers on YouTube."
You can also watch Sujan performing in some famous blockbuster movies!
Maria Dimitratos from NSW (4 September 2020)
"In 30+ years of being an optometrist there hasn't been a lot of opportunities to connect with a lot of colleagues, apart from the occasional networking at a CPD event.
Despite being married to (and working with) an optometrist I think we can be quite isolated in our profession, given that we spend a lot of time in our consult rooms in a' one on one' situation.
I loved singing from a young age and my musical experience revolved around singing in school choirs and later in a church choir. Performing at the Opera House, Angel Place in Sydney and the 2004 Athens Paralympic Closing Ceremony has been a thrill. Participating on this video rekindled beautiful memories of my Dad who had a beautiful tenor voice and would sing often because he just loved it!
My dad and his 4 siblings and grandad had beautiful singing voices. Having the chance to singalong reminded me of the joy in my dads face when he sang-even when he has Alzheimer's in his later years , he couldn't remember us but he had his singing voice. It's been lovely to remember him just by giving this a go.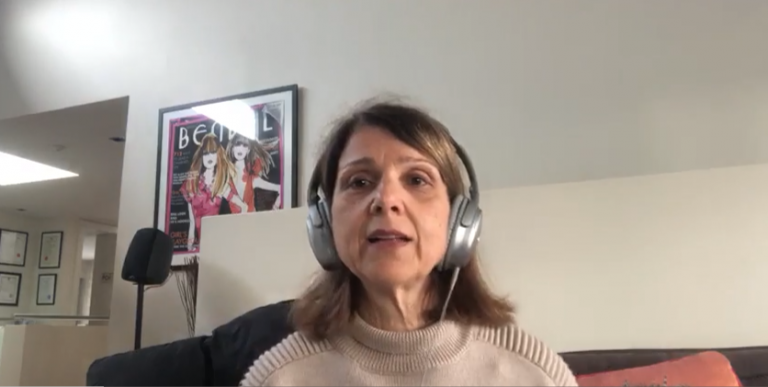 Music brings people together and when I sing (even if a bit off key) I feel I can express who I am and truly be myself. It also helps me feel connected to people in the group and the world beyond. Since we have all felt moments of isolation during the pandemic I thought it would be a great opportunity to connect with fellow optometrists in a personal way and get a bit of relief from the seriousness of what is going on in the world!
When I sing all worries fade away"
Dom Willson from NSW (28 August 2020)
"I've played various musical instruments since I was in primary school but started learning electric bass guitar when I was about 16 or 17, egged on by my mates who wanted a bass player to jam with!! When I was a teenager we used to idolise people in bands but these days it seems to be youtube stars that the teenagers look up to now. Over the years I've played in working bands in many pubs & clubs around Newcastle & the Hunter Valley. More recently I've been concentrating on my singing but that's been happening more in the car than on stage!! I've never been a particularly artistic person but I love the way music can make you feel and transport you to a different place or evoke a strong emotion.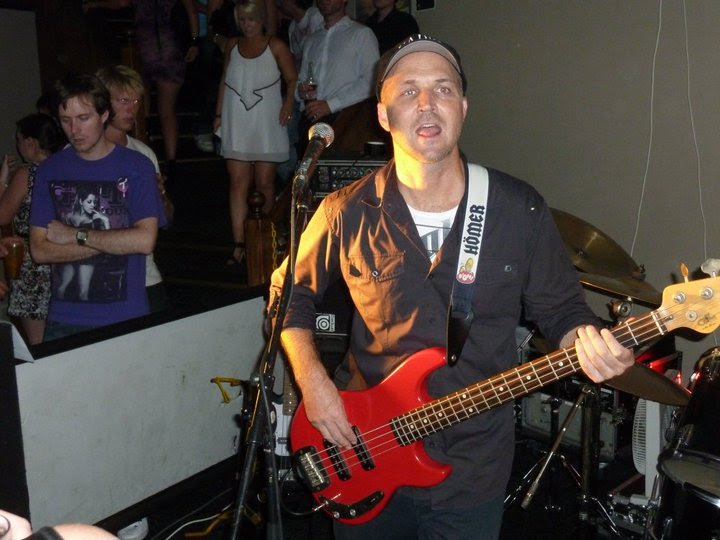 There are a few reasons I readily agreed to be involved in Optometry Australia music project:
1. I've always felt that if you jump in and volunteer for something that's a bit of an unknown, you never know what benefits and positive experiences you're gonna get out of it, and the "risks" are usually either very low or non-existent;
2. I'm a supporter of Optometry Australia and the principles behind it, and always want to support it however I can;
3. I love the idea of putting on a show and having some fun! I gained an appreciation of Sophie's skill in writing a catchy pop-tune that was not only an 'ear worm' but had lyrics with meaning, and on a more practical level I learned how to record tracks on a web-based multi-track recorder (I've only ever recorded using real-life studio equipment or, before that, magnetic tapes to record songs!). Seeing the finished product reminded me that optometrists are not all just scientists but that we do also have a breadth of human abilities in our profession.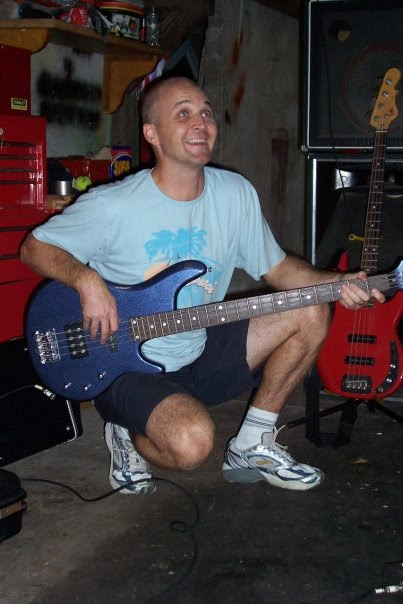 From a personal perspective, I've had my own practice in Newcastle NSW for just over 20 years now, but it's time for a change and so I have plans to move to the next phase of my career, which will be offering locum optometry services around NSW & Australia.
For some optoms in some parts of Australia, I know things are tough right now, but as a nation we've come through tougher periods than this and come out the other side"
Rachael Kwok from Victoria (21 August 2020)
"My name's Rachael, I work as an optometrist in Melbourne.
I usually sing in an a cappella group in my spare time. I've really missed singing with other people, since rehearsals aren't possible at the moment.
So I jumped at the chance to be involved in Sophie's music project! It was awkward singing to a camera at first, but I ended up having a lot of fun.
I've picked up (and put down) many instruments over the years, I'm currently using my extra time at home to learn the guitar.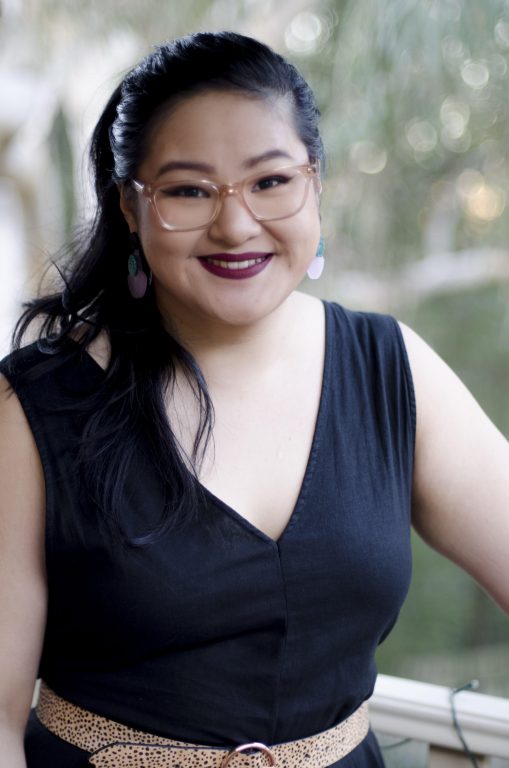 During this difficult time, all we can do is take things day by day, and find things to do that bring a little bit of joy. We're all in this together!"
David West from Victoria (14 August 2020)
"Music helps calm the soul, and is uplifting; a great way of reducing stress, particularly at present.
Other professions seem to have orchestras and choirs, and it was about time we punched our weight – thanks to Sophie, there is now some momentum.
I have played the piano from the age of 6, started learning the cello a few years ago (because I want to join an orchestra) and have been in various choirs for over a decade.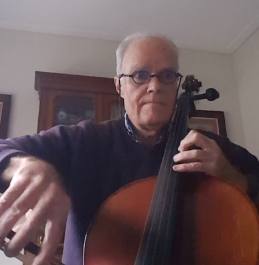 At present, I am a member of a smaller (26 choristers) community choir, so am missing that every Tuesday night.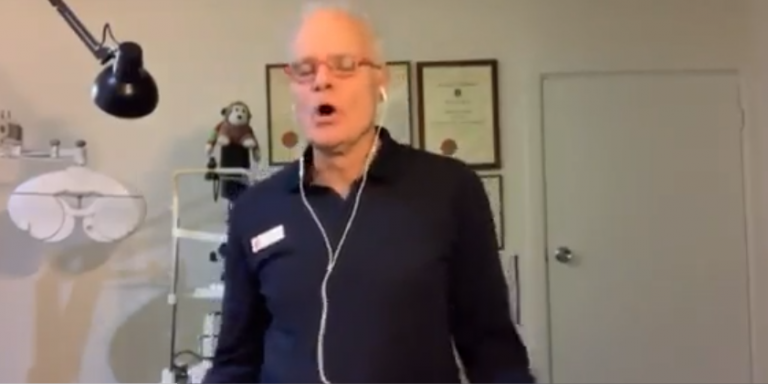 I'd like to think that when we can all meet together again, there was the possibility of forming a choir consisting of our colleagues, even staff and those related in any way to the profession.
Music is a unifying force."
Filed in category:
General news
,
National & State initiatives
Tagged as:
Leadership