Read time:

1:30min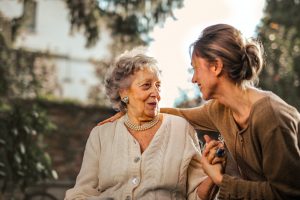 The new standard for clinical care will optimise the way Australians with cataracts are prioritised for elective cataract surgery, as well as improve their access to care.
The purpose of a clinical care standard is to support and promote shared decision making between patients, carers and clinicians. It serves to identify and define the type of care that should be offered to all patients, regardless of their circumstance.
With cataract being the most common elective surgery diagnosis in Australia, and more than 250,000 people undergoing the procedure each year, the demand for cataract surgery is on the rise. In response, the Australian Commission on Safety and Quality in Health Care has launched the first Cataract Clinical Care Standard to help ensure that decisions leading to surgery, or non-surgical treatments, are more consistent and based on clinical need.
For patients accessing public care, admission rates to public hospitals for cataract surgery in areas of socioeconomic disadvantage are extremely high. The clinical care standard aims to improve systems of prioritisation by supporting an 'integrated approach' to patient-centred care through:
inviting patients to be more involved in the decision-making process;
informing patients of all available treatment options regarding cataract surgery and management;
providing patients with information about their options in a format that is accessible and easy to understand; and
improving cultural responsiveness and providing culturally safe care for Aboriginal and Torres Strait Islander peoples.
Optometry Australia recognises the eight quality statements that make up the Cataract Clinical Care Standard and supports optometrists in integrating these standards into their regular care.
Here, we unpack a few quality statements that will affect optometrists and optometric practices. For a more in-depth exploration, we encourage you to read the Cataract Clinical Care Standard here.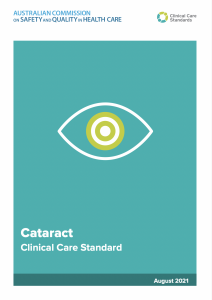 Primary care assessment and referral
'A patient with visual problems and suspected cataract has an initial assessment in primary care of their visual impairment, vision-related activity limitations, comorbidities and willingness to have surgery. When referral is appropriate based on these criteria, the patient is referred for consideration for cataract surgery, and this information is included in the referral form.'
From initial assessment to an improved criteria for referral, the new standard highlights the importance of ensuring that both visual impairment and a patient's individual circumstances are factored into the decision to proceed with surgery.
Patients should be informed of the potential benefits and risks of cataract surgery. If a non-surgical route is preferred, alternative ways of providing support for patients within a primary care setting should be explored.
Patient information and shared decision making
'A patient with suspected or confirmed cataract receives information to support shared decision making. Information is provided in a way that meets the patient's needs, and is easy to use and understand. The patient is given the opportunity to discuss the likely benefits and potential harms of the available options, as well as their needs and preferences.'
Supporting patients in the decision-making process is crucial to ensuring that patients are allowed the opportunity to make an informed choice.
It is important to provide patients with information that is clinically accurate and evidence-based and offer this information in a format that is accessible (for example, in both verbal and written formats and in enlarged text).
Indications for cataract surgery
'A patient is offered cataract surgery when they have a lens opacity that limits their vision-related activities and causes clinically significant visual impairment involving reduced best corrected visual acuity, disabling glare or contrast sensitivity.'
 Ensure patients with clinically significant cataract are prioritised for surgery based on clinical need. The clinical decision about whether to offer cataract surgery should consider:
the patient's level of visual impairment;
the impact of visual deficits on their daily life; and
the potential benefits and harms associated with surgery.
Postoperative care
'A patient receives postoperative care that ensures the early detection and treatment of complications of cataract surgery, and the patient's visual rehabilitation. Postoperative care is provided by the operating ophthalmologist or a designated team member. The patient is informed of the arrangements for postoperative care.' 
During the postoperative period, patients should be given information on:
what to expect;
how to care for their eye postoperatively;
use of medications;
second-eye surgery (where relevant); and
when to get new glasses (if applicable).
For more information on the new Cataract Clinical Care Standard, members can contact Optometry Australia here.
Filed in category:
General news
,
Patient care & management
Tagged as:
Patient management