Read time:

1:30min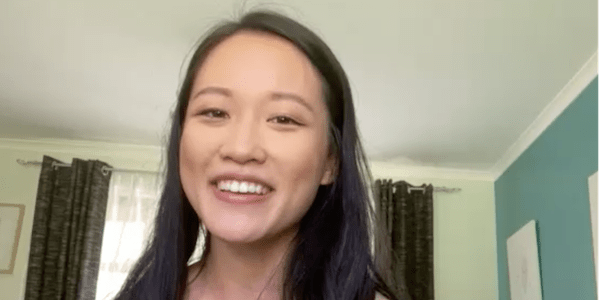 Jingyi Chen
In seeking to #BreakTheBias, a challenge set by International Women's Day 2022, Optometry Australia recently launched a video featuring six female members' experiences of gender bias within optometry.
Member Jingyi Chen, who features in the video, is one of Optometry Australia's inaugural Student Leadership Program participants. She graduated from Deakin University in 2018, and speaks about her experiences of being a young woman in optometry.
'Optometry has traditionally been male dominated, and I think we should be celebrating that there are so many more women now,' Jingyi said.
'I often think about how many of the current female leaders of our profession didn't have many female role models to look towards when they were starting out their career, so I feel we have made a lot of gender parity gains in that sense.
'Now that I'm starting my career, it's really incredible to have all these female leaders to look up to, and to reflect on their achievements. It's very inspiring for me.'
Today, almost 60 per cent of the optometry sector is made up of women. Jingyi says that more education and awareness in the profession on gender parity would help shed more light on the issue of gender bias.
'I have had a few experiences where patients have indicated that they'd prefer to see a male practitioner and they haven't even seen me or met me before.'
She adds: 'I never thought about these things before because when you're younger and more naïve, you don't really think about it.
'I do worry about the timings of certain aspects of my career and how having a family might not align with that.
'Parenting, while it's shifted somewhat, is still difficult for mothers. There could be more balance in the profession to help support a better work-life balance.'
In recognising the #BreakTheBias theme of International Women's Day 2022, Jingyi says that she would like there to be more equal opportunities for men and women.
'Along with many of my female friends and colleagues, we are continuing to educate ourselves and we are learning to accept ourselves. Reflecting back on who I thought I was a few years ago and what I was capable of doing, I feel like I have come a long way.
'Don't doubt your self-worth just because you identify as female and don't let others do that either.
'Women can empower each other. We can help each other overcome these biases. Together, we are making progress.'
#BreakTheBias
In accordance with the global theme for International Women's Day this year, Optometry Australia is seeking to better understand areas where gender bias exists within optometry.
In launching the #BreakTheBias video, Optometry Australia wants to extend the conversation to its whole membership, inviting all members to complete a short survey.
Optometry Australia's CEO Lyn Brodie said: 'We are really excited by this initiative. We want to hear your voice and, most importantly, we want to work with you to drive change.'
Filed in category:
General news
,
Research & surveys