Read time:

1:30min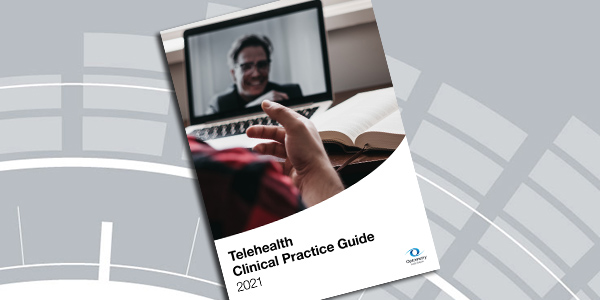 By Helen Carter
Journalist
Optometry Australia has developed a Telehealth Clinical Practice Guide enabling optometrists to support telehealth and integrate it into routine clinical care.  
The guide fosters the capacity for engaging in telehealth and innovative models of care directly with patients and/or in collaboration with ophthalmologists and other health practitioners.
By engaging with patients in new ways, optometrists will be able to provide more comprehensive care and allow patients to access optometry services more readily.
The guide was developed in consultation with an expert working group of 12 practitioner members experienced in telehealth and supported by a review of literature of current evidence- based context. Optometry Australia's Member Support and Policy Officer Ben Hamlyn led the project.
The advice includes definitions of tele-optometry, tele-ophthalmology, real time or synchronous consultations and store-and-forward or asynchronous telehealth. It looks at telehealth in Australia and internationally, clinically appropriate telehealth care, initial and subsequent care, and optometrists' obligations.
Models for consultations including flow-charts give examples of how telehealth would operate in various clinical cases.
The guide states: 'Telehealth is the use of technology to communicate and provide care without being in the same room as the patient. This can be as simple as discussing the patient's symptoms over the phone and providing support, through to a fully integrated system that allows viewing of photos, videos and scans to enable a comprehensive diagnosis and management.
'Telehealth encompasses both practitioner-to-patient interactions and practitioner-to-practitioner interactions.'
It is expected that optometrists will implement a range of telehealth models, with the most common utilising synchronous communication in conjunction with basic clinical examinations that can be performed over telehealth.
Doing clinical examinations over telehealth
One important section which will be of specific interest to optometrists is clinical examinations over telehealth.
'This is something optometrists often wonder about or ask – how do I do these examinations via telehealth,' Ben Hamlyn said. 'This section explains clinical techniques over telehealth including visual acuity, visual fields analysis, refraction, ocular alignment and motility, anterior segment, macular function and colour vision examination.'
The guide also covers technology needed, security, funding for consultations, billing, templates and checklists and professional indemnity insurance.
It says optometrists who are covered by Optometry Australia's Professional Indemnity Insurance are covered to provide telehealth services within Australia.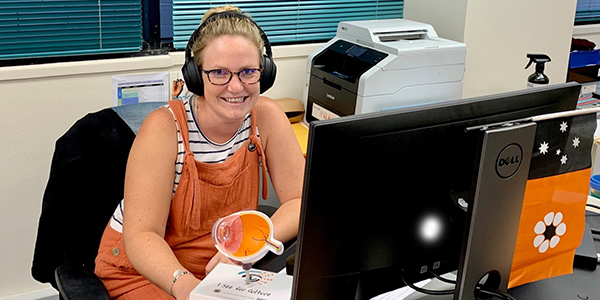 Brien Holden Foundation Project Manager–NT/Optometrist Sarah Nicholls on a telehealth consultation in 2020 when the organisation experienced increases in the number of telehealth consults due to COVID-19 restrictions
'Telehealth enables more people to access eyecare. It creates a new and different environment to deliver eyecare and enables the possibility of optometrists providing better care utilising emerging technologies,'' the guide states.
'Optometrists already provide this type of care, and by supporting and formalising this care it will become a part of regular practice.  As technology evolves and the expectations of patients and practitioners change it is expected that this will become a larger part of the care that optometrists provide.'
The service reduces barriers that exist in face-to-face care such as the patient being unable to attend the practice, or where it is safer for the consultation to occur remotely or for convenience when these consultations are equally effective.
Definitions include:
Tele-optometry – the optometrist provides direct care to the patient through a telehealth medium, often videoconferencing or telephone. The optometrist explores symptoms, signs and other risk factors with the patient as they would in a face-to-face consultation and utilising available examination tools and clinical judgement manages the episode of care. It may be a stand-alone service, or as an adjunct to face-to-face care.
Tele-ophthalmology – delivery of ophthalmology services through telehealth to a patient is often as a tertiary service after a referral from a primary care provider such as an optometrist or GP. It may be directly with the patient or in collaboration with the referring provider.
Real time or synchronous communication between patient and provider with audio-visual telecommunication can be over the phone, videoconferencing or any other medium that allows two-way communication between practitioner and patient.
Store-and-forward or asynchronous communication is transmission of clinical data for evaluation without real time communication. The provider evaluates the data remotely after it is collected then informs the patient of the outcome and management.
Remote patient monitoring means data is collected from the patient in their homes, enabling the provider to monitor remotely and intervene when required.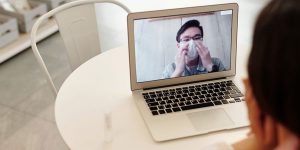 Working Group Members:
Professor James Armitage, Deakin University
Dr Ben Ashby, Specsavers
Rod Baker, private practitioner
Stephanie Callisto, private practitioner
Piers Carozzi, Australian College of Optometry
Enoch Chan, Teachers Federation Health Optometry
Jose Estevez, South Australian Health and Medical Research Institute
Professor Gary Fitzpatrick, University of Western Australia
Ben Hamlyn, Optometry Australia
Nicola Mountford, private practitioner
Peter Murphy, Luxottica
Robyn Weinberg, private practitioner
Filed in category:
Guidelines & practice notes
,
Member resources
,
Patient care & management
,
Practice equipment
Tagged as:
Clinical practice guides
,
Member services
,
Patient management
,
Practice equipment
,
Remote & rural optometry