Read time:

1:30min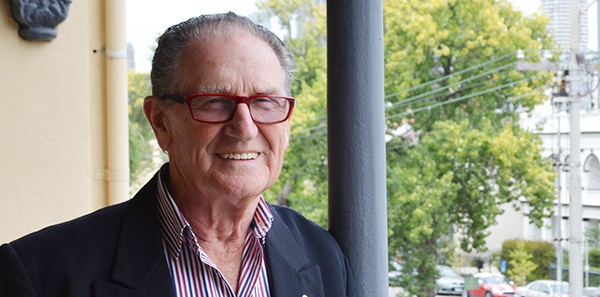 Emeritus Professor Barry Collin
______________________________
By Helen Carter
Journalist
Optometry Australia's journal Clinical and Experimental Optometry, is celebrating its 100th Volume this year.
Its Editor in Chief, Emeritus Professor Barry Collin says it is the longest-running continuous production of an optometry journal in the world in English by a professional association. Its main competitors, Optometry and Vision Science and Ophthalmic and Physiological Optics, are celebrating volumes 94 and 37, respectively, in 2017.
Those in leadership roles have paid tribute, saying the journal remains highly relevant and has a vital role in informing and educating optometrists who have good reason to feel proud of its achievements and contributions.
The journal is one of the top three optometry journals in the world. It is the leading peer-reviewed journal of original optometric and vision science research and reviews in the Asia-Pacific region, and is the official journal of Optometry Australia, the New Zealand Association of Optometrists, the Hong Kong Society of Professional Optometrists and the Singapore Optometric Association.
Although the journal's first issue was in 1919, some early volumes did not coincide with calendar years, creating 99 volumes in 98 years.
First called The Commonwealth Optometrist, it was renamed several times to The Australasian Journal of Optometry then The Australian Journal of Optometry before becoming Clinical and Experimental Optometry in 1986.
Four issues of Volume 100 have been published this year, in January, March, May and July. The January issue includes an editorial on Volume 100 by Professor Collin.
Professor Collin recalls that when he started in the role, the journal struggled to fill pages but now there is a great demand for publication in it, necessitating a rejection rate for papers of almost 80 per cent, and leading to PubMed listing and an Impact Factor.
Issue 4, July just published online, is a focus issue celebrating Volume 100. It includes another article by Professor Collin titled 'Volume 100: a major milestone and still travelling,' and recollections of former editors and acting editors, Dr Damien Smith, Dr Alan Johnston, Professor Brian Brown, Joe Chakman and Associate Professor Peter Swann.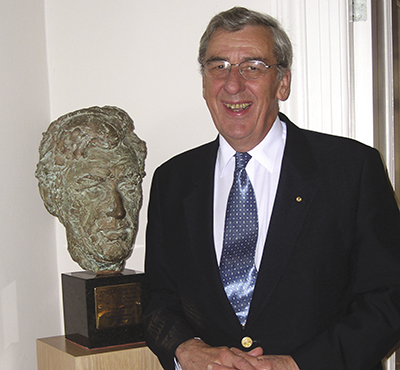 Emeritus Professor Barry Cole
Also in the July issue, former chairman of the editorial board, Emeritus Professor Barry Cole, has written a history of the journal serving optometry for 100 years. It acknowledges among others the first editor Charles Kidson, the longest-serving editor of 42 years William Kett, and long-serving editor of 17 years J Lloyd Hewett.
Professor Cole said survival to its 100th birthday owed a great deal to Optometry Australia's CEO of 30 years Joe Chakman, and national communications manager Sandra Shaw who has been the journal's production editor for 30 years, both of whom lifted the production values to a high standard and had key roles in its renewal including establishment of an editorial board, special issues and publishing the journal online.
Tributes flow
Professor Collin says he is very proud of the success and the achievements of Clinical and Experimental Optometry in reaching Volume 100 and especially that it has occurred 'on my watch'. 
'Particularly over the past decade or so, we have received submissions and published research manuscripts from more than 40 countries and in conjunction with our partners in New Zealand, Hong Kong and Singapore, this indicates that Clinical and Experimental Optometry is truly a highly-respected international journal,' he said.
'I believe that Clinical and Experimental Optometry has played a very important role in informing and educating optometrists in Australia and around the world, and hopefully it can continue to do so for many years to come.'
Professor Collin feels that a quote from the July editorial sums it up well. 'The editorial says that all optometrists should feel proud of their journal, Clinical and Experimental Optometry, which has not only survived but flourished in achieving Volume 100,' he said.
'The January editorial mentions that our journal has a long and proud heritage in a changing world.
'Whether Clinical and Experimental Optometry in conjunction with its predecessors is 98, 99, 100, 103, 104 or 106 years old, the optometric profession and its partners in New Zealand, Hong Kong and Singapore should be very proud of its achievements, its contributions to knowledge in our field and its standing in the scientific community.'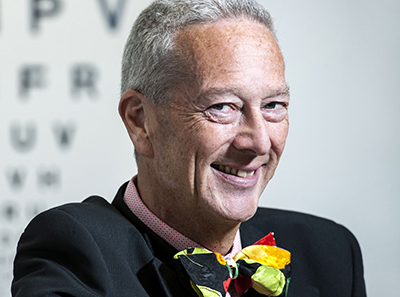 Emeritus Professor Nathan Efron
Commitment to knowledge
Clinical and Experimental Optometry Editor and chairman of the editorial board Emeritus Professor Nathan Efron says a professional group can only claim to be such if it is prepared to continually research its underlying principles and practices.
'The fact that Optometry Australia has been doing so for such a long period, as now documented in 100 volumes of its own learned journal, attests to the strength and standing of our profession,' he said.
'Few other health professions in Australia can match such a sustained commitment to the generation of knowledge. With this proud record of scholarly publishing, the notion that we are a strong and vigorous evidence-based health care profession cannot be challenged.'
Quality papers
Optometry Australia president Andrew Hogan says Optometry Australia is very proud of Clinical and Experimental Optometry as it is one of the world's top three optometry journals, and is highly regarded among journals in the fields of optometry and ophthalmology.
'Clinical and Experimental Optometry is important to optometrists in Australia and elsewhere because of the high quality of papers it publishes, including reviews, research and clinical case reports which are of interest to practitioners and help us in our optometric practice. The experimental papers published are from its other audience of researchers and academics, and are also relevant to practitioners,' Mr Hogan said.
'The journal is listed on PubMed, which gives it recognition and status, and it has achieved an Impact Factor.
'Our sincere appreciation and thanks go to the thousands of people who have contributed to the journal's success through its remarkable history: the authors, reviewers, associate editors and especially the editors whose dedication to their profession manifests in our journal. This rich heritage ensures that the profession of optometry will progress and that where education leads, so legislation follows.
'Our extraordinary online archive contains every issue since the journal's first issue in 1919.
'As we celebrate our 100th volume, we remain highly relevant to today's optometrists and have kept pace with community expectations to publish exclusively online, with immediate access anywhere and any time,' he said.
'Optometrists and optometry organisations should be involved in ophthalmic research, and Clinical and Experimental Optometry is Optometry Australia's contribution to that.'
Wiley Online Library: All issues of Clinical and Experimental Optometry 1919-2017
Optometry Australia website: Clinical and Experimental Optometry: whole issue PDFs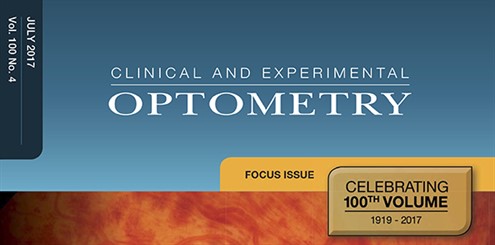 Filed in category:
History
Tagged as:
Clinical & Experimental Optometry (CXO)