Careers Expo 2022 – Deakin University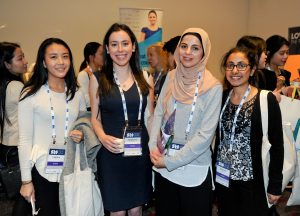 The purpose of this popular annual event is to actively support our student members in their final year of study, to successfully launch their optometry careers.
Students will receive advice and information on making decisions about employment opportunities and understanding what to look for in employment contracts.
A panel of early career optometrists who have recently made the transition to practice will talk about their experiences moving from study to work. Students will have the chance to ask questions and find out what the experience was really like.
At the conclusion to the event, student members will be able to view videos from prospective employers who will provide information about the employment opportunities and contact details for further discussion.
Session Times
10.00am – 10.30am

Registration and networking

10.30am – 10.40am
Welcome and overview
Lyn Hsieh, Optometry Victoria South Australia (OV/SA)
10.40am – 10.50am
What I learnt in the first five years
Hayley Birch
10.50am – 11.10am
Benefits of OV/SA membership 
John De Francsco, ECOV/SA representative
11.10am – 11.30am
Employment contracts and considerations
Lyn Hsieh, OV/SA
11.30am – 12.10pm
Experiences of making the transition from student to practitionerThe purpose of the ECO panel session is to provide the students with insights into the experience of making the transition from study to practice. Panellists will be invited to share a brief overview of where they studied, when they graduated and where they're working now.
Panel:

Monique Jankovski
Darren Welch
Madeline Baker
Bonnie Coburn

12.10pm – 2.10pm

Careers Expo & Lunch

Employer Exhibitors
Corporate/Independent practices