OV/SA's 97th Annual Golf Day this year raised $2,604.68 for charity to improve eye health outcomes for disadvantaged communities.
The annual Golf Day this year was held at the magnificent Peninsula Kingswood Country Golf Club on 16 March.
It was a great day with with 44 members and company representatives engage in a day of golf and catch up over drinks and canapes at the end of the day.  We simply couldn't have asked for better weather, better venue or better company.
The golf itself was highly competitive with the prestigious perpetual Golf Day trophy won by Wonthaggi optometrist Malcolm Gin.
Each year the event raises money for charity with over $2600 raised.
We would like to thank our wonderful sponsors who without their support events like these are not possible:
CR Surfacing
Eyes Right Optical
Good Optical
Hoya
Maui Jim
Provision Eyecare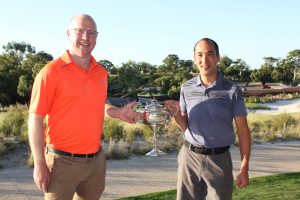 Golf Day perpetual trophy winner Malcolm Gin (on right) with Mark Wymond from Eyes Right Optical who sponsored the course drinks