Presenter's slides, photos from the event and link to the evaluation survey are now available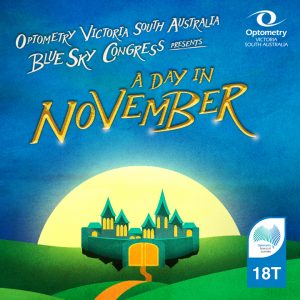 We would love to hear your feedback!  
We would love to hear feedback from delegates, so that we can ensure we deliver the best event possible in the future.
Please take the time to fill out a quick survey HERE
About the Day
Anterior Eye was the focus at OV/SA's Blue Sky Congress presents: 'A day in November' on Sunday November 17, 2019 at the Pullman Adelaide Hotel in central Adelaide. Approximately 110 optometrists from South Australia, Victoria, Queensland and New South Wales attended the event, with up to 18T CPD points available to participants (with assessment) across the day.
Feedback from attendees has identified that this was a quality program with well regarded speakers in the field of anterior eye. Delegates were also delighted that the event had not lost the essence of fun and community that has essentially been Blue Sky. MC Gary Edwards engaged the audience, and members were entertained with  music, antics and laughs to keep it upbeat. The sundowner was very popular and a great way to network and relax at the end of the day.
Dr Laura Downie provided an update on DryEye Disease, including current insights and future perspectives. Tim Martin reviewed how optometrists use steroids in anterior eye conditions and helped delegates consider whether they should be worried about using steroids in patients that are pregnant, in paediatric patients and in those with viral conditions. Dr Ben Connell used a case-based approach to review how he manages various cases referred by optometrists. Ben also spoke about how corneal topography helps him in his work. Ben, Tim and Laura combined to provide a case-based session where they discussed anterior eye conditions from different perspectives.
There was also a small trade fair with companies such as Designs for Vision, ZEISS, Device Technologies and Good Optical supporting this event.
Handouts 
Tim Martin Blue Sky-Day in November_pdf\
Ben Connell Corneal topography handout
Ben Connell Totally random Cases handout
Blue Sky – Talk 1 – DOWNIE – DEWS II Dx notes.pptx
13.00 Panel session with Ben, Laura and Tim
Photos from Blue Sky A Day In November