Read time:

1:30min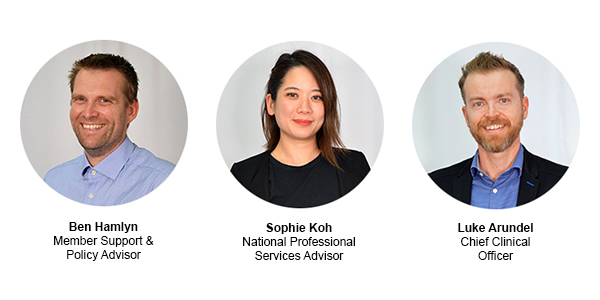 Your Help desk Optometry Advisors, L-R, Ben Hamlyn, Sophie Koh and Luke Arundel
Optometry Australia has just launched its Optometry Advisor Help desk webpage highlighting that we have dedicated, experienced optometrists ready to help with your clinical, ethical and professional questions. This member-only service is available at no charge to assist you in all facets of your professional practice.
The help desk is staffed Monday to Friday by our optometrist advisors Ben Hamlyn, Sophie Koh and Luke Arundel. They will provide members with independent and unbiased advice in complete confidentiality and without judgement on matters including:
Medicare or private billing
brainstorming clinical and patient management
patient complaints and privacy issues
record keeping and referrals
reporting patients who are unfit to drive
employment, career and contract advice
HR and workplace issues
CPD, registration, extended leave and returning to work
AHPRA audit help
Complex issues including AHPRA investigations, Medicare audits, medico-legal issues and major sector change.
Ben Hamlyn, Optometry Australia's Member Support and Policy Advisor has a background in independent and corporate optometry, as well as outreach eye care and education. He has worked in metropolitan, regional and overseas locations and has provided extensive outreach services in South Australia and the Northern Territory. Ben continues to divide his time between Optometry Australia and providing outreach services.
Sophie Koh, our National Professional Services Advisor, has taught optometry students over the past decade and has had diverse experience working in both public health and corporate sectors across metropolitan, rural and outback Australia. She has also had extensive experience working with ophthalmology teams and non-profit organisations in the Northern Territory, East Timor, Papua New Guinea and the Solomon Islands.
The helpdesk is supported by our Chief Clinical Officer, Luke Arundel who generally provides assistance on more complex issues and cases. Originally from the Northern Territory, Luke has worked in corporate, private and contact lens practices in Australia and Ireland. He has also worked in the public health sector, in contact lens design and manufacturing, and teaches at the University of Melbourne.
Members can also access professional assistance from your state division, particularly regarding contract negotiations, registration requirements and state legislative requirements.
You also receive complimentary human resources, workplace and contract advice via Optometry Australia's Industry Legal Group. ILG works closely with us and is staffed with HR advisors and lawyers with tailored knowledge of the optometry profession and employment conditions.
To read your most frequently asked questions go to our FAQ page.
The  Help desk is staffed Monday to Friday by our optometrist advisors Ben Hamlyn, Sophie Koh and Luke Arundel. They can be contacted by email at national@optometry.org.au and phone, 03 9668 8500.
Filed in category:
Medicare & private billing
,
Member resources
,
Patient care & management
,
Scope of practice
,
Workplace
Tagged as:
Employment
,
Medicare-MBS-PBS
,
Member services
,
Patient management
,
Scope of practice