Read time:

1:30min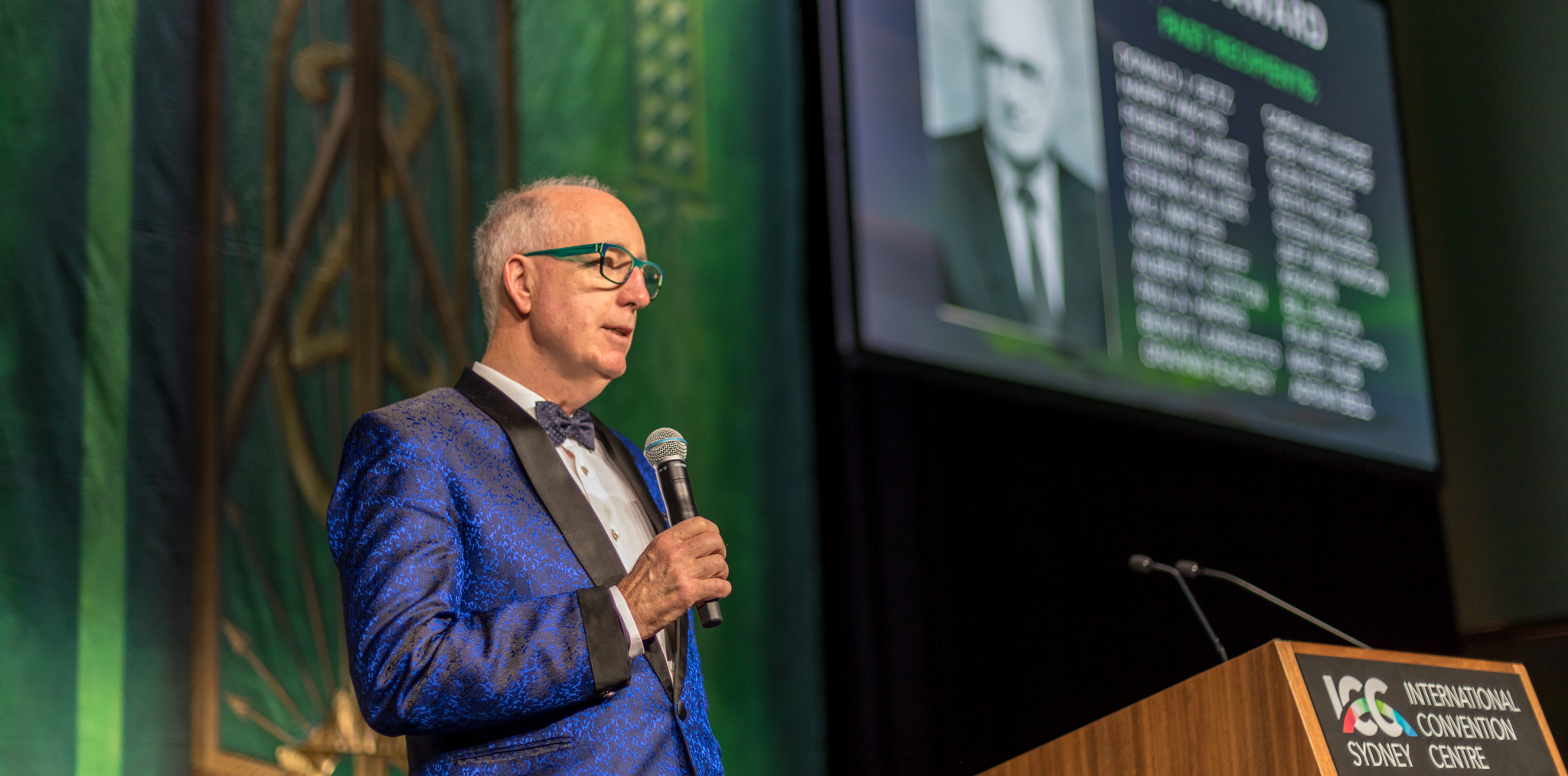 Stephen Leslie at ICBO 2018
_____________________________
By Helen Carter
Journalist
Perth optometrist Stephen Leslie is the fourth Australian optometrist to be honoured with an international award for his dedication to behavioural optometry over many decades.
Mr Leslie received the Armand Bastien Memorial Award "for contributions to the advancement of behavioural optometry internationally" while attending the 8th International Congress of Behavioural Optometry in Sydney in April.
The award is presented by the Optometric Extension Program (OEP) Board of Directors to individuals and organisations that have made contributions to the international growth and development of behavioural vision care. 
The OEP is the American equivalent of the Australasian College of Behavioural Optometry (ACBO). The OEP and ACBO were co-organisers of the congress.
Armand Bastien, a French-Canadian optometrist, was a pioneer of behavioural optometry in Canada who helped develop the theory and practices of behavioural optometry and wrote extensively about it.
Previous Australian recipients of the award were optometrists Dr Edwin Howell from Melbourne, Graham Peachey from Albury-Wodonga and Adrian Bell from Caloundra, Queensland.
Mr Bell and OEP president Rob Lewis presented the award to Mr Leslie, its 23rd recipient and one of five global recipients in 2018.  
Lengthy involvement
Mr Leslie has a long history of involvement in behavioural optometry. He is president of ACBO, spent eight years on its board, and is an ACBO Fellow and a Fellow of the American College of Optometrists in Vision Development.
For many years he served as editor of the ACBO journal Behavioural Optometry, was editor of an online newsletter for the US-based Neuro-Optometric Rehabilitation Association of which he is a member, and was on the editorial board of US journal Optometry and Visual Performance.
Mr Leslie has extensive experience in assessment and management of vision problems relating to acquired brain injury and neurological issues in adults and children.
He has taught behavioural optometry in Australia, has written and lectured extensively in Australia and overseas on visual issues and neuro-optometry and is a regular lecturer on acquired brain injury and stroke at optometry conferences and online.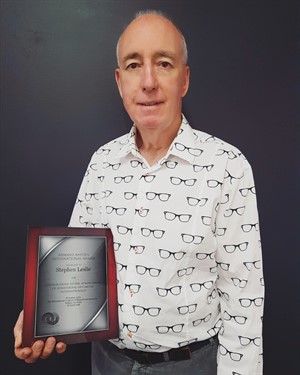 Stephen Leslie with the award
He has written chapters in textbooks on sports vision, and on accommodation problems resulting from acquired brain injury, and has written journal articles about head injuries, focusing problems, concussion and whiplash.
Personal experience triggered involvement
After graduating in optometry from UNSW in 1972 and practising in Newcastle for two years Mr Leslie moved to WA and in 1983 hosted American optometrist Greg Gilman who was touring the world talking about behavioural optometry.
'Greg lived with me for a week and examined my eyes and vision. I had had vision problems affecting attention to my studies in high school and university due to a head injury I received when I was 11,' Mr Leslie told Optometry Australia.
'I had huge problems with attention and concentration at high school that no-one could explain. At optometry school I was diagnosed with a high degree of near exophoria. When I would read for near vision my eyes had to work very hard to work together.
'My ability to stay focused, pay attention and retain information was affected and I often fell asleep while studying so I had to work five times harder than anyone else.
'After Greg's visit I saw behavioural optometrists interstate and overseas, attended many conferences and did a lot of reading to help me understand behavioural optometry.'
In 1988 Mr Leslie studied behavioural optometry at The State University of New York and spent time in veterans' hospitals using neuro-rehabilitative optometry to help soldiers who had returned from Afghanistan with vision problems.
'In 1992 Daryl Guest and I set up a course for Optometry Australia in neuro-optometry looking at vison rehabilitation after stroke and other neurological issues, and helping people with double vision and blurry vision,' Mr Leslie said.
He now concentrates on treating children with accommodation-convergence dysfunctions, strabismus, amblyopia and learning-related vision issues, special needs children, vision problems subsequent to acquired brain injuries following stroke or head trauma and neurological causes, and vision training.
Mr Leslie is a former national president of Optometrists Association Australia (OAA), now Optometry Australia, and was an OAA national councillor for 15 years. He served 20 years with the OAA WA Division, now Optometry Western Australia (OWA), and is a life member of OWA. Mr Leslie also served on AHPRA's board.
Champagne Master
Mr Leslie's skills are not confined to optometry, and, apart from surfing, he was honoured in 1983 with the Vin de Champagne award for his knowledge and experience of champagne. He provides master classes and tastings in Perth and guides friends in tastings through the Champagne region in France.
The champagne makers of France have awarded him the honour of Chevalier de L'Ordre des Coteaux de Champagne, and he has a Master of Champagne (Honours) degree of the international Wine Scholar Guild.
*Mr Leslie has written an article in the June 2018 issue of Optometry Australia's Pharma, online today, on brain injury assessments. Optometrists can gain six CPD points including three therapeutic points by reading the issue and answering questions online.
Filed in category:
Members & member initiatives
Tagged as:
International