Read time:

2:0min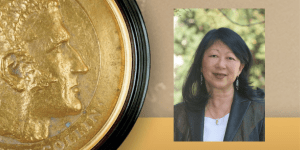 Tailoi Chan-Ling awarded 2022 H Barry Collin Research Medal
Tailoi Chan-Ling has been named the 16th recipient of Optometry Australia's H Barry Collin Research Medal. She has been awarded the prestigious award for her outstanding contributions to retinal vascular formation, diabetic retinopathy and age-related macular degeneration research.
After receiving a Bachelor and Master of Optometry from UNSW and a PhD on the Effects of Cataract surgery on corneal function in the 1980s, Tailoi has had a broad and successful career in optometry research.
She was Secretary of the International Society for Eye Research (ISER) for six years and was awarded a Special Recognition award for outstanding Leadership in 2018. Amongst her significant achievements was setting up the first international mentoring scheme for young investigators and creating the first international Network of Women in Eye Research.
Tailoi was also a National Health & Medical Research Council Principal Research Fellow and was Professor of Neurobiology & Visual Science for 11 years at the University of Sydney and an Adjunct Professor of Ophthalmic Science (Ophthalmology) at the Harkness Eye Institute Columbia University, New York. More recently Tailoi has been Chief Scientific officer at GreenLight Clinical Contract Research Organisation and is a Graduate of the Australian Institute of Company Directors and currently chairs the Vision Sciences stream on behalf of the Rebecca Cooper Medical Research Foundation.
She said: 'What an honour to join the distinguished recipients before me to be named a H Barry Collin medallist. I have been blessed to work with an amazing team of Australian and international colleagues and young PhDs who have made the journey thoroughly enjoyable and always challenging.'
CXO Editor and Chair of the judging panel, Nathan Efron, said: 'Tailoi Chan-Ling is an exceptional academic and a worthy winner of the 2022 H Barry Collin Research Medal.'
The award is named after Professor H Barry Collin, long-serving former Editor-in-Chief of Optometry Australia's journal, Clinical and Experimental Optometry and includes a $5,000 prize and the recipient submitting a paper for publication in CXO.
It recognises outstanding contributions to the advancement of knowledge in optics, vision science or clinical optometry by a person who is an Australian citizen or a graduate of an Australian optometry school, or who has done a significant part of his or her research in an Australian institution.
Phu et al awarded 2022 J Lloyd Hewett Award
Jack Phu, Michael P Hennessy, Matthew Spargo, Samuel Dance & Michael Kalloniatis have been awarded the J Lloyd Hewett Award for their 2020 paper, A collaborative care pathway for patients with suspected angle closure glaucoma spectrum disease.
The J Lloyd Hewett Award was established by CXO in May 1980 as a tribute to Sydney optometrist J Lloyd Hewett, who was Editor-in-Chief of the journal from 1962 to 1979 and a leading practitioner and clinical teacher, especially in the field of contact lenses. This is a closed award decided by the Editorial Board and does not invite nominations.
The paper will be added to the J Lloyd Hewett Award Papers virtual collection, which represents some of the most important works published in the journal since 1980.
Filed in category:
Members & member initiatives
,
Research & surveys
Tagged as:
Awards - honours - grants-bursaries