Read time:

3:0min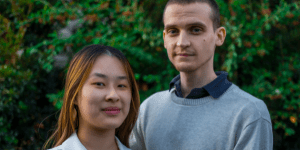 In March 2021, optometrist Ellen Zhang and her partner Kyle Armstrong opened their optometry practice in Clayton, Victoria: Ellen Zhang Optometry. With a keen focus on both patient care and sustainability, they set out to create a sustainable business that puts climate action front and centre.
Ellen is the sole optometrist in the clinic. She sees all the patients and also takes care of bookkeeping, ordering and clinic management. Kyle, who studied industrial design at RMIT and is a multidisciplinary designer, runs the marketing, design and communications aspect of the company, including social media, web design, point-of-sale design and brand strategy and execution.
Ellen and Kyle recently presented to Optometry Australia's Special Interest Group sustainability event, where they discussed their motivations and challenges and gave advice on how others in the sector can start to make a difference to their own carbon footprint. Here, we provide a recap for all Optometry Australia members in the form of a Q&A with the pair.
You have set up a sustainability focussed optometry clinic – what made you take this step?
It's an area of focus that is sorely needed and one that we think does not receive enough legitimate consideration and effort. Sustainability has become a business model, and companies today recognise that if a product appears sustainable, it will sell. This attitude is what we wanted to address and rectify within our own business model. We wanted to create a business that strongly considers its environmental footprint and reduce harm in whatever way possible.
What sets your business apart from others, particularly when it comes to sustainability?
Whilst environmental sustainability is certainly one of our focuses, we apply the word 'sustainable' throughout all aspects of our business, from sustainable waste management, sustainable sales practices and a sustainable working culture.
We have set ourselves apart by choosing to revolve our business around ethically based practices, which considers all areas of a business, not just in areas patients can see.
What challenges have you faced?
The biggest challenge was sitting down and planning everything. Unfortunately, there was not a lot of information collated into a pretty document for us to read and follow. We had to do a lot of research into the industry, like recycling techniques, material availability, transport and logistics and how that all contributes to climate change.
Based on our research, we had to make what we thought was the best decision about all our business procedures going forward. We don't believe we have everything right, so we are still researching, still improving. There are always more documentaries, more videos, more papers to read.
Was anything surprisingly easy?
Maintaining our enthusiasm has surprisingly been a breeze, as we are very passionate about this topic.
Have you received positive feedback from patients?
So far, we have received positive feedback from patients about our mission and the fact that we provide an alternative, or just about the fact that we highlight sustainability as an issue in optometry. Being able to make patients aware of their decisions and their own impact is as important as our own actions within the clinic.
For us, it's about changing habits over time, not just in our industry but in every aspect of our lives. It's no use being sustainable with our glasses purchases but continuing to be unsustainable about every other purchase we make at home.
Do you think there is an appetite in the Australian optometry sector for more sustainable approaches?
Definitely, we believe there are others like ourselves who want to do better for the environment. Whilst there is an interest in sustainability, we commonly see other practices being unsure about where to focus their efforts and what legitimate actions they can take.
It can understandably be quite daunting wondering if a drastic change within the business could have adverse effects. We aim to lead by example, displaying best practices throughout our company to show others that becoming more sustainable is possible and very achievable, for small-scale and large-scale businesses. Any small part we can do will help.
What are some first steps that OA members can take?
Some simple steps in a clinic that could be done is to consider everything you do and the resources it uses, the impact it has on others and the afterlife of the product.
For example, a simple but usually frequent process required is printing. Most in-house printing requires disposable ink cartridges, which are designed by the printing companies to become obsolete after the first few uses. In Australia, more than 25 million ink cartridges end up in landfills each year, and they can take between 400-1000 years to decompose.
Although refillable ink cartridges used to be the norm, most companies aren't aware they can invest in printers with refillable ink tanks, which print for much longer and use less ink.
But that's assuming you absolutely need something printed. Can it be seen or sent digitally by email or online faxed? And if it needs to be printed, what are you going to print it on? Spare paper around the clinic, virgin white paper, recycled paper, bleached and treated paper? These are small but important considerations.
Some other first steps clinics could employ may include:
Replace lighting fixtures with low-energy LEDs
Packing orders and transport logistics: avoid using plastic packing materials, tapes and virgin materials. Opt for alternatives such as paper wrap, water activated tape, recycled papers and cardboards. Consider who you're shipping with – how do they contribute to reducing emissions? For example, Sendle offset their emissions, so they're a carbon neutral option. Also, consider how far the package has to travel, and if patient pick-up is an option.
Clinic furniture: if new furniture is needed, consider what materials the furniture is made from. Try searching for sustainable furniture alternatives as opposed to generic options. Also consider how to responsibly dispose of any existing furniture, whether that may be through donation, or disassembled / recycled.
Product sourcing: opt for sustainably sourced eyewear options that consider the smallest number of resources to acquire. This could mean considering if the frames are sourced locally. For example, if they're travelling from England to Australia that's at least 1.8 tonnes of CO2 for the plane trip alone to get it here – how will you offset that? We also understand there are currently not as many companies making sustainable eyewear compared to normal eyewear, meaning it may be difficult to source adequate stock or variety. In this event, we recommend providing as many sustainable options as possible and slowly transitioning over time as more become available.
Switching to ethically sustainable electricity providers, banks, super and appliances: looking into the services we use to run our businesses is important, as they are an integral aspect of a company that needs to be sustained, usually for the duration of a business. For example, this means not supporting energy companies that invest in fossil fuels, land clearing and corrupt behaviour.
Installing solar panels to offset power usage: this is an effective and well-known means to offset your energy usage, if you're able to invest.
What are your next steps?
Our next steps are continuing to improve the business, finding more ways to be sustainable, and always reflecting on what could be done better. We don't want to become complacent in what we do. We also have a goal of guiding others, be it optometrists, patients, other businesses or government officials, to do more for this Earth.
We want to be an example and reliable source of information to others, and we want to change the perception that it is "too hard" or not doable. Although we are in optometry, we believe our ideology and procedures can be applied universally across all industries.
Find out more about Optometry Australia's commitment to improve sustainability within the sector here.
Ellen and Kyle's recommended reading / viewing:
Filed in category:
Members & member initiatives
Tagged as:
Sustainability