Read time:

1:30min
Article by: Shaheeda Chelat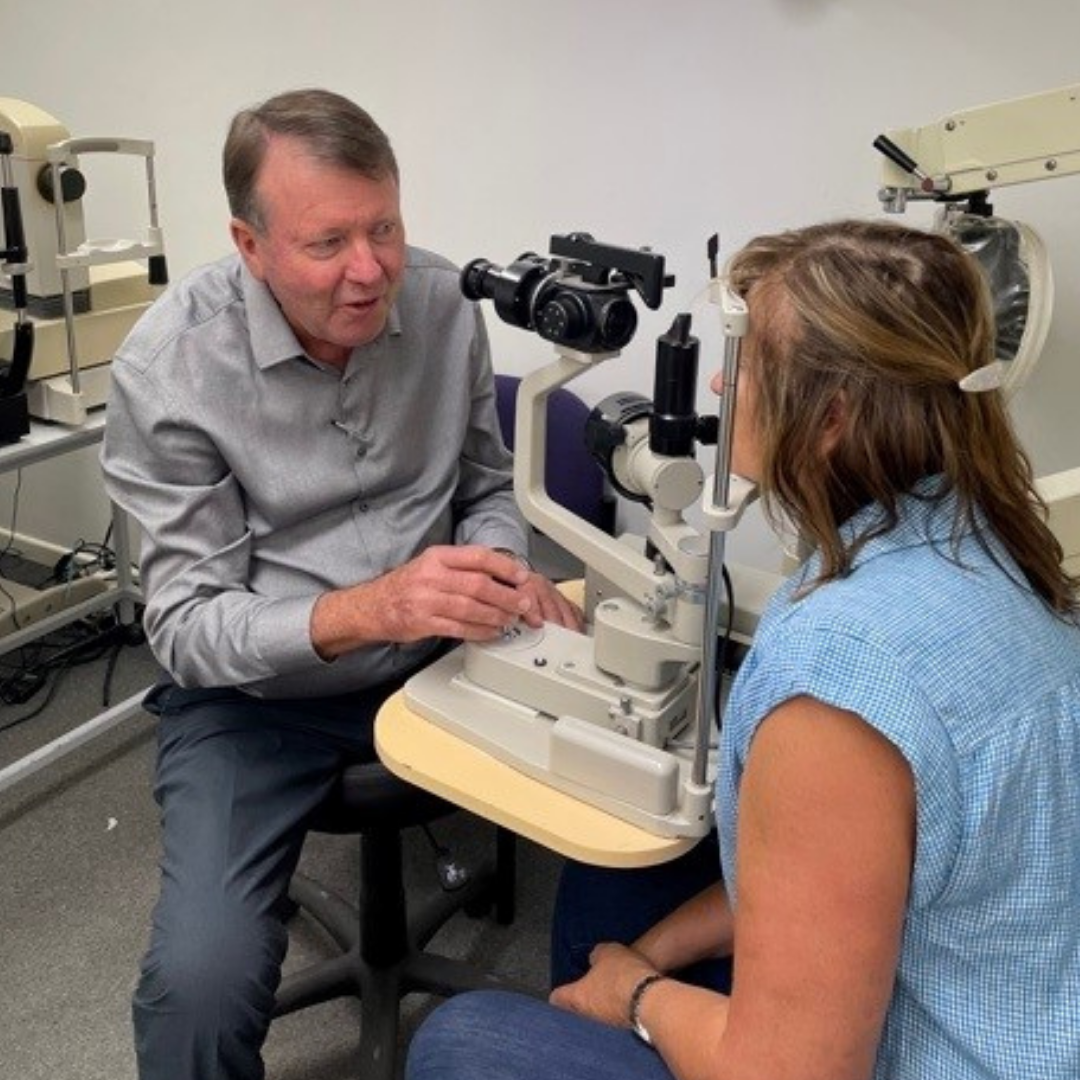 Combining your favourite hobby with your profession may seem out of reach for some, but for Sunshine Coast-based optometrist and Optometry Queensland Northern Territory member, Geoffrey Fitzpatrick – it's a dream fulfilled.
For 33 years, Geoffrey has run optometry practices in Maroochydore, Nambour and Kingaroy, but his dedication to providing exceptional eye healthcare to the community doesn't stop there. Geoffrey's also clocked up over three decades delivering critical outreach optometric services across Outback Queensland – flying himself to rural towns including Longreach, Barcaldine, Blackall, Winton, Taroom, Wandoan, and Tambo regularly throughout each year.
As the son of a No. 459 Squadron RAAF Wireless Air Gunner, it was always Geoffrey's passion to fly. At age 16 he went so far as earning a scholarship with the now-defunct commercial airline, TAA, only to fail the medical after enduring a broken ankle.
Going on to pursue an optometry career, Geoffrey soon obtained his pilot licence and took his expertise to the skies to support the vision needs of rural Australians.
Geoffrey's outreach work involves frequent visits to his regions to set up temporary practices offering all aspects of optometry, including prescribing spectacles and contact lenses, detecting eye diseases, and referring for medical and surgical treatment. In the early days, he'd hire the planes for each trip, but eventually bought a single engine Mooney 201 – taking out the back seats to make room for all his equipment.
With visits funded by the Visiting Optometrists Scheme (VOS) which aims to improve the eye health of people in regional, rural and remote locations, Geoffrey has both seen – and pioneered – significant changes in eye healthcare in the Outback over the past 30+ years.
"Initially, the biggest changes were introducing technology such as tonometry, computerised visual field testing, and dilated examinations for diabetes," explains Geoffrey, "Today, we've got three computers doing different jobs, we've got retinal cameras, we've got auto refractors and visual field screening machines that can detect the early signs of glaucoma.
"Another effective change has been the introduction of high-quality ophthalmology/optometry coordinated services. Unfortunately, this has regressed in the last couple of years."
Given the Outback's harsh UV light, combined with an ageing population, Geoffrey cites conditions like macular degeneration and diabetes a major concern to the communities he serves. As such, he says routine check-ups are absolutely crucial.
But as 72-year-old Geoffrey approaches retirement, he fears that once he's gone, his patients will be left without access to essential eyecare services.
"There used to be up to five other optometrists travelling around out here. Now I'm the only one," he says.
"From 1992 until 2018, I also regularly flew ophthalmologists Dr Bill Glasson and Dr Denis Stark – assisted by other doctors, nurses, and receptionists – to many of these regions to offer our coordinated services to patients.
"Since Dr Glasson retired in 2018, only Longreach is visited by ophthalmologists – and only twice a year or less. Many patients, often quite elderly, are now being bussed long distances to Longreach, for consultations, treatment, and surgery."
Geoffrey is passionate about making a difference to the health of his patients, and has developed longstanding relationships with residents over the past decades.
"I love providing eye care to these rural communities and feel honoured to be welcomed back by the towns' residents and surrounding properties time and time again.
"My hope is that, when I retire, someone will step up and continue to provide a regular full scope optometry service for my patients."
And after close to 50 years practicing optometry, what is Geoffrey's advice to young optometrists starting out their careers?
Simple. "Enjoy your profession and patients, and embrace the latest technology."
Filed in category:
Members & member initiatives
Tagged as:
Eye examinations
,
Patient management