Read time:

1:30min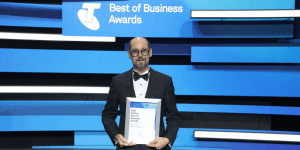 Optometrist and founder of Martin's Eyecare, Martin Robinson, has been announced as the Tasmania state winner of the Championing Health Award at the Telstra 2022 Best of Business Awards.
Martin and his wife Natalie were flown to Sydney in April to attend the presentation, where he received the state award trophy and was named as a finalist for the National Championing Health Award.
Martin's Eyecare in Glenorchy, Hobart has always had a strong focus on patient outcomes. The team delivers tailored solutions for people of all ages using the latest diagnostic and therapeutic devices, with equipment that is ahead of the curve, to achieve the best possible results for the community.
Martin started the business in 2009 when there was a strong market for local, independent optometrists in the region. With plenty of experience working across both chain optometrists and franchises, his understanding of the areas in which they were successful and where they fell short helped him in establishing and growing his own business.
The awards process involved recorded video statements, a written essay and a video interview with a panel. The judges said that 'Martin has continued to grow and adapt to the everchanging optical landscape, reinforcing his philosophy that in a world where many are driven solely by profit, it is essential to take the time to offer tailored care to every customer.'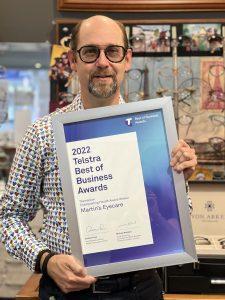 Martin was the only optometrist to feature as a state finalist, state winner and national finalist for the Telstra 2022 Best of Business Awards.
He said: 'My love for my community is why I chose Glenorchy to set up my independent practice. Winning the award has allowed me to talk to the media, politicians and community groups to promote eye health and champion eye care for the wider community. I am very proud to have won the Tasmania state award and to have been a finalist for the national award.'
Find out more about the Telstra Best of Business Awards here.
At Optometry Australia, we're committed to celebrating members' achievements. Have you, your practice or your team received an award? Or do you have a story to share with our members? Let us know – email community@optometry.org.au
Filed in category:
Members & member initiatives
Tagged as:
Awards - honours - grants-bursaries