Read time:

1:30min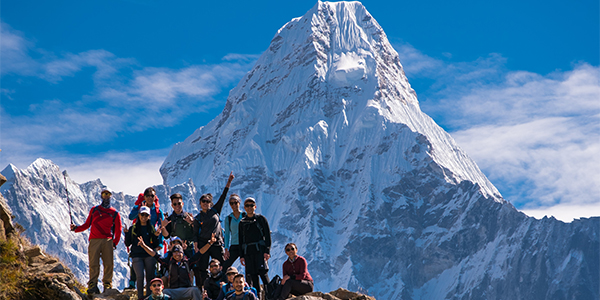 Members of previous eye care treks to the region, Australian and New Zealand optometrists, top row L-R, Shaun Chang, Tashi Doma Sherpa, Mingma Tenzing Sherpa, Henry Trieu, Kim Nguyen, Sonya Sahara and Michael Li. Bottom row, from the left, Michael Bradley, Santosh Shrestha, Myra Leung, Sumit Shevade, Abirami Sribalachandran, Abdul Baset Hamidi and Lily Luong.
______________________________
By Helen Carter
Journalist
Five years after forming an organisation to help the vision of Sherpa children in the Sargamatha (Everest) National Park, Sydney optometrist Shaun Chang's dream is about to become reality.
Shaun and his optometry colleagues from Eyes4Everest have been planning a modern eye clinic in the upper Everest National Park to serve the remote mountain communities in the Himalayas, as well as climbers in need of eye care.
Shaun's aunt Lady Huang, who has glaucoma, donated $110,000 to fund building of the clinic after she dreamt of Nepalese children lining up for eye examinations.
Construction work is due to finish in October and Shaun now needs six optometrists to join him from November 7 to 23 to test out the clinic and contribute to its finishing touches. An official opening ceremony is scheduled for 2020.
'The clinic consists of two large consulting rooms, an instruction room, waiting room and dispensing area,' Shaun said. 'I'm excited to get a slit lamp so we can look for conditions such as diabetes.
'There is a staff quarters where optometrists can stay including a shower and toilet. We need six optometrists to pay their own way to come test the patient flow and advise about equipment.'
Shaun formed the not-for-profit organisation Eyes4Everest in 2014 so volunteer optometrists could trek to remote mountain communities and provide much needed primary eye care to the Sherpa people who risk their lives to ensure the safety of foreign climbers in the Himalayas.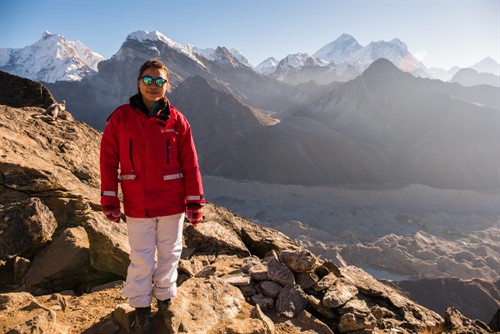 Sydney optometrist Rose Huang
In 2013 he had been trekking at Mount Everest when he stumbled into the Khunde Hillary Hospital built by Sir Edmund Hillary. Locked in storage were bags of donated spectacles and optical equipment. Staff told him many local school-children could not see the blackboard but expertise and facilities were unavailable to improve their vision.
His guide explained: 'There's a hospital, a dental clinic but nothing for the eyes.'
Eyes4Everest consists of Shaun, Joe Wang, Grace Wee, Celine Zhang and Jenny Hsieh.
Optometrist visits
In the past five years, Eyes4Everest has hosted 47 optometrists and 22 other volunteers from Australia and New Zealand doing volunteer eye examinations at mobile testing stations in the region's remote villages.
This year 22 more optometrists will visit Annapurna and the lower region of the Everest National Park.
Each visit 300 to 400 people have their eyes examined. Testing is free and patients are charged about $10 for spectacles.
While refractive error is mainly seen in schools, other conditions found in adults include presbyopia, cataract, diabetic retinopathy, eye injuries and UV-related ocular damage such as snow blindness and pterygium.
Shaun is currently supervising Nepalese woman, Tashi Doma Sherpa, second from left in the main photo, who is studying optometry at UNSW.
If you are interested in becoming a part of Eyes4Everest, please email Shaun or Celine at hello@eyes4everest.org.au The trip will involve trekking to Everest Base Camp.
______________________________
Filed in category:
Members & member initiatives
Tagged as:
International