Read time:

1:30min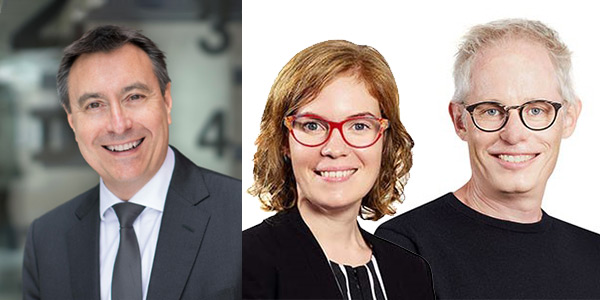 L-R, Dr Lyndon Jones, Dr Kate Gifford and Dr Paul Gifford
By Helen Carter
Journalist
An Australian-developed childhood myopia management resource has formed an alliance with a Canadian-based centre for eye research and education to expand their services and reach.
Husband-and-wife optometrist team Drs Paul and Kate Gifford from Brisbane developed Myopia Profile educational resource dedicated to childhood myopia management.
The Centre for Ocular Research & Education (CORE) – formerly known as the Centre for Contact Lens Research – was established in 1988 at the University of Waterloo's School of Optometry and Vision Science in Canada.
While CORE and the Myopia Profile have now formed an alliance to expand both organisations' services and reach, both will maintain their individual identities, facilities and staffing while pursuing projects together.
The head of CORE, Dr Lyndon Jones, said the affiliation would grow CORE's clinical research capabilities, adding expertise in specialty lenses, gas permeable, orthokeratology and scleral contact lenses. It would also provide Myopia Profile with priority access to a world-leading clinical research site, and extend professional and patient education capabilities including in myopia management, he said.
Dr Jones and the Giffords have a professional relationship dating back to the mid-1990s and have often collaborated on projects, lectures and other initiatives to advance ocular health and science.
'Our new alliance is a natural extension of our respect for one another, which has grown into friendship as the years have passed,' Dr Jones said. 'We have long been aware of synergies in our work, along with areas where we can each extend the capabilities of the other. I'm delighted that the time is right for our respective organisations to take this step, and I am excited to see what we can achieve together.'
Dr Kate Gifford, a former president of Optometry Australia, said: 'We share many points of view with CORE—clinically and personally—making this partnership a natural evolution of our relationship. Paul and I are delighted to be able to work more closely with the wider team at CORE, and look forward to sharing the results of this joint venture with the profession.'
Myopia Profile was first built around a clinical myopia profile patient communication tool developed by Kate from 15 years' experience in her Brisbane practice.
It started as a bulk email to share the tool, then developed into a website, Facebook group and now a global community of optometrists across web and social media platforms. The Myopia Profile team develops professional education, online courses, clinical communication tools and public awareness assets, has expertise in industry learning, software solutions, and collaborative translational research.
CORE began as a three-person operation and over the next three decades, evolved from a hub of basic and applied research, collaborating with sponsors, agencies and academia on advanced biosciences, clinical research and education. Today, its approximately 50-person team serves a range of ophthalmic sectors, including medical devices, ocular pharmaceuticals, digital technology and others, with a focus on the anterior segment.
Filed in category:
Members & member initiatives
,
Research & surveys
Tagged as:
Myopia