Read time:

1:30min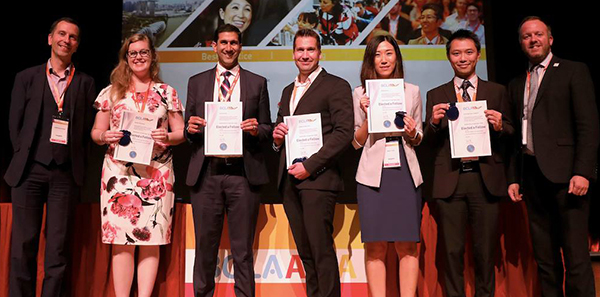 BCLA Fellowship recipient Natalie Buckman pictured second from the left
_____________________________
By Rhiannon Riches
Communications Manager
Early career optometrist and Deakin graduate, Natalie Buckman, has been awarded a British Contact Lens Association Fellowship.
She is the first Deakin graduate to be awarded a fellowship of any kind.
Originally from Brisbane, Natalie moved to Geelong when she was accepted into the inaugural intake for the Bachelor of Optometry/Masters with Ocular Therapeutics, graduating in mid-2015.
'After graduating, I worked in Coffs Harbour for six months, and was then offered locum work with Optical Superstore,' she said.
'Following that, I was offered a position in private practice with Kate Gifford, so I re-located to Brisbane.'
'This year, I've also been teaching fourth- and fifth-year optometry students in the paediatric and general clinics at Queensland University of Technology. I also work one day a week with Dr Sing-Pey Chow; a corneal ophthalmologist,' she said.
Natalie said her interest in contact lenses has evolved with her career, culminating in her current role as a board member of the Orthokeratology Society of Oceania (OSO).
While studying at Deakin, Natalie completed a six-month placement with Jason Holland, an Optometry Australia board member, at the Eye Health Centre and Optical Superstore.
'He was the first person who inspired me to develop expertise in contact lenses and anterior eye care such as dry eye management,' she said.
'As well as Jason Holland and Kate Gifford, Paul Gifford has also been a specialty contact lens mentor,' she said.
'My interest in fitting Ortho-k and specialty contact lenses took a step forward when I attended an Orthokeratology Society of Oceania congress in Australia, which I found motivating and it inspired me to take control of my education in that field.'
Natalie then attended the BCLA conference in the UK which inspired her to apply for fellowship.
'There are only about 200 BCLA fellows worldwide,' she said.
'The BCLA Fellowship is an internationally recognised mark of esteem in the field of contact lenses and anterior eye care. The submission involves case reports, proof of additional post-graduate qualifications and/or significant professional contributions. If this is accepted, it is followed by a viva examination at the conference itself, in front of a panel of experts.'
Working to complete the requirements, Natalie took her viva examination at the BCLA Asia conference held in Singapore in September. Natalie was successful, becoming the first Deakin graduate to receive a fellowship.
'The BCLA fellowship is a recognition of my experience and special interest in contact lenses and provides an opportunity to be connected with global experts in the field. Being a fellow opens the doors to countless education and research opportunities.'
'While I was working as a locum for Optical Superstore, I completed a Masters of Public Health through the University of Sydney. I went to a Future Health Leaders conference, which got me thinking about future change in the optometry profession.'
'Seeing a necessity to seek these globally recognised opportunities to stay at the forefront of the profession was a big reason why I wanted to pursue the challenge of BCLA Fellowship,' she said.
Natalie has recently attended the OSO's 13th congress, which took place on the Gold Coast from 5-7 October.
'The Orthokeratology Society of Oceania is keen to teach younger optometrists. When I attended their congress a couple of years ago, I enjoyed talking to people about cases, learning about the future of the society, and I was keen to get involved. I was invited to be a guest board member for a year, and then invited to join the board.'
Natalie is also bilingual (she speaks Russian) and presented on Orthokeratology and myopia control at the Siberian Federal University last year, as an Australian representative for the World Festival of Youth and Students. She was a board observer on the Public Health Committee of Optometry QLD/NT and is a member of the Early Career Optometry group in QLD/NT.
Filed in category:
Members & member initiatives
Tagged as:
Students
,
Universities