Read time:

1:30min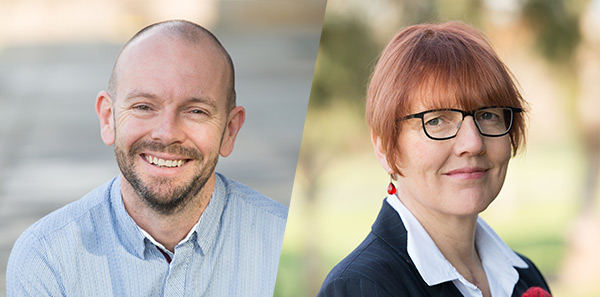 Pete Haydon, CEO of Optometry Victoria, and Libby Boschen, CEO of Optometry South Australia
____________________________
By Kerry I'Anson
General Manager, Marketing & Communications
Optometry Victoria and Optometry South Australia are in advanced discussions about amalgamating the two state organisations into one representative body, Optometry Victoria and South Australia.
The final decision on whether this occurs will rest with members of both states who will have the opportunity to vote on the proposed amalgamation at their annual general meetings in October.
Both Pete Haydon, CEO of Optometry Victoria, and Libby Boschen, CEO of Optometry South Australia, said that when amalgamation discussions were first suggested, they started with the iron clad agreement that no member would be disadvantaged by it.
Libby also said that South Australian members would in fact find the move highly beneficial given that the South Australian office was only staffed part-time while the Victorian office operated full-time and was supported by more resources.
Pete likewise committed that Victorian members would continue to be fully supported and that the high level of service that they currently receive would not be compromised by the need to support more members.
Both leaders said that joining together into a single entity will streamline and expand services and support for members by improving and future-proofing the organisation.
They stated that the single entity approach would offer the ability to draw from a wider pool of expert staff, combining the strong capability of Optometry South Australia's policy and legislation knowledge and matching it with Optometry Victoria's innovative CPD and member networking opportunities.
Training and CPD offerings will also become more wide-reaching and varied because the combined buying power will deliver better value for members.
Pete and Libby have committed that the larger pool of funding received by the single entity will be allocated to services, not administration and operating costs which in turn, will help to keep membership fees fair.
They concur that joining forces will strengthen the professional body's voice in these two major southern states resulting in a greater capacity to advocate for issues that matter to members most.
Optometry Australia National President Andrew Hogan said that the National Board fully support Optometry Victoria and Optometry South Australia's proposal.
'Optometry Victoria and Optometry South Australia are putting members first and working to provide enhanced services, while ensuring great value for members,' Andrew said.
____________________________
Filed in category:
National & State initiatives
Tagged as:
Future
,
Leadership
,
Member services
,
Milestones