Read time:

1:30min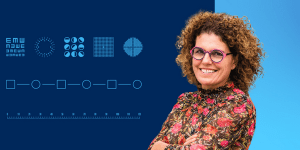 Optometry Australia has released its FY2021/22 Annual Report which highlights the organisation's key achievements delivered during the previous financial year.
In releasing the report, President Margaret Lam (pictured below right) cited seven achievements in particular:
Member trust in Optometry Australia now sits at 96%.
All members now have access to three counselling sessions annually through our Member Assistance Program.
Combined with Optometry Virtually Connected, most members attended one or more of our 61 live webcasts and 16 interactive workshops delivered throughout the year.
We released seven new guidelines and tools created to support members' clinical and practice management.
Our suite of segmented communications, launched during the year, provides members with access to regular, tailored, and subject-specific information.
 Awareness of eye health issues and the important role of optometrists featured in national media coverage, reaching 91 million people during the year. The launch of our 2022 Vision Index in early July has also delivered a further 335 media articles in less than two months.
Our staff celebrated Optometry Australia receiving a 2021 Best Workplace Award.
"Our FY21/22 Annual Report also provides a summary of the extensive range of member services and projects to advance and evolve optometry that we delivered, or commenced, during the year.
"I am very proud of the work that Optometry Australia delivers, and I have found it very rewarding to be given the opportunity to take on the presidency of this amazing organisation", she said.
Ms Lam also focused on more recent key developments while highlighted several that the organisation expects will culminate in the first half of 2023 including:
Canberra meetings
"At the end of November, we were warmly welcomed at meetings with 13 politicians and senior advisors in Canberra. These meetings enabled our delegation to highlight the critical need to remove barriers so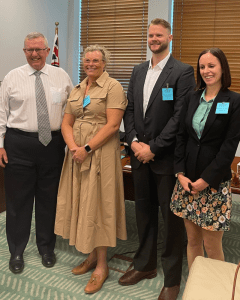 that optometrists can work to full scope and positively contribute more to reducing unnecessary vision loss and blindness amongst Australians," Ms Lam said.
She thanked members Fiona Moore, Alex Craig, and Jacqueline Warren who joined her, Optometry Australia's Interim CEO Skye Cappuccio, and Optometry Development Manager Ben Hamlyn at these important discussions.
Pictured left to right: Hon Mark Coulton MP, Fiona Moore, Alex Craig, Skye Cappuccio at Parliament House, Canberra.
Evolving scope
"To be sustainable, optometry must evolve. One element of this is expanding our skill set to embrace best practise patient and clinical management. As 2023 progresses, we are optimistic of gaining further traction in our efforts to facilitate more full scope practise and extend the scope of optometric practice.
"We are also hoping that the Federal Government will endorse the MBS review recommendations in the first half of 2023, supporting a more contemporary MBS.
"In 2023 we will release the new Entry-level Competency Standards for Optometry. The review of the current standards, released in 2015, has been led by a highly qualified working group with representatives from Australia and New Zealand. Getting these standards right is critical to the future of our profession as they reflect the skills an optometrist needs to enter the profession while forming the basis for the assessment of optometry courses and the assessment of overseas trained optometrists who wish to work in Australia".
Ms Lam also thanked those members who have expressed interest in joining the next phase of our big data project.
"Creating a comprehensive large-scale national dataset for optometry is an important initiative that Optometry Australia is committed to achieving. It will enable us, for the first time, to gain national insights into optometry trends that can translate to genuine improvements in advocacy, provide useful research opportunities, and support ongoing improvement at a practice level. If you are a practice owner, or manager, I strongly encourage you to consider joining this important project,' she said.
Member Advisory Help Desk
Ms Lam also reminded members that Optometry Australia's Member Advisory Help Desk, managed by seven staff including five optometrists, was available to assist any member with personalised and tailored guidance, from answering queries on CPD through to more complex issues such as patient complaints, Medicare audits, and PII claims.
Interim CEO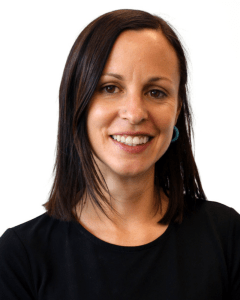 Ms Lam expressed her gratitude to Interim CEO, Skye Cappuccio (pictured right) who stepped into the role following the departure of Lyn Brodie in October.
"Skye has proven to be a strong, productive, and highly respected leader of the organisation and, on behalf of the board, I wish to thank her for stepping into this senior leadership role," she said.
Thank you
"No doubt that 2023 will be an interesting year that will come complete with its own opportunities and challenges and my fellow directors, and I look forward to embracing these along with our talented Optometry Australia team. During the year, we will keep you updated on how we are progressing the delivery of our Shared Strategic Plan through our range of extensive member communications.
"On behalf of the board and all the Optometry Australia team, I wish you a wonderful festive season and a safe, prosperous, and happy 2023", Ms Lam concluded.
Filed in category:
Member resources
,
Members & member initiatives
,
National & State initiatives
,
Scope of practice
Tagged as:
Advocacy & government
,
Leadership
,
Member services
,
Scope of practice