Read time:

1:30min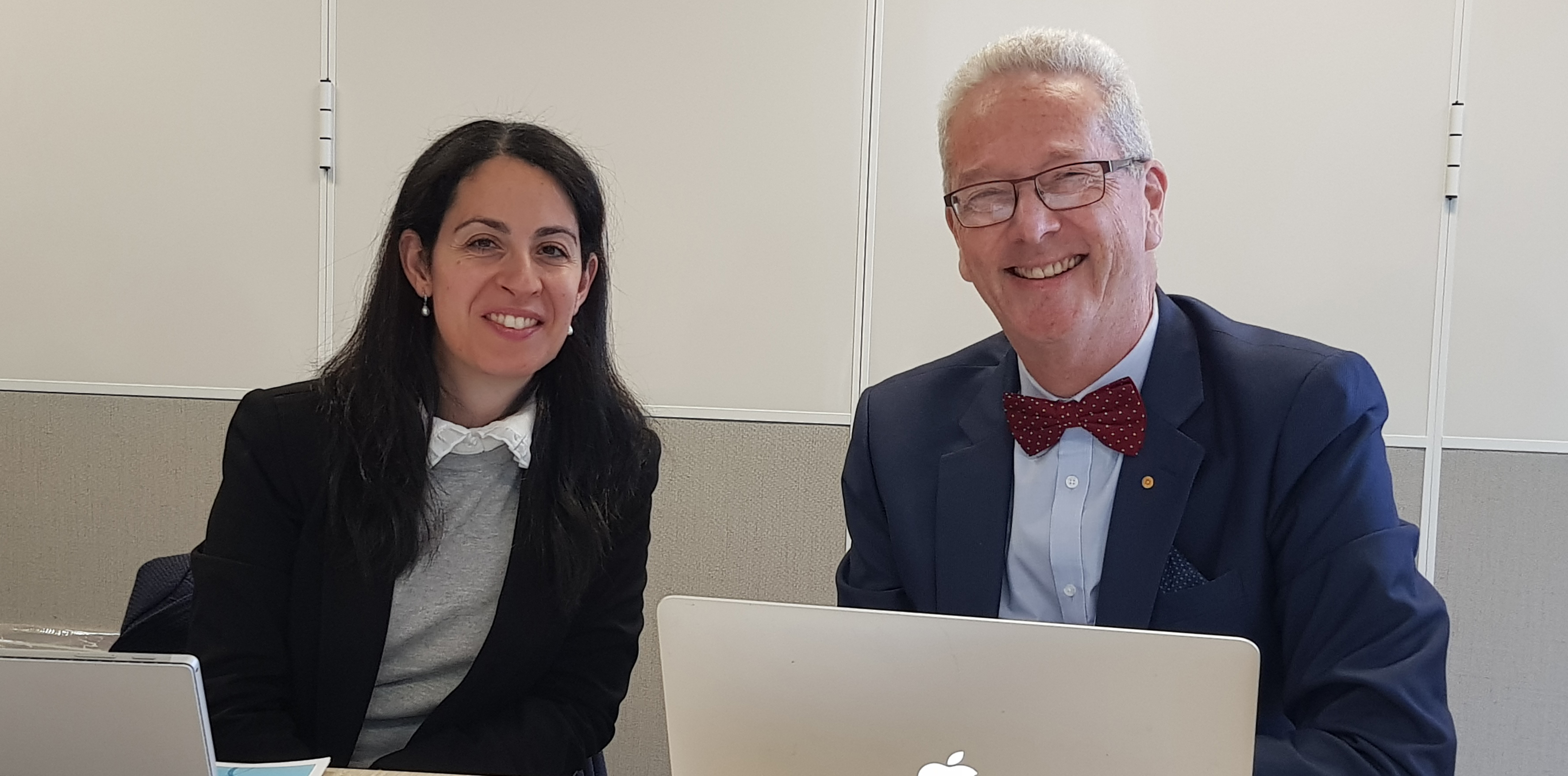 Deputy Editor Dr Maria Markoulli and Editor Professor Nathan Efron at CXO's annual Editorial Board meeting in July
______________________________
By Rhiannon Riches
Communications Manager
Optometry Australia's peer-reviewed journal Clinical and Experimental Optometry, or CXO as it is commonly known, is proving to be a valuable commodity.
Produced by Optometry Australia and published by Wiley, CXO is the official journal for our members and partner organisations, Hong Kong Society of Professional Optometrists, Singapore Optometric Association, and New Zealand Association of Optometrists.
Recent data shows the journal's profile is expanding.
Single-article downloads have increased from 300,000 in 2016 to 400,000 in 2017, including from as far afield as Antarctica.
CXO's impact factor has risen from 1.256 to 1.335, and its ranking has risen from 46 to 45 out of the 120 journals listed under the Journal Citation Report Ophthalmology category.
Manuscript submissions have also increased, from 380 in 2016, to 400 in 2017, resulting in the pool of Associate Editors needed to manage the editorial workload expanding to 15.
For CXO's recently appointed Editor, Professor Nathan Efron AC, and Deputy Editor Dr Maria Markoulli, the rise in the journal's profile is recognition of its clinical value and world-class credentials.
New initiatives introduced this year are also bolstering the journal's profile including a revamped electronic newsletter to profile issue content and a higher presence within the organisation's social media platforms. Plans are now underway to introduce video interviews with authors.
A clinically relevant article from CXO is also selected to feature in each quarterly issue of Optometry Australia's member therapeutics publication, Pharma. The June issue of Pharma featured an article from CXO titled 'Patient-reported outcome measures in amblyopia and strabismus: a systematic review'. This paper is member-only access. 
Despite the journal celebrating its 100th year in existence in 2019, and having celebrated its 100th volume in 2017, it appeals to a young cohort of optometrists.
Results of Optometry Australia's biennial member survey conducted this year show that 46 per cent of members aged 20 to 29 years and 37 per cent of members aged 30 to 39 years rate the journal as 'very valuable'.
2018 H Barry Collin Research Medal award
Professor Fiona Stapleton, Head of Optometry and Vision Science at UNSW Sydney, is the 2018 recipient of the H Barry Collin Research Medal and the first woman to receive the medal in its 41 year history. Read more
______________________________
Filed in category:
National & State initiatives
Tagged as:
Clinical & Experimental Optometry (CXO)