Read time:

1:30min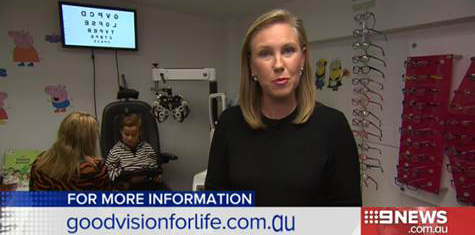 A Channel 9 News segment on screen time
_____________________________
By Rhiannon Riches
Communications Manager
Optometry Australia has increased its media coverage over the past three years by 33 per cent with much of this coverage focused on raising awareness of eye health.
Editorial coverage between FY 2014/15 has risen to 363 pieces to date this financial year and the organisation is confident of achieving additional quality articles by 30 June.
This increase aligns with goals within the organisation's strategic plan to promote optometry, optometrists and community eye health. It also supports Good vision for life's consumer campaign goals which aim to highlight the need to have regular eye examinations throughout life and to motivate consumers to book an eye examination.
National Campaigns Manager Trinity Scarf said that under the Good vision for life consumer brand, Optometry Australia is now delivering regular, quality editorial through online, print and broadcast media channels on eye health and the vital role of optometrists.
'We are involved in various activities, such as planning topics that we believe will have media appeal, issuing media releases accordingly and in a timely manner, as well as responding to numerous media inquiries. We also ensure our media spokespeople are media trained, with clear key messages identified,' she said.
Optometry Australia's key national spokesperson, optometrist Luke Arundel, is proficient at delivering concise and clear messages, in 'real language' that highlights the necessity of good eye health and regular eye examinations.
Luke, like all Optometry Australia media spokespeople, is careful to ensure that he is delivering consistent messages about the sector, the role of optometrists and community eye health.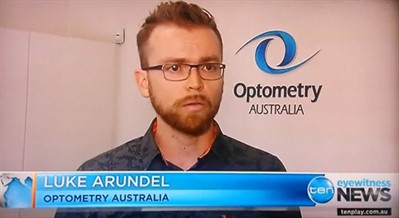 Luke Arundel on Channel 10 News
'Not all our efforts are rewarded with great editorial – sometimes our messages get distorted, we are misquoted or our comments simply do not appear in the final story,' Trinity said.
'This is because once we have spoken to the journalist, our hands are tied, and we have no control over the final output.
'A journalist is also not required to let us know who else they are interviewing, or where the source of their information has come from,' she said.
Editorial integrity is paramount to a media channel she explained, and this is why editorial coverage is perceived by consumers as being much more credible than advertising.
'If a media channel delivers a story that damages the reputation of our organisation or the sector, we do have limited recourse – we can write to the editor, or for more serious misrepresentation, lodge a complaint with the Australian Press Council.
'While we do write to editors where we wish to raise a point, or an objection, it is up to the editor if they publish our letter or not,' Trinity said.
National President of Optometry Australia Andrew Hogan agrees. Andrew is a regular, long-time contributor to ABC local radio across the country, and the host of ABC's award winning podcast, Nerdzilla.
'While you can never have ultimate control over what a media outlet will print or how they might misquote or package a story, it's important to still be talked about as long as the greater objective of raising awareness of eye health and optometry is achieved,' Andrew said.
____________________________
Filed in category:
Marketing
,
National & State initiatives
Tagged as:
Good vision for life
,
Marketing