Read time:

1:30min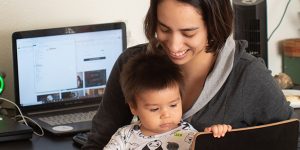 Are you considering or preparing to grow your family? Among the many elements to navigate during such a pivotal time is the decision around if, when and how you want to return to practise. Download our helpful guide.
The transition into navigating life with the additional responsibility of another human can be filled with complex and mixed emotions, varying between joyous and daunting. Importantly, becoming a parent may mean your priorities change and evolve.
Some optometrists may decide to return to practising full-time or part-time, while others may decide not to return to the workforce for an extended period, or at all.
To assist you with whichever decision you make, Optometry Victoria/South Australia has created a toolkit with links to resources to help guide you through the process. This resource aims to de-mystify the transition back to professional working life so that you can feel confident, understand your rights and responsibilities, and be prepared for the next stage. Members can access the toolkit from this page of the website.
Regardless of whether you are preparing to have children, considering adopting or surrogacy, are pregnant or working as a parent, you have rights as an employee under Australian laws, including the Sex Discrimination Act 1984 (Cth), anti-discrimination laws, the Fair Work Act 2009 (Cth) (FW Act) and work, health and safety laws.
This resource is intended to provide general information in summary form on topics that are current at the time of publication, for general information purposes only. It is applicable to Optometry Australia members nationally.
Optometry Australia CEO Lyn Brodie said, 'We appreciate the efforts from the team at Optometry Vic/SA in producing this toolkit which will be a valuable resource to all members, irrespective of where they are based, as it contains links to current national employment laws and is written in a very digestible manner.
'We anticipate that this guide will be very valuable to members by providing the necessary information that they need to make informed choices about parenthood, transitioning to and from parental leave and what they need to do to maintain their optometry qualifications during leave.
'The toolkit adds an important addition to the range of guides that are available to our members in relation to career development, workplace flexibility and clinical and patient management.'
Filed in category:
Guidelines & practice notes
,
Member resources
,
National & State initiatives
Tagged as:
maternity leave
,
parental leave