Read time:

1:30min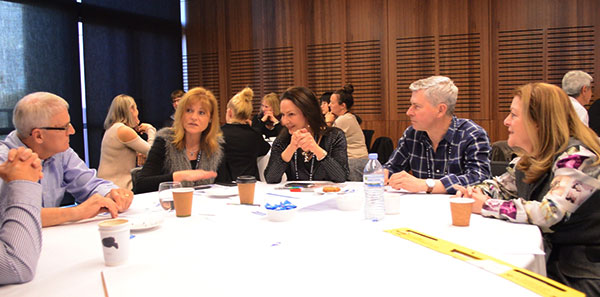 Optometry Australia CEO Lyn Brodie (far right) at an Optometry 2040 workshop at SILMO Sydney.
_____________________________
By Helen Carter
Journalist
Optometry Australia's Optometry 2040 workshops held nationwide this year were valuable and will help to positively shape the future of the profession, according to participants.
Analysis of an evaluation survey from the six workshops reveals that more participants felt optimistic and hopeful about optometry's future and were excited about it after completing the workshops than before taking part in workshops, when more felt uncertain and that the future was challenging.
Nearly 200 participants attended workshops around the country, held in Victoria, NSW, Queensland, South Australia, Western Australia and Tasmania from July to September.
Most (65 per cent) were optometrists, and a further 22 per cent were other health professionals, including ophthalmologists, and members of the broader optical industry.
Optometry Australia's Policy and Advocacy Manager Sarah Davies thanked participants for attending and sharing valuable insights.
'It was fantastic to see so many members and stakeholders from around the country attending and contributing. It is important that the Optometry 2040 project considers the diverse range of perspectives in the optometry sector,' she said.
'Pleasingly, feedback from the surveys completed after each workshop highlighted that participants found value in the workshops and were challenged by the content. We asked participants to provide three words about how they felt about the future of optometry before and after attending the workshops.
'Prior to attending, the words uncertain, challenging, unsure and limited ranked highest. But afterwards, the words optimistic, hopeful and exciting topped the list.'
Hear participants talk about the workshops
Seventy per cent of respondents said that knowing Optometry Australia was undertaking the project increased their optimism about the future of the profession.
Many of the further comments provided in the survey expressed an appreciation that Optometry Australia is supporting the profession to take control of its future by undertaking the Optometry 2040 project.
'We are working on drawing together all the details now and the full report with the launch of findings will occur at a Parliamentary event in early December 2018, supported by direct advocacy to key politicians,' Sarah said.
'Members will, of course, be involved in all the initiatives required to help ensure our preferred future is created between now and 2040.'
Attendees comments
Comments from attendees on the survey included:
'Thank you. It is important that you are doing this project and trying to engage as many as possible. I hope you get to engage with rural practitioners across Australia.'
'It was a fantastic workshop and Optometry 2040 is a very worthwhile project.'
'Great to hear the confident opinions of younger generations. We're in safer hands than I thought.'
'Excellent main speaker. Was very impressed by the forward thinking and creativity of my colleagues.'
'I would've really liked a wider representation from more of the profession. But being a smaller group made contribution accessible and valuable.'
'Great that you are paying attention to the future of optometry. Consider listening to and include outliers from alternative perspectives.'
_____________________________
Filed in category:
National & State initiatives
Tagged as:
Future