Read time:

1:30min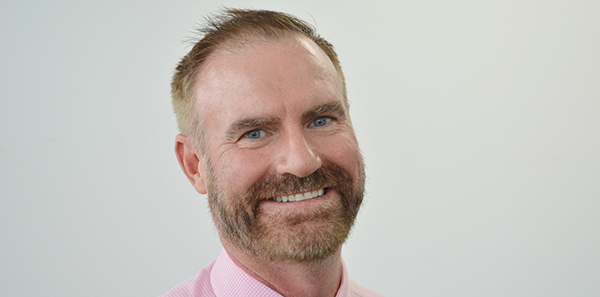 By Helen Carter
Journalist
Optometry Australia's newest board member David Bradley is looking forward to helping the organisation drive reform and show fellow optometrists the value of membership.
'Optometry Australia's new three year strategic plan 2018-2021 has some great strategies to put our members back at the core of what we are doing,' he said.
'My goal on the board is to help drive through this reform and show real value to members.'
Mr Bradley, who owns an optometry practice in Brisbane, joined the board in December 2017. He replaced former Queensland member, and fellow Brisbane optometrist, Jason Holland, who had served on the national board since December 2014.
Mr Bradley's broad experience working in different modes of practice nationwide qualifies him well to represent Optometry Australia's many and varied members and means he can relate easily to optometrists and their needs.
He has worked in independent practice, corporate practice and as a locum, in metropolitan, rural and remote areas, and in Queensland, Western Australia, the Northern Territory, South Australia, NSW and Canberra.
Mr Bradley is therapeutically endorsed, having gained his Graduate Certificate in Ocular Therapeutics in 2010, and has special interests in dry eye, sports vision and remote eye care.
He frequently travels to Western Australia and the Northern Territory to deliver optometric care to Indigenous communities.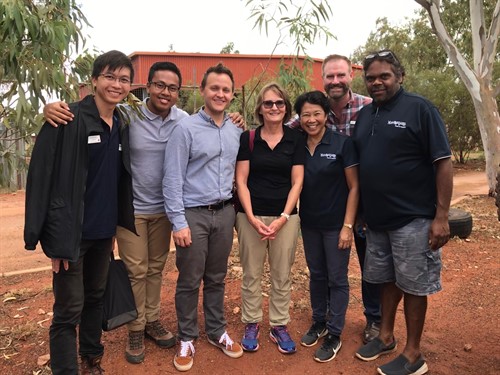 The Ngaanyatjarra Health Eye Team in February 2018
L-R, Queensland University of Technology optometry students Darrel Choo and Syafiq Kusni,
Perth ophthalmologist Dr Antony Clark, outreach co-ordinator Bev Tysoe, chronic disease nurse Leny Gewohn, optometrist David Bradley and Aboriginal Health Worker Darren Stokes.
'I work four weeks a year in the Ngaanyatjarra Homelands in remote WA and have done so for 19 years,' he said. 'I enjoy the change in work practices and am happy with the improvements in eye health over that time.'
Ngaanyatjarra lands cover three per cent of the Australian landscape. Mainly desert, the lands lie 1,200 kilometres away from the two nearest towns of Alice Springs and Kalgoorlie.
'We fly around with all the equipment on a plane as the eight communities we visit are spread across a 250,000 kilometre square area of central Western Australia right on the NT/WA border,' he said.
Mr Bradley is also a director on the Optometry Queensland/Northern Territory board, having started on the board in 2009 as the QUT liaison committee chair and more recently the Public Health Director.
Practised nationwide
After graduating from QUT's School of Optometry and Vision Science in 1994, he spent 12 months doing locum work in corporate optometry for Laubman and Pank across South Australia, before practising in Rockhampton, Queensland for three years and Alice Springs for six years.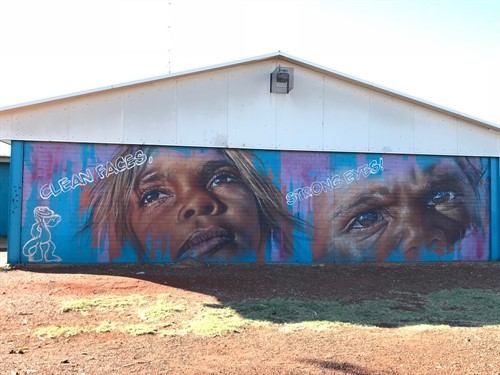 A mural photographed by David Bradley
'In Alice Springs the nearest specialist can be 1,500 kilometres away so you have to be confident with your decision-making and have to have a broad range of skills across all areas of optometry,' Mr Bradley said.
He then moved to Morayfield, Queensland for 12 months before working for OPSM in southern NSW, was based in Canberra for 18 months, and then moved back to Queensland for two years.
In 2004, Mr Bradley bought a Brisbane practice, Eyes on Edward, which had been running for five years. He is the sole optometrist and still currently works there.
For 11 of those years he was also a part-time clinical supervisor of third, fourth and fifth year students in the optometry clinic at QUT's School of Optometry and Vision Science.
View Optometry Australia's Stategic Plan 2018-2021
_____________________________
Filed in category:
Appointments
,
National & State initiatives
Tagged as:
Leadership