Read time:

1:30min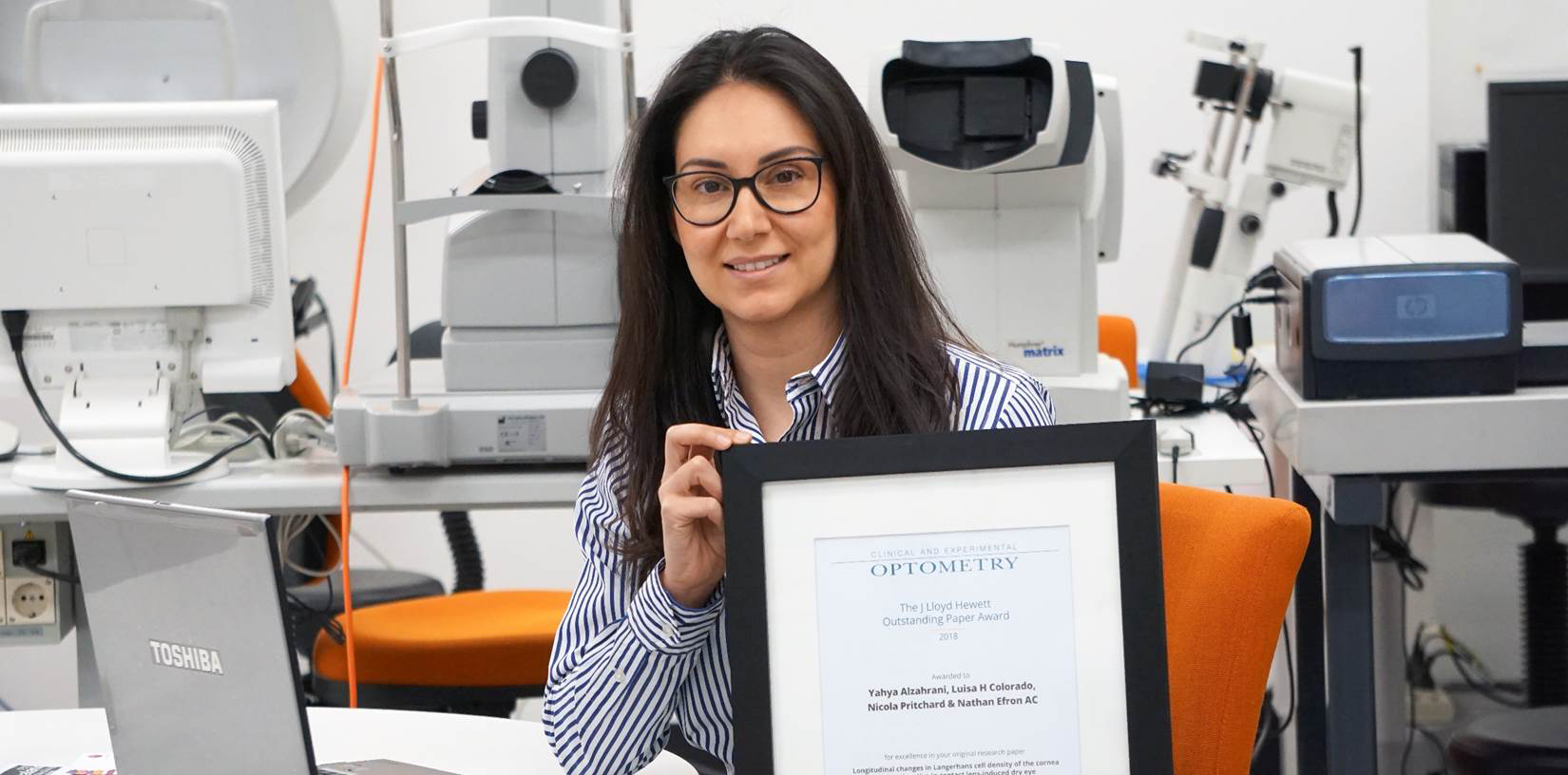 Dr Luisa Holguin Colorado, one of the authors of the 2018 J Lloyd Hewett Outstanding Paper Award
_____________________________
By Rhiannon Riches
Communications Manager
A research paper on contact lens-induced dry eye has won the 2018 J Lloyd Hewett Outstanding Paper Award, awarded by Clinical and Experimental Optometry's Editorial Board.
The winning paper was authored by Yahya Alzahrani, Luisa H. Colorado, Nicola Pritchard and Nathan Efron AC, who represent the Institute of Health and Biomedical Innovation, and School of Optometry and Vision Science, at Queensland University of Technology.
The paper is titled 'Longitudinal changes in Langerhans cell density of the cornea and conjunctiva in contact-lens induced dry eye' and was published in 2017, in issue 1 of the journal's 100th volume.
This paper is available on the Wiley Online Library, along with the past J Lloyd Hewett award winning papers.
One of the authors of the 2018 winning paper, Colombian native Dr Luisa Holguin Colorado, spoke to Optometry Australia about the research.
Dr Colorado graduated with a five-year optometry degree in Colombia, and worked in clinical and surgical practice for two years before coming to Australia.
She embarked on a PhD in 2013 supervised by Emeritus Professor Nathan Efron and Dr Nicola Pritchard, completed a research fellowship at the Contact Lens & Visual Optics Laboratory, and is currently doing post-doctorate work in contact lens industry-related research at the Anterior Eye Laboratory under supervision of Dr Katie Edwards.
Dr Colorado currently works in the research lab at QUT and teaches fourth-year students in the specialist contact lens clinic.
'I'm interested in the physiological changes related to inflammatory and mucus-provider cells before and after contact lens wear,' she said.
'Yahya [one of the winning paper's authors] and I started our PhD's at QUT and worked together on a contact-lens research project guided by Nathan, the paper came out as part of this work.'
'Yayha was supported by a Saudi Arabian Government Scholarship to complete his PhD at QUT and I was supported by an Australian Postgraduate Award.
'One of the papers that came out of our PhD studies is this paper on changes in Langerhans cell density, published in CXO in 2017,' Luisa said.
Dr Colorado said that a total of six papers came out of this particular research project, some of which have been published in other journals including Investigative Ophthalmology & Visual Science and Contact Lens & Anterior Eye.
'As a scientist, receiving an award for research work you were part of is the most rewarding recognition of your effort,' she said.
'It's important to understand inflammation as part of a process of adaptation to contact lens wear, and that it's natural for the body to react in the presence of foreign bodies by increasing the number of inflammatory cells.
'There are cellular and physiological changes during contact lens adaptation. We wanted to look at changes in cell density that are involved in inflammatory response of the ocular surface, Langerhans and goblet cells. What happens with the number of these cells? In what direction do they change over adaptation period? Is there a difference in those with dry eye symptoms?,' Luisa said about the research.
The J Lloyd Hewett Award was established by Clinical and Experimental Optometry in May 1980 as a tribute to Sydney optometrist J Lloyd Hewett, who was Editor-in-Chief of the journal from 1962 to 1979 and a leading practitioner and clinical teacher, especially in the field of contact lenses.
This is a closed award decided by the Editorial Board and does not invite nominations.
Clinical and Experimental Optometry Publications Manager Jessica Donald said both Professor Efron and Dr Pritchard were not part of the decision-making of this award due to their conflict of interest as authors of this paper and CXO's Editor and Associate Editor, respectively.
_____________________________
Filed in category:
National & State initiatives
,
Research & surveys
Tagged as:
Clinical & Experimental Optometry (CXO)