Read time:

1:30min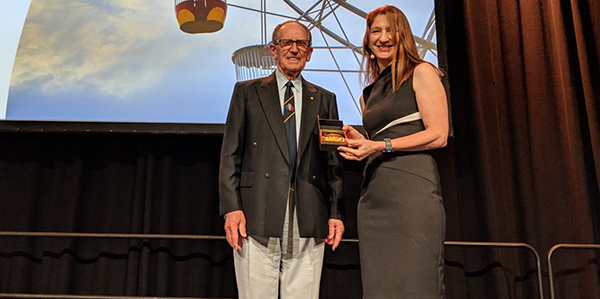 Professor Fiona Stapleton has been presented with the prestigious H Barry Collin Research Medal of Optometry Australia in recognition of her outstanding contributions to eye and vision research.Professor Stapleton is the first woman to receive the medal and fittingly, it was presented to her by Professor H. Barry Collin AM on International Women's Day.
In his address, Professor Collin described Professor Stapleton as "an outstanding researcher, with some 240 published research publications and is ranked number eight in the world among contact lens researchers. She has made major contributions to our knowledge of many corneal and contact lens conditions, and particularly, contact lens related microbial keratitis."
Professor Stapleton has been honoured with many international awards including:
The Dallas Award, the Pioneers Award and the British Contact Lens Association Medal, all from the British Contact Lens Association,
The University of Houston, College of Optometry Award,
The Max Shapero Award from the American Academy of Optometry,
The Don Korb Award from the American Optometric Association and the Glen A Fry Award from the American Optometric Foundation, and
The Anthony Adams Award from Flinders University.
Additionally, Professor Stapleton has been acknowledged by the University of New South Wales with a Vice-Chancellors Award for her excellence and effectiveness as a research supervisor and has supervised or is supervising 35 post-graduate students.
Professor Collin congratulated Professor Stapleton, and said "she is a very worthy recipient of the H Barry Collin Medal".
This article has been republished courtesy of mivision.

_____________________________
Filed in category:
National & State initiatives
Tagged as:
Awards - honours - grants-bursaries
,
Clinical & Experimental Optometry (CXO)