Read time:

1:30min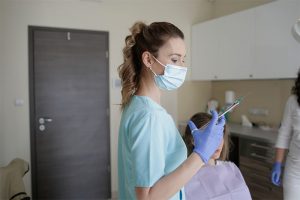 Photo: Pexels, Andrea Piacquadio
By Helen Carter
Journalist
Sight-threatening complications can result from "potentially precarious" cosmetic facial procedures which appear to be on the rise by operators without formal medical training, according to four Melbourne doctors.
They reviewed the literature on ocular injuries from cosmetic procedures and said optometrists may be the first point of contact for patients with ocular complaints after these treatments or may be consulted for advice about potential risks before undergoing procedures.
They also presented two local cases including a woman who sustained chemical burns to the corneas after an eyeliner tattooing procedure, and another who sustained multiple corneal abrasions from having artificial eyelashes applied.
'The rising number of reported ocular complications resulting from cosmetic facial procedures in Australia calls for renewed attention to safety precautions.
'Patients need to be aware of potential risks, including permanent visual loss, before embarking on any cosmetic facial procedure,' ophthalmologist Jonathan Kam and doctors Mabel Yan, Enis Kocak and Kevin Yoong from the Alfred Hospital's Department of Ophthalmology wrote in Clinical and Experimental Optometry's July 2020 issue.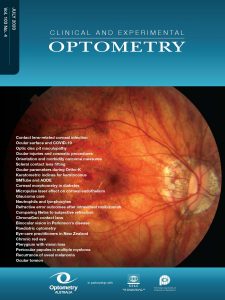 'Social media has played a role in the marketing of procedures such as episcleral tattooing, blepharopigmentation, laser skin resurfacing and permanent eyelash extensions.
'Such treatments are mostly performed by non-medical operators in salons and often involve periocular structures. The eye is at risk of sight-threatening damage during such treatments.'
Corneal burns from eyeliner tattoo
The Melbourne cases included a 27-year-old woman who presented to the hospital's emergency department with eye pain after upper lid eyeliner tattooing. She sustained chemical burns to the corneas, and over the next two months, a subtotal epithelial defect in the left eye healed and punctuate epithelial erosions in the right eye largely resolved.
The other case, a 19-year-old female, presented to emergency with eye pain after artificial eyelashes with paper backing were applied. Superficial corneal abrasions were thought to be due to sharp fragments of artificial eyelash fibres and glue scratching the cornea.
Traction alopecia of natural eyelashes
The review found traction alopecia of natural eyelashes could occur with repeated treatments as constant traction could damage the hair follicle, resulting in weaker and fewer hairs over time.
'As sharp pieces of synthetic eyelash material fragment, they can deposit under the eyelid and cause corneal abrasions and in a severe case, synthetic fibres were found within the subconjunctival space, causing intense inflammatory response and pain, requiring removal under local anaesthesia in theatre.'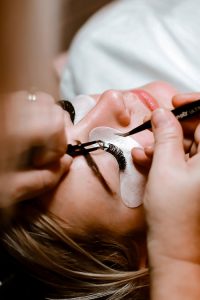 Photo: Unsplash, Hayley Kim Design
A study of 107 women who presented to ophthalmology clinics in Japan with ocular complaints related to eyelash extensions found in 42, formaldeydye-containing glue to attach extensions caused keratoconjunctivitis and allergic blepharitis.
Conjunctival erosion from eyelid fixing tapes and subconjunctival haemorrhage due to compression from extension removal was also reported.
Reviewers said serious sight-threatening complications were less commonly reported although eyelash extensions could cause significant ocular disease requiring timely medical attention. In Australia no regulations govern minimum training requirements of operators.
Permanent visual loss from dermal fillers
Reviewers also identified permanent visual loss associated with dermal fillers (facial soft tissue augmentation) as an uncommon but real risk.
'Iatrogenic visual loss is a rare but devastating complication of the procedure,' they said.
One study reported 98 cases of visual changes from filler injections. Case series evidence indicated autologous fat injections have the highest risk of visual loss with poor visual recovery. In one case series of iatrogenic blindness after dermal filler injection, 61 per cent of 44 patients had no perception of light.
The literature review from 1970 to July 2018 also revealed:
A surge in ocular injuries has coincided with increasing popularity of blepharopigmentation (permanent pigment granules implanted into dermal layers of the eyelid margin or eyebrows to simulate make-up.)
Ocular surface disease can be exacerbated by eyelid tattooing and various ocular structures can be disturbed during eyelid tattooing. In one case, inadvertent corneal exposure to sodium hydroxide alkaline anaesthetic cream resulted in corneal burns with extensive epithelial loss.
Full-thickness penetration of tattoo needles through the eyelid has been reported.
Laser-assisted eyebrow epilation has caused numerous anterior segment injuries, iris atrophy and acute anterior uveitis.
Laser skin resurfacing has caused cases of severe exposure keratopathy needing surgery, bullous keratopathy and intrasomal bleeding.
Cosmetic lasers caused an accidental retinal laser burn and vitreous haemorrhage because no goggles were worn.
Botox can cause ptosis of the brow, lower lid and eyelid.
Episcleral tattooing where dye is injected beneath the conjunctiva to achieve the appearance of coloured sclera can cause serious sight-threatening complications including globe penetration and orbital cellulitis. The procedure is banned in Australia.
Filed in category:
Patient care & management
Tagged as:
Clinical & Experimental Optometry (CXO)
,
Patient management