Read time:

1:30min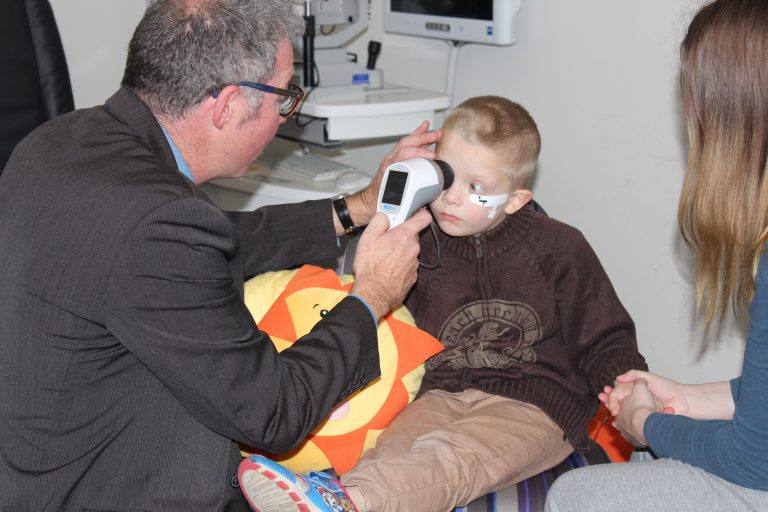 Dr Paul Constable tries the eye scan on participant Declan. Photo, Flinders University.
By Helen Carter
Journalist
Optometrists could within a few years be expanding their scope of practice to help detect autism in young patients, thanks to a discovery by Adelaide optometrist and vision scientist Dr Paul Constable.
Dr Constable, who is head of optometry teaching at Flinders University and has a PhD in electrophysiology, found that children with autism have slightly different electrical signals in the retina than children without autism.
Retinal examinations using a specific hand-held instrument revealed subtle differences in the electroretinogram (ERG) waveforms in individuals on the autism spectrum.
The eye scan is painless and Dr Constable hopes to develop a test from it that could take less than ten minutes to perform and help identify children who may develop autism.
'We started with children with a diagnosis and now the real test is if it can predict a diagnosis,' he told Optometry Australia. 'The scan may be able to help confirm an autism diagnosis as well as identify children at risk of developing autism.'
Currently in Australia the average age for diagnosis is four years. If the scan can reduce this age of diagnosis then a better outcome for the child and their family can be provided through earlier interventions, he said.
Retina examinations allow eyes to provide a window to the brain, offering a way to measure brain development and function.
'The retina is an extension of the brain, made of neural tissue and connected to the brain by the optic nerve,' Dr Constable said. 'We found a pattern of subtle electrical signals in the retina that are different in children on the autism spectrum which we believe relates to differences in the altered trajectory of neurodevelopment in autism.
'The retina and brain have the same neurotransmitters but in autism there's a difference in the way these connections or pathways in the brain develop. This may be similar for retinal development.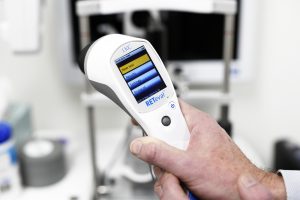 The RETeval device
'The test gives a series of flashing lights – in this study it was nine, but it might reduce to two or three in practice – and records the electrical response to the flashes. This could translate to differences in development of the brain not only in autism but other neurodevelopmental conditions such as ADHD, anxiety, and bipolar.
Possible biomarker
'It's a quick, non-intrusive eye-scan using a hand-held device and we anticipate it will be equally effective on younger children.
'Now we have found a possible biomarker for autism, the next stage is to look at young children, even infants, as the earlier we can get to intervention the better. We can also hopefully establish whether the differences are specific to autism or simply identify children that may have an underlying but as yet undiagnosed neurodevelopmental condition.
'Very early diagnosis means not only can children receive important interventions but families are empowered to get the necessary supports in place, come to terms with the diagnosis and make informed decisions.'
The project was unveiled on August 13, 2019 at the launch of the Caring Futures Institute at Flinders University which is focused on better care across the lifespan.
Dr Constable earlier presented his team's preliminary findings at the International Society for Autism Research conference in Canada in May. The study comprised children aged five to 21 from centres in Adelaide, the UK and the US and together they examined 89 individuals with autism spectrum disorder (ASD) and 87 without.
His earlier research confirmed subtle variations in ERG waveforms for adults on the autism spectrum.
Software for autism detection
The handheld device, RETeval can read the retina's response to light by placing it up to the eye for 45 seconds. It is already used by some optometrists and GPs, in patients with diabetic retinopathy. Dr Constable asked its American manufacturer LTC Instruments to design add-on software, which is only currently being used in the trials, enabling the device to capture ERG waveforms to facilitate the study protocol.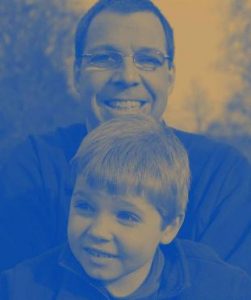 Dr Constable and his son Miles, when aged six, in the UK. Photo, Caring Futures Institute website.
'The standard RETeval costs about $10,000. I would hope, perhaps five years down the track once further research and validation is done, that optometrists and GPs could use the autorefractor with this software as a screening test to identify children at risk of autism,' he told Optometry Australia.
'It would be particularly useful in rural and remote areas as well as urban practices.'
Dr Constable is the lead researcher in the project which he has worked on for 13 years in collaboration with Yale University in the US, University College London and Great Ormond Street Hospital in the UK.
His son Miles has autism and ironically an optometry consultation when they lived in the UK which was traumatic for them both,  due to dilating drops temporarily blurring Miles' vision, triggered the research. The RETeval device means dilating drops are not needed for the eye scan.
When Dr Constable was doing his PhD in the UK on the blood brain barrier using ERG as a window from the eye into the brain he told his PhD supervisor Professor Geoffrey Arden about Miles' diagnosis. He mentioned autism was neurodevelopmental and they googled who had done ERG research related to autism but only one person had, triggering him to do the research.

Dr Paul Constable. Image, The Caring Futures Institute website.
Previously ERG waveform differences had been detected in brain disorders including schizophrenia.
The research will now establish the test's effectiveness on children under five and researchers are looking for parents with one child who has autism who are expecting or have a toddler, to see if the scan can confirm early diagnosis.
Since setting up Australia's first autism-friendly optometry service at Flinders Vision, Dr Constable and his team have seen more than 100 children with autism. His team often encounters parents who have several young children with autism, as the chance of having a second autistic child is much higher for parents with one child on the spectrum.
The team is also investigating whether the possible biomarker can help diagnose other neurodevelopmental conditions including attention deficit hyperactivity disorder (ADHD.)
Read:
Dr Constable's story on the Caring Futures Institute website and how having a son with autism spurred his research.
Dr Constable developed a picture chart and practice note which Optometry Australia has published, to help optometrists make consultations more comfortable for autism patients. (Scroll to children's vision.)
Watch:
A Channel 9 news story on the breakthrough
Filed in category:
Patient care & management
,
Practice equipment
,
Research & surveys
,
Scope of practice
Tagged as:
Future
,
Paediatric optometry
,
Patient management
,
Practice equipment
,
Scope of practice
,
Universities