Read time:

1:30min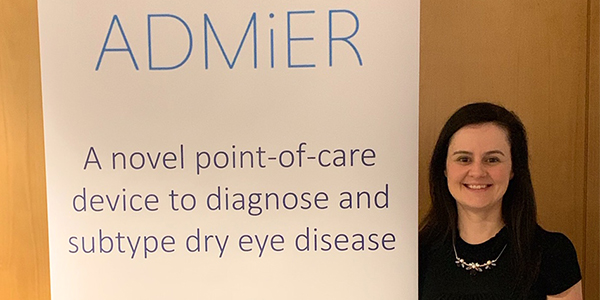 Dr Laura Downie presenting on the device at the Accelerating Australia Life Sciences Innovation Showcase in Sydney, 5-6 September, 2019
By Helen Carter
Journalist
Melbourne optometrist Dr Laura Downie is leading a project to develop a revolutionary point-of-care device that looks to be a game-changer in the diagnosis and sub-typing of dry eye disease.
The device is the first of its kind, enabling optometrists and ophthalmologist to gently take a patient's tear-drop and use it immediately in their practice to diagnose if the patient has dry eye and sub-type the disease.
Acoustically-Driven Microfluidic Extensional Rheometry or ADMiER is being developed as a point-of-care test for rapid and accurate dry eye diagnosis and subtyping.
'Our device is a transformative advance over traditional techniques and we consider it to have the potential to become the "go to" tear film diagnostic for eye care clinicians,' Dr Downie told Optometry Australia.
'ADMiER involves analysing the stretching properties of a small tear droplet, to objectively diagnose and sub-type dry eye disease. As the first application of microfluidic extensional rheometry for ophthalmic diagnostics, it is a transformative advance over current clinical tests.
'Some of the key competitive advantages of the technology include that it makes diagnosis and sub-typing quicker and easier for eye care clinicians. Societal benefit will result from more efficient patient triaging, with time savings for clinicians and economic gains relating to reduced healthcare costs.
'And patients will benefit from enhanced diagnosis, as this will lead to more well informed dry eye treatment, leading to improved health outcomes.'
Accurate and early diagnosis a major challenge
Dr Downie said accurate and early diagnosis of dry eye disease was currently a major clinical challenge, as many of the current tests were invasive, time-consuming and inaccurate.
'Dry eye disease affects about 20 per cent of adults and is the most common indication for medical eye care in developed countries,' she said. 'This chronic condition compromises the tear film and ocular surface, leading to eye pain, impaired vision and reduced quality-of-life.
'Clinicians can now access a range of therapies, but need to know which to use, and when to use them. It is of critical importance to determine the sub-type – i.e, evaporative or aqueous-deficient dry eye – as this informs treatment decisions. However, currently there is no single method to both easily diagnose and sub-type dry eye disease.'
Korb award and grant
The novel technology is so promising that the American Academy of Optometry Foundation has just announced that Dr Downie is the 2019 Korb-Exford Dry Eye Career Development Grant recipient.
She will receive a US$25,000 grant to go towards the next stage of development which focuses on undertaking research relating to clinical validation of the device.
Dr Downie, who is a senior lecturer in the Department of Optometry and Vision Sciences at the University of Melbourne, will be recognised at the foundation's celebration luncheon during Academy 2019 Orlando and the 3rd World Congress of Optometry, October 23-27.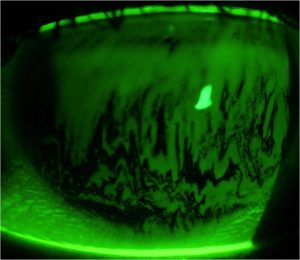 A traditional tear break up time test, one test currently used clinically to diagnose dry eye
'My research vision is to advance eye care and improve outcomes for people with dry eye disease, by leading innovative research that drives transformational changes in clinical practice,' she said.
'To achieve this goal, the research that I led within my Anterior Eye, Clinical Trials and Research Translation Unit at the University of Melbourne, integrates research across the full continuum, combining laboratory, clinical and implementation science as a basis for improving patient outcomes.
'I applied for the 2019 Korb-Exford Dry Eye Career Development Grant as it is an exceptional opportunity to support my aspiration to contribute to the advancement of clinical care for people living with dry eye disease.
'The award will contribute to supporting a component of the clinical validation of the project that I am currently undertaking, in collaboration with co-inventors Professor of Chemical Engineering, Leslie Yeo and mechanical engineer Dr Amarin McDonnell from RMIT University.'
Prototype and patent
To date, the researchers have built a research-grade prototype of the device, secured a strong intellectual property (patent) portfolio, and published an initial clinical dataset that demonstrates proof-of-concept for ADMiER's diagnostic utility. The proof-of-concept data has recently been published in Ophthalmology.
'We are working towards the product being available on the market in the next four to five years,' Dr Downie said.
She has presented on the technology at several scientific meetings this year including the Association for Research in Vision and Ophthalmology (ARVO) meeting in Vancouver, International Ocular Surface Society meeting in Vancouver, Accelerating Australia Life Sciences Innovation Showcase in Sydney 5-6 September, 2019 and the World Congress of Inflammation in Sydney.
Filed in category:
Members & member initiatives
,
Patient care & management
,
Practice equipment
,
Research & surveys
Tagged as:
Awards - honours - grants-bursaries
,
Dry eye
,
Patient management
,
Practice equipment