Read time:

1:30min

Photo of Victor, courtesy Brien Holden Vision Institute
By Helen Carter
Journalist
About one in six Indigenous Australians or 96,000 Aboriginal and Torres Strait Islander people a year are having eye examinations and this percentage is rising, according to a new report which reveals there is still a way to go to close the gap for vision.
Despite improvements, the report shows that many Indigenous people over age 40 who need spectacles are not receiving them, and older Indigenous Australians are almost three times as likely to suffer from vision impairment or blindness as older non-Indigenous Australians.
The Australian Institute of Health and Welfare's third annual report on Indigenous eye health measures was released on Tuesday, August 6, 2019.
Four states – NSW, Queensland, Victoria and South Australia – provided data on the number of spectacles dispensed to Indigenous Australians in 2017-2018. The amount dispensed in Victoria was closest to meeting the estimated number of Indigenous people aged over 40 who needed them — with an estimated 54 per cent having their needs met.
VOS visits quadruple to 30,000 annually
The report revealed that optometrists in the Visiting Optometrists Scheme (VOS) deliver nearly 30,000 occasions of service a year to Indigenous patients, and this more than quadrupled between 2009–2010 and 2017–2018. The majority were in the Northern Territory and rural Western Australia.
In 2017–2018, about 96,000 Indigenous Australians had had an eye examination by an optometrist or ophthalmologist in the previous 12 months. From 2007–2008 to 2017–2018, the age-standardised proportion of the Indigenous population who had received an eye examination jumped from 13 per cent to 16 per cent.
The report also found that 13,000 Indigenous Australians were screened for diabetic eye health in 2017-2018. This was 42 per cent of those who had had a diabetes test within the previous two years. Of the 462 Indigenous Australians who were screened for diabetic retinopathy, 3.6 per cent then had treatment.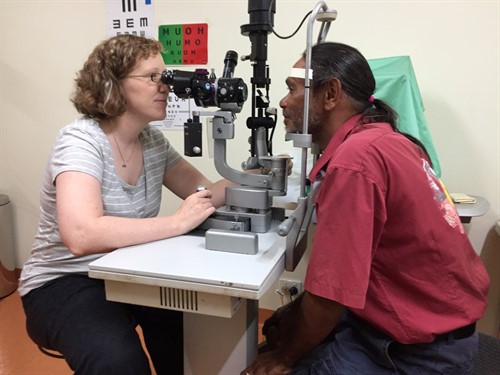 Optometrist Kerryn Hart does an eye examination on Andrew Toby who needed glasses. Andrew, a driver for the Anyinginyi Allied Health Clinic, Tennant Creek, collects patients to bring them to the clinic.
 Other findings included:
More than one in 10 Indigenous Australians aged over 40 (10.4 per cent) suffer from vision impairment or blindness.
The three main causes of vision loss (vision impairment and blindness combined) for Indigenous Australians aged 40 and over in 2016 were refractive error (61 per cent), cataract (20 per cent) and diabetic retinopathy (5.5 per cent), according to the 2016 National Eye Health Survey.
Only four states (NSW, Queensland, Victoria and SA) provided data on the number of spectacles dispensed to Indigenous Australians in 2017-2018 – (7,365 in New South Wales, 31 per 1,000; 5,755 in Queensland, 26 per 1,000; 1,980 in Victoria, 18 per 1,000; 82 in South Australia (2 per 1,000)
Prevalence of active trachoma in children aged five to nine in at-risk communities fell from 14 per cent in 2009 to 3.8 per cent in 2017.
Indigenous hospitalisations for cataract surgery rose by over 40 per cent in the last 10 years and median waiting times in 2016–2017 were longer for Indigenous Australians (141 days) than non-Indigenous Australians (89 days.)
Interestingly in 2012–13, one-third of or 213,000 Indigenous Australians reported that they had an eye or sight problem, which after adjusting for age, was eight per cent lower than that of non-Indigenous Australians.
Vision 2020 Australia said the report was invaluable to the sector's efforts to close the gap for vision, and contained critical data to help track progress towards this important goal.
Vision 2020 Australia CEO Judith Abbott said: 'The report shows that progress continues to be made to close the eye health and vision gap for Aboriginal and Torres Strait Islander people, which reflects the hard work and commitment of many working in this important area.
'However, too many Aboriginal and Torres Strait Islander people still experience vision loss that could be avoided through better access to eye testing, affordable glasses and timely treatment.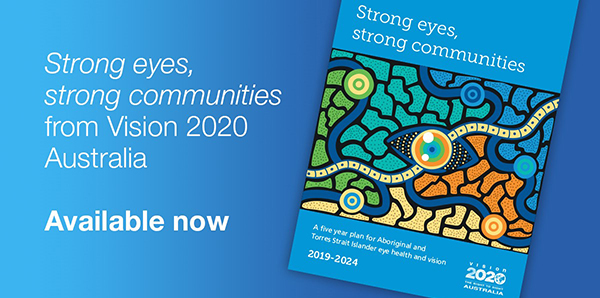 'Strong Eyes, Strong Communities provides a practical set of actions to end avoidable blindness in Aboriginal and Torres Strait Islander communities, developed and endorsed by 18 leading organisations involved in eye care and broader health delivery.'
Optometry Australia's General Manager, Policy Skye Cappuccio said: 'As a member organisation of Vision 2020 Australia, Optometry Australia has been pleased to be an active contributor to Strong Eyes Strong Communities.
'We think it is of fundamental importance that this collaborative strategy prioritises addressing concerning rates of uncorrected refractive error through ensuring national consistency across subsidised spectacle schemes.
'It is also imperative that the importance of outreach service delivery is recognised and that initiatives to support the sustainability of the Visiting Optometrists Scheme are implemented.'
Read the AIHW report summary : https://www.aihw.gov.au/getmedia/b07a3c6f-e2ee-46b7-9331-ea97620204b0/aihw-ihw-221-in-brief.pdf.aspx?inline=true
Filed in category:
Advocacy & government
,
Patient care & management
,
Workforce
Tagged as:
Diabetes
,
Indigenous eye health
,
Patient management
,
Remote & rural optometry