Read time:

1:30min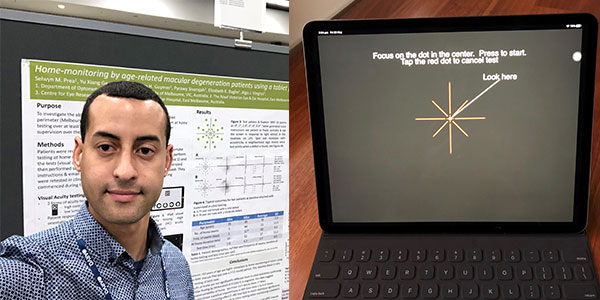 Selwyn Prea and the iPad App
By Helen Carter
Journalist
An iPad perimetry app which allows AMD and glaucoma patients to regularly monitor their visual fields at home may lead to earlier detection and treatment of vision changes and help avoid vision loss.
Results are regularly emailed to the optometrist, ophthalmologist or GP nominated by the patient and the app, developed in Melbourne, also alerts the practitioner when significant vision changes occur.
The app has been found to be as reliable as the Humphrey Field Analyzer at detecting visual field loss when used in clinic on glaucoma patients and these follow-up studies aim to show that it can detect vision changes by patients self-monitoring at home.
The aim is that regular monitoring will detect vision changes sooner than annual or twice-yearly examinations, enabling patients to visit their optometrist and/or ophthalmologist much sooner for treatment adjustments.
Optometrist Selwyn Prea has been studying use of the Melbourne Rapid Fields (MRF) app in age-related macular degeneration (AMD) and glaucoma patients as part of his PhD research at the University of Melbourne.
The app was developed by Professor Algis Vingrys from the University of Melbourne's Department of Optometry and Vision Science and colleague Dr George Kong several years ago. It has since been further developed into four versions for different diseases – MRF AMD, MRF glaucoma, MRF neural and MRF diabetes.
Selwyn recruited AMD patients from Professor Robyn Guymer's AMD clinic at the Centre for Eye Research Australia and the Royal Victorian Eye and Ear hospital for one study, and patients from the hospital's glaucoma clinic for another.
He was the first to compare results from the app to standard perimetry outcomes in 60 glaucoma patients followed over six months.
'In the supervised clinical study, we did visual fields at baseline, two, four and six months with the Humphrey Field Analyzer and the app,' he said. 'We got similar results between devices, and the test time was similar, so it shows that the app is interchangeable with the HFA.'
'Phenomenal' to have vision results fortnightly
Next the researchers looked at AMD and glaucoma patients using the app at home to monitor their visual fields on a weekly basis.
A study of home monitoring in 54 people with intermediate AMD, soon to be published, found the app was accurate and useful compared to a MaIA microperimeter.
'Patients were accepting of the technology and receptive to weekly testing because they were at high risk of losing their central vision and they liked the opportunity to be actively involved in monitoring their own vision,' Selwyn said. 'This is particularly important as the Amsler grid has limited capacity to detect such early changes.
'Visual fields testing only took five to 10 minutes once a week and the aim was to record six tests over six weeks. Overall, 56 per cent did the test weekly which corresponds to similar percentages of participation reported by other research involving telehealth.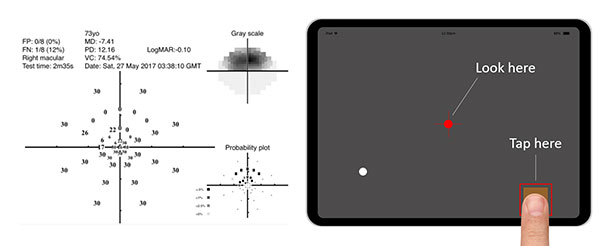 'On average most people returned a test every eight to 14 days so while the aim was to do it every week, fortnightly testing is better than waiting to see an ophthalmologist every six months to get information on their vision.'
'Every one or two weeks is phenomenal – to be undertaking visual assessment with that regularity provides useful information that can be used to detect the earliest of changes.
'It's simple to complete and patients touch a big green button to submit results. In the clinical trial patients sent me results, but they can choose who they want to send results to –an optometrist, an ophthalmologist, a GP or all three.
'The app also looks at the results and can determine if vision has changed significantly. If there has been a decline in vision, the app will send an email alerting the practitioner to the change so they can contact the patient and ask them to come in.'
It was found that the main barrier to compliance was IT logistical issues among elderly people and further streamlining is being considered along with the need for practitioners to provide extra training in its use.
Plans are to continue the research over a year, monitoring if the app does detect deterioration in vision in these patients and alerts clinicians so patients can attend and be treated to prevent worsening of vision loss.
An aid during coronavirus isolation
'With the coronavirus pandemic, many people, especially elderly people, are finding it hard to get to appointments,' Selwyn said. 'This is a way to keep monitoring vision from home and still get results from the doctor or eye care practitioner. We offered our trial participants to keep using the app during the pandemic and many have taken up the offer. A browser version of the MRF has also been released so that patients do not need an iPad to do the test but they can do it in social isolation on their PC at home.
'One of the larger eye care chains has bought the app and fitted all stores with it. An iPad is especially useful in stores with limited space where there is not a lot of room for a big field machine. Another optometry chain is considering using the app in rural areas because it has such a small footprint and is easily portable.'
'The iPad app is also ideal for patients who are in a wheelchair, for bedridden patients and practitioners who work in various practices or out in the field.'
Patients can download the app to monitor their vision at home through the Apple App store. Optometrists can buy the MRF Macular App or MRF Glaucoma App from the Apple App Store or they can download a free trial version to use on their iPad by searching for MRF Macular Lite, MRF Glaucoma Lite, MRF Neural Lite or MRF Diabetes Lite in the Apple App Store.
Full versions of the Apps can be bought via the App Store. There is a fee per test session and test credits can be purchased through Designs for Vision by contacting Cameron Loveless at cameron.loveless@dfv.com.au or on 0427 533 343.
Read also a Good Vision for Life story on the technology.
Webinar on MRF app
Designs for Vision have arranged a Zoom webinar on telemedicine and the MRF app for eye care providers, tomorrow Wednesday June 3, 2020 at 8:30pm AEST (8pm Adelaide, 6.30pm Perth.) Presented by creators Dr George Kong and Professor Algis Vingrys, you will learn how #MRF is changing the paradigm for perimetry and vision testing.  Discover how this multi-platform software system could transform your clinic and provide a telehealth solution for your patients. Register here.
Filed in category:
Patient care & management
,
Practice equipment
,
Research & surveys
Tagged as:
AMD
,
Glaucoma
,
Patient management
,
Practice equipment